Paris attacks: David Cameron to discuss greater spying powers with UK security chiefs as calls to revive 'snooper's charter' grow
Boris Johnson: 'I'm not interested in this civil liberties stuff. If they're a threat, I want their emails and calls listened to'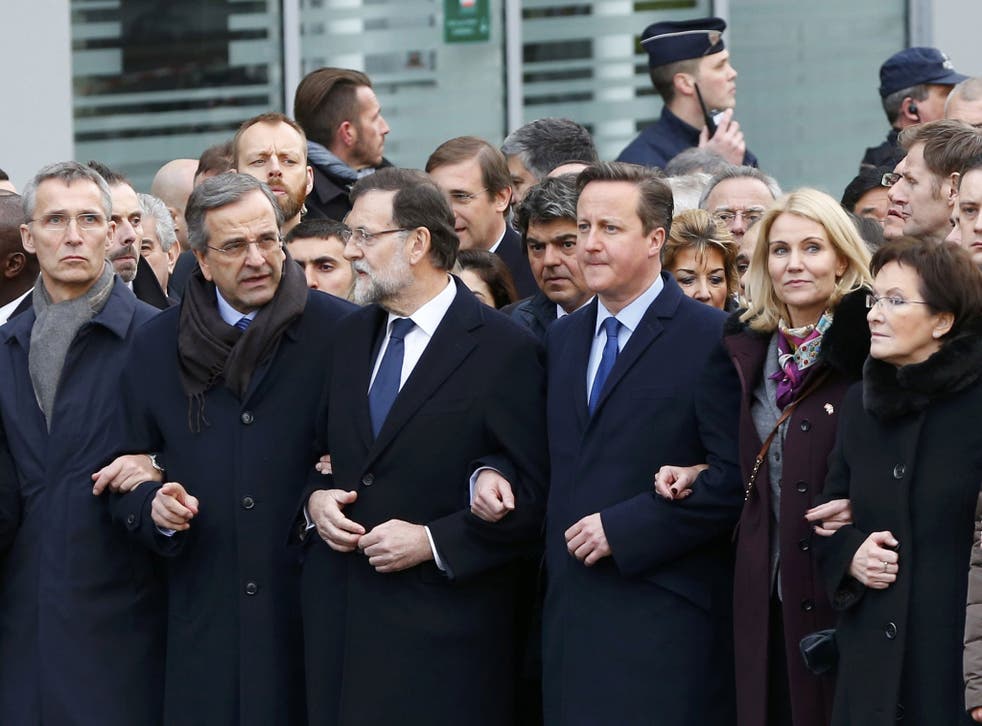 David Cameron is to meet with UK security chiefs on Monday to discuss whether Britain will give greater powers to its police and spies in the wake of the Paris terror attacks.
The Prime Minister said there were "things to learn" from the wave of violence that saw 17 killed across northern France from Wednesday to Friday – and he has faced pressure to revive the so-called "snooper's charter" that would make it easier for GCHQ to monitor online communications.
The head of MI5, Andrew Parker, has warned that a group of al-Qaeda terrorists in Syria is planning "mass casualty attacks" against Western targets, while former Royal Navy chief Lord West called for more money to be budgeted to the security service.
In pictures: Reaction to Charlie Hebdo attack

Show all 39
"I'll be meeting with security and intelligence chiefs on Monday morning to once again go through all of those questions and to make sure we do everything we can to in order to ensure we're as well prepared as we can be to deal with this threat.
"It's a threat that has been with us for many years and I believe will be with us for many years to come."
Speaking to Sky News from a demonstration in support of Paris at Trafalgar Square, the Mayor of London Boris Johnson said: "I'm not interested in this civil liberties stuff. If they're a threat, I want their emails and calls listened to."
Mr Johnson called the displays of support in London, Paris and around the world "stunning". He spoke as the Tricolore was flown from the National Gallery, and its red, white and blue coloured the fountains of Trafalgar Square.
The Lib Dem leader Nick Clegg, who also attended the London demonstration, was criticised by Lord West for blocking the "snooper's charter" in his capacity as deputy Prime Minister.
"I think we need to make sure that we don't lose powers," Lord West said. "The Communications Data Bill was there to ensure we kept capabilities we had which are beginning to disappear. I think that needs to go through.
"I was very irked that it was removed by the deputy prime minister when it had all been agreed across all parties. That needs to be pushed through."
Labour's Ed Miliband said he would be "cautious and considered" about calls for more powers for security services.
Mr Miliband told BBC1's Andrew Marr Show: "I think it's right to take a step back and look at this.
"We've got to look at 'Do our intelligence services have the tools they need?' but equally 'Do we have the proper oversight to guarantee the liberties of free citizens?' because, after all, one of the things we want to protect most of all here is our freedoms."
New Liberal Democrat president Sal Brinton agreed the security services should be able to keep more of an eye on "specific people where they have suspicions".
But she told Sky News' Murnaghan: "If you try and take everybody's phone numbers, everyone they are calling on the phone and also emails, it becomes extremely difficult and I think that's the point where civil liberties rubs up against actual investigation into potential people and we need to be very careful."
Commenting on the rally, she added: "One of the strengths of the marches in Paris and elsewhere in France is how people have come together regardless of their background and regardless of their faith to say that this behaviour by terrorists is unacceptable in our country. We need to be doing the same here as we did after 2005."