Paris terror attacks: Muslims have a 'special burden' to track down Islamist extremists, says David Cameron
Prime Minister agrees it is 'lazy' to say the attacks had nothing to do with Islam
Nigel Morris
Monday 12 January 2015 15:20 Comments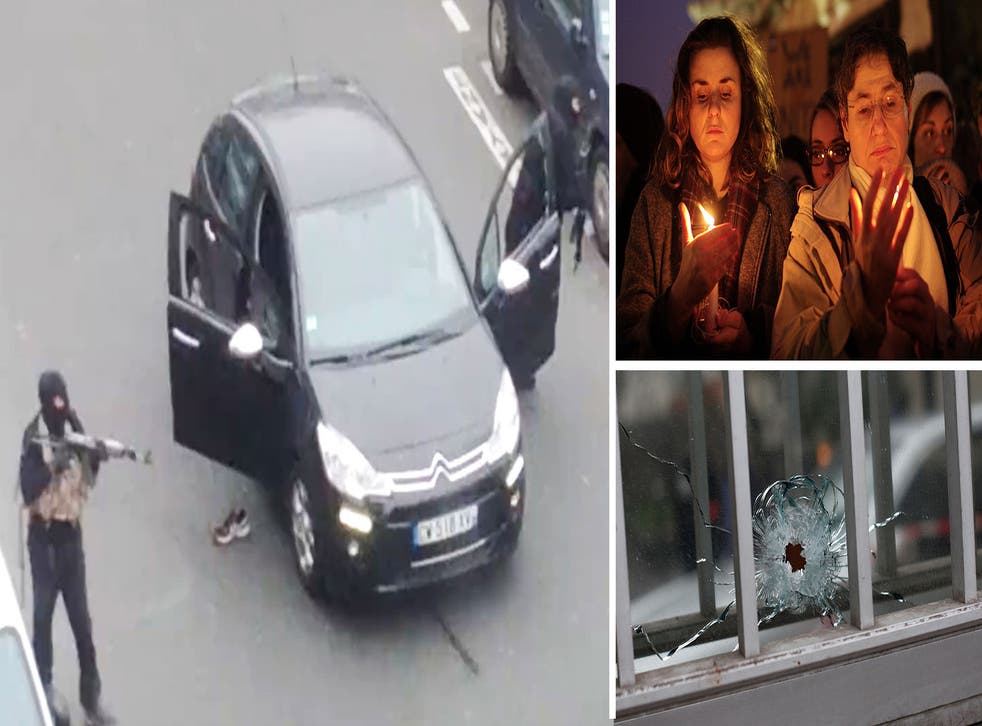 David Cameron has said that Muslims have a "special burden" to track down Islamist extremists.
The Prime Minister's official spokesman confirmed Mr Cameron agreed with Culture Secretary Sajid Javid who yesterday said it was "absolutely fair to say that there is a special burden on Muslim communities because, whether we like it or not, these terrorists call themselves Muslims".
Speaking on Radio 5 Live, Mr Javid added that it was "lazy" and "wrong" to say that France's terror attacks had nothing to do with Muslims.
Mr Cameron's spokesman said: "He would agree with the points that the Secretary of State for Culture, Media and Sport was making."
"One of the things we should bear in mind is that it is that community whose religion is being warped and it is families in that community who are having to face the fact that a small number of their relatives, often strongly against their wishes, are travelling to join radical groups."
Downing Street also confirmed that Britain's security forces will replicate the Paris terror attacks in its counter-terror exercises, Downing Street has announced.
In pictures: Charlie Hebdo demonstration, Paris

Show all 20
Fresh efforts to crack down on the smuggling of illegal firearms were also agreed at a meeting of intelligence and security chiefs chaired by David Cameron.
The talks follow the Prime Minister's return from France where he joined world leaders yesterday on a unity rally joined by more than one million marchers in Paris.
Downing Street said future counterterror exercises, which are held regularly across the country, would be modified to "learn the lessons" of the French atrocities.
That will include how to respond to co-ordinated attacks such as the wave of bombings and shootings in crowded areas of Mumbai that left 164 people dead in 2008.
The Charlie Hebdo killlers, Said and Cherif Kouachi, were in contact with Amedy Coulibaly, who murdered a policewoman and four people at a kosher supermarket.
The exercises will also focus on combating terrorist action when the perpetrators are on the move between urban and rural areas.
The Kouachi brothers fled to woods outside Paris before being cornered and shot by police.
Mr Cameron said yesterday that Britain faced the same threat as France from a "fanatical death cult of Islamist extremist violence".
He added: "We have to confront it in our own country, keeping our security strong but also taking on this poisonous narrative that is radicalising young minds, wherever we find it."
After today's talks, a Downing Street spokesman said: "Following an intelligence update, they discussed the UK's preparedness for similar incidents.
"The relevant police and agencies regularly carry out exercises to test their response to a terror attack, including scenarios similar to the incidents in Paris.
"The meeting agreed that for future exercises, the relevant agencies should identify whether there are any further specific elements of the Paris attack that should be built into the exercise scenarios."
The Prime Minister also asked the police and military to continue to work closely together to ensure that the police can call on appropriate military assistance when required across the country."
The spokesman added: "They also discussed the risk posed by firearms, agreeing that our existing tough firearms laws are a very important part of the protections we have and that we should step up our efforts with other countries to crack down on the illegal smuggling of weapons across borders."
Register for free to continue reading
Registration is a free and easy way to support our truly independent journalism
By registering, you will also enjoy limited access to Premium articles, exclusive newsletters, commenting, and virtual events with our leading journalists
Already have an account? sign in
Join our new commenting forum
Join thought-provoking conversations, follow other Independent readers and see their replies