People living in fracking areas set to get more compensation
Ministers ready to increase sums paid to affected communities in effort to pacify local opposition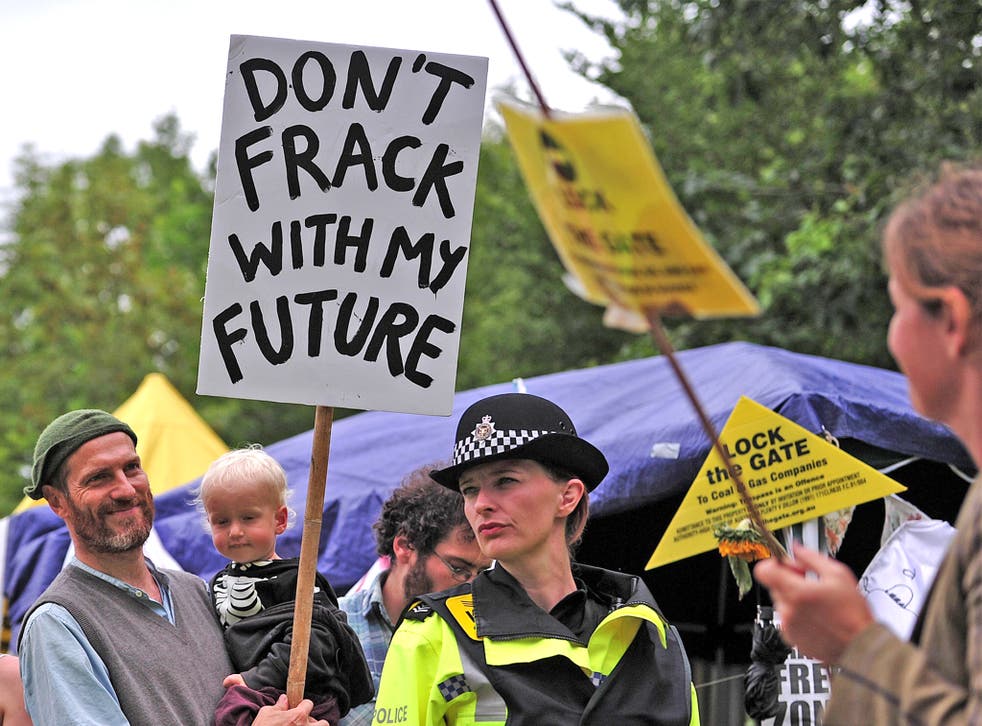 People living close to where shale gas is extracted stand to get more compensation as the Government tries to quell local resistance to "fracking".
Large parts of Britain are thought to contain huge reservoirs of shale, and the proposed move follows growing interest in fracking among energy firms.
The use of pressurised water and chemicals to pump out deeply buried gas has been condemned by environmental campaigners as a dirty, dangerous technique that contributes to climate change.
Fracking has been banned in France and Germany and faces widespread opposition within the European Union. But Conservative ministers see the technology as a way of securing Britain's energy independence.
At the moment communities are offered £100,000 for each well at which exploratory drilling takes places, plus 1 per cent of the eventual profits from that well. Under this formula, communities could receive between £5m and £10m over a 25-year period.
But a senior Whitehall source disclosed that ministers were ready to increase the amount paid to residents near fracking operations.
The Government is braced for a succession of drilling applications to be rejected by local authorities, but hope councils could be swayed by the potential windfall on offer if they give the go-ahead to fracking.
The source said: "We've been very careful on what we've said so far, saying that the deal we have now is a good starting point.
"If gas comes gushing out of the ground in Lancashire like oil did in the Shetlands, then people will start saying: 'The Government is taking a lot in tax. Why are we only getting 1 per cent?'
"We want to see this transform some communities in the way it has done in many places in the US."
The Local Government Association, which represents councils in England and Wales, has accused the Coalition of meanness over the proposed compensation and contrasted the plans with the "generous" tax breaks given to drilling companies.
The LGA has called on ministers to match the 5-10 per cent paid to affected communities in other countries. In Britain, that could mean local populations receiving as much as £100m if a well is highly productive.
The Government has offered energy companies the chance to drill for shale gas across more than two-thirds of England, as well as in central Scotland.
About a dozen companies have already expressed an interest, including Centrica, Total and GDF Suez.
A Cabinet minister conceded that fracking schemes would face concerted opposition in many communities, and the Government would have to work hard to overcome this in public meetings across the country.
He said supporters of fracking needed to conquer the "fear and suspicion" within communities that would be affected, as well as the inevitable "not in my backyard" response.
He also said British industry was beginning to protest about a competitive disadvantage relative to the US, where oil production has soared because of fracking.
David Cameron, the Prime Minister, raised fears last month that the EU was planning new restrictions on fracking. He wrote to José Manuel Barroso, President of the European Commission, to warn that any fresh regulations could deter investors.
Mr Cameron discussed the issue with Donald Tusk, the Prime Minister of Poland, which is pressing ahead with fracking.
A Downing Street spokesman said: "They agreed there should be further co-operation to promote the benefits of shale gas across Europe and to ensure the European Commission does not place burdens on the industry."
---
Video: fracking in the UK
Join our new commenting forum
Join thought-provoking conversations, follow other Independent readers and see their replies