PFI deals will cost taxpayers £209bn over next 35 years
One in five PFI assets will remain in private, rather than public, ownership even after the contracts have ended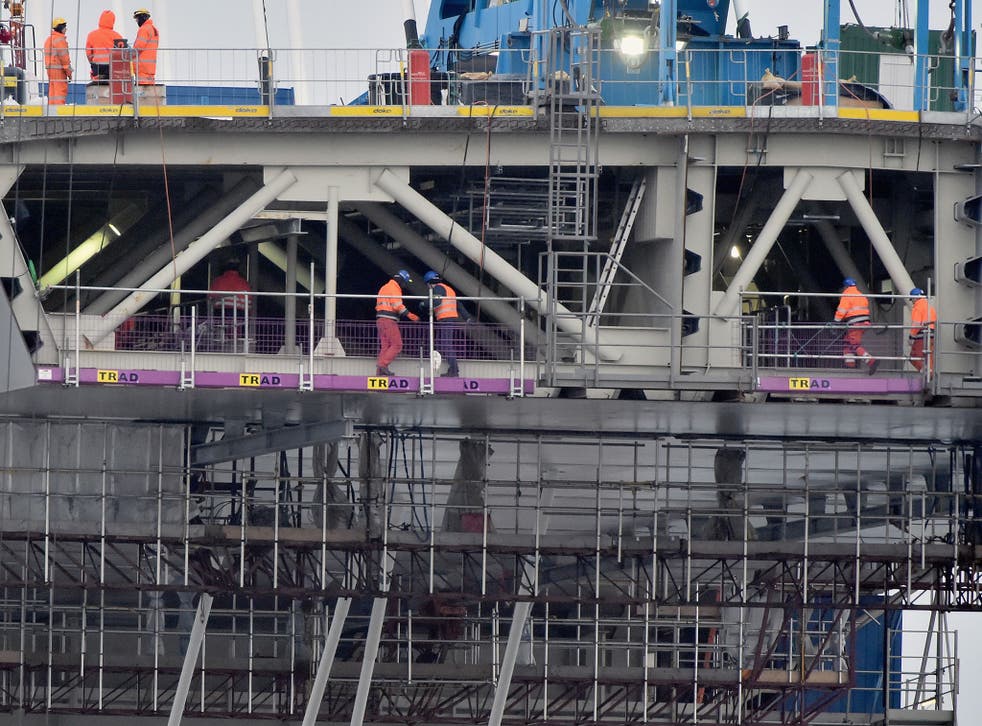 Every adult in Britain faces a debt of £4,119 to pay for schools, hospitals, and other infrastructure paid for by controversial financing deals, according to an analysis of the Treasury's latest estimates on future repayments.
Private businesses are owed over £209 billion in the next 35 years – the result of more than 700 private finance initiatives (PFIs) signed by government – in what experts have slammed as a scandal.
PFIs are agreements in which companies fund the construction of buildings and creation of infrastructure, such as roads and IT systems, which are then effectively leased to the public sector in contracts which can run for decades.
The private sector makes a profit out of unitary charges – a combination of loan repayments and fees for services, such as property maintenance.
The past year has seen a record £10.5bn, a sum which equates to 0.5 per cent of Britain's Gross Domestic Product, spent on the annual charges.
PFIs were developed by the Conservative Party in the early 1990s but since both Labour and Conservative governments have signed up to the deals.
To date more than £97bn has already been paid in unitary charges on contracts going back to 1992.
By the time the PFI contracts have all been paid off – in 2049/50 – they will have cost £307bn in total, according to new figures released by the Treasury last month. This is more than five times the £57bn the assets are actually worth.
One in five PFI assets will remain in private, rather than public, ownership even after the contracts have ended, according to a Government source.
In a statement, a Treasury spokesperson said: "The majority of assets that are PFI-funded will return to the public sector at the end of each contract. Any debt associated with these partnerships during their lifetime is held by the private sector."
But Conservative MP Chris Philp, a member of the Treasury Select Committee, commented: "The PFI debt burden is unacceptably high. I would like these PFI deals unwound as quickly as possible."
And Dr Anne Stafford, senior lecturer in accounting and finance, Alliance Manchester Business School, said: "These figures highlight the crippling ongoing annual costs of PFI projects. These will continue to have a devastating impact on our public services, which are already subject to extensive cuts, for many years to come."
While Allyson Pollock, professor of public health research and policy, Queen Mary University London, said: "This is a scandal of extraordinary proportions – the public is being fleeced and it is one of the reasons why NHS trusts are almost £2.5bn in deficit."
Yet despite the growing concerns over the burden of keeping up with the annual charges, the past year has seen PFI deals finalised, or nearing completion, for assets worth more than £1.5bn. This means the future debt is set to increase by millions over the coming years.
Labour leader Jeremy Corbyn cited the "legacy of PFI debt" when criticising his predecessors Tony Blair and Gordon Brown for their "unsustainable" handling of the economy, in a speech to the British Chambers of Commerce annual conference last month.
It recently emerged that a school built in 2004, which closed a decade later is costing Liverpool council £12,000 a day due to the terms of a 25-year PFI contract.
And Barts Health NHS Trust in London, which has to pay back more than £7bn in a PFI contract lasting more than 40 years, is expected to be £134.9m in deficit this year.
Frances O'Grady, General Secretary of the TUC, said: "PFIs are a massive rip off. Schools, hospitals and many other public bodies have been left with crippling debts they'll still be paying back decades from now. At a time when frontline services are buckling under the strain of government cuts, PFIs are siphoning off precious resources."
She added: "With the cost of government borrowing at an all-time low, it makes no sense to continue with these disastrous contracts. PFIs are quite simply the worst mortgages in the world."
Register for free to continue reading
Registration is a free and easy way to support our truly independent journalism
By registering, you will also enjoy limited access to Premium articles, exclusive newsletters, commenting, and virtual events with our leading journalists
Already have an account? sign in
Register for free to continue reading
Registration is a free and easy way to support our truly independent journalism
By registering, you will also enjoy limited access to Premium articles, exclusive newsletters, commenting, and virtual events with our leading journalists
Already have an account? sign in
Join our new commenting forum
Join thought-provoking conversations, follow other Independent readers and see their replies