Brexit chaos as Philip Hammond refuses to budget for 'no deal' days after Theresa May announces plans
Chancellor says he will not be opening up the Treasury coffers until 'it's responsible to do so'
Rob Merrick
Deputy Political Editor
Wednesday 11 October 2017 08:48 Comments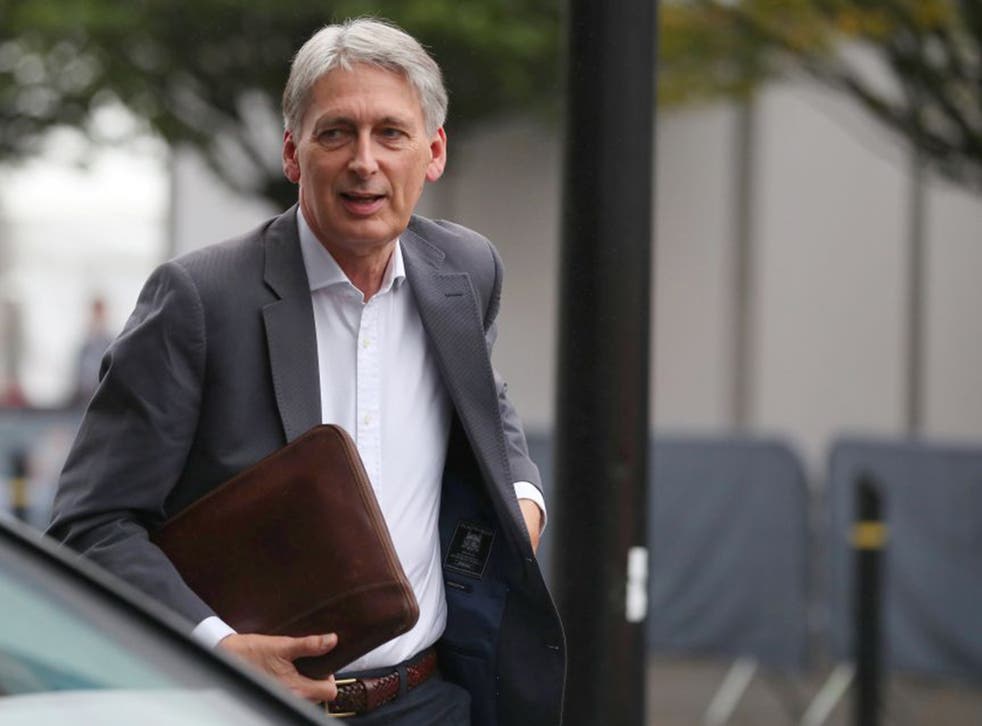 Preparations for a "no deal' Brexit have been plunged into further confusion after the Chancellor said it would be irresponsible to start spending billions of pounds now.
Philip Hammond is refusing to open up the Treasury coffers yet, just days after Theresa May announced emergency plans to avoid border meltdown for businesses and travellers.
Those plans would involve spending huge sums of money on new IT systems and border processes, lorry parks and extra staff – when the Treasury already faces a daunting Budget "black hole".
Theresa May sets out plans for the UK "to operate as an independent trading nation"
Other possible no deal headaches include the loss of many flights to and from the EU and that nuclear material for hospital operations will no longer be distributed to Britain.
Now, regardless, Mr Hammond has said he is keeping a lid on Brexit spending for now, while insisting the Government is "prepared for all outcomes, including a no deal scenario".
"The government and the Treasury are prepared," the Chancellor wrote, in an article in The Times.
"We are planning for every outcome and we will find any necessary funding and we will only spend it when it's responsible to do so."
The stance comes after the head of the NHS revealed that he had not been asked to prepare the health service for the growing possibility of Britain crashing out of the EU.
Brexit: the deciders

Show all 8
That, in turn, was condemned as "shockingly irresponsible" by a pro-EU group, given the "no deal" threat the Prime Minister had made.
Shadow Home Secretary John McDonnell described the development as "another day of mutiny and chaos in Cabinet".
Meanwhile, Ms May has angered some Brexiteers by repeatedly refusing to say she would vote Leave if another referendum were staged tomorrow.
Mr Hammond is the leading Cabinet voice pressing for a lengthy transitional deal after Brexit day in March 2019, to avoid the economic damage from crashing out.
In the article, he made clear his focus was on easing the growing uncertainty facing "businesses up and down the country", as investors turn away.
Brexit talks 'sufficient progress' delayed by months, EU president says
"Our immediate priority must be to remove this uncertainty," Mr Hammond said.
"We will do that in two ways. First, by securing agreement on a time-limited implementation period — this is vital to give businesses and people the space to prepare for the future.
"Second, by reaching a deal on the terms of our future long-term relationship with the EU."
Government departments have already been allocated £250m to prepare for Brexit, The Treasury has pointed out.
Yet, just two days ago, the Prime Minister set out her emergency plans, as hopes of a future trade agreement with the EU appeared to fade at home and abroad.
They included proposals for huge inland lorry parks to cope with the lengthy new customs checks that will be needed – to avoid ports becoming traffic-choked.
In Brussels, the President of the European Council suggested the EU would also start planning for no deal, if the exit talks were still floundering after Christmas.
Donald Tusk ruled out any chance of the EU agreeing that "sufficient progress" has been made on the financial settlement, citizens' rights and the Irish border, allowing trade talks to begin.
On the comments by Simon Stevens, the NHS chief executive, Ben Bradshaw, a Labour MP supporting the Open Britain group, said: "It is shockingly irresponsible for the Prime Minister to repeatedly threaten a no-deal Brexit without even asking the head of our National Health Service to prepare for the consequences of that threat."
Register for free to continue reading
Registration is a free and easy way to support our truly independent journalism
By registering, you will also enjoy limited access to Premium articles, exclusive newsletters, commenting, and virtual events with our leading journalists
Already have an account? sign in
Join our new commenting forum
Join thought-provoking conversations, follow other Independent readers and see their replies