Brexit: Chancellor Philip Hammond challenges Brussels 'sceptics' who say financial services trade deal impossible
The Cabinet will say if it was possible with the US and Canada then it will be possible with the UK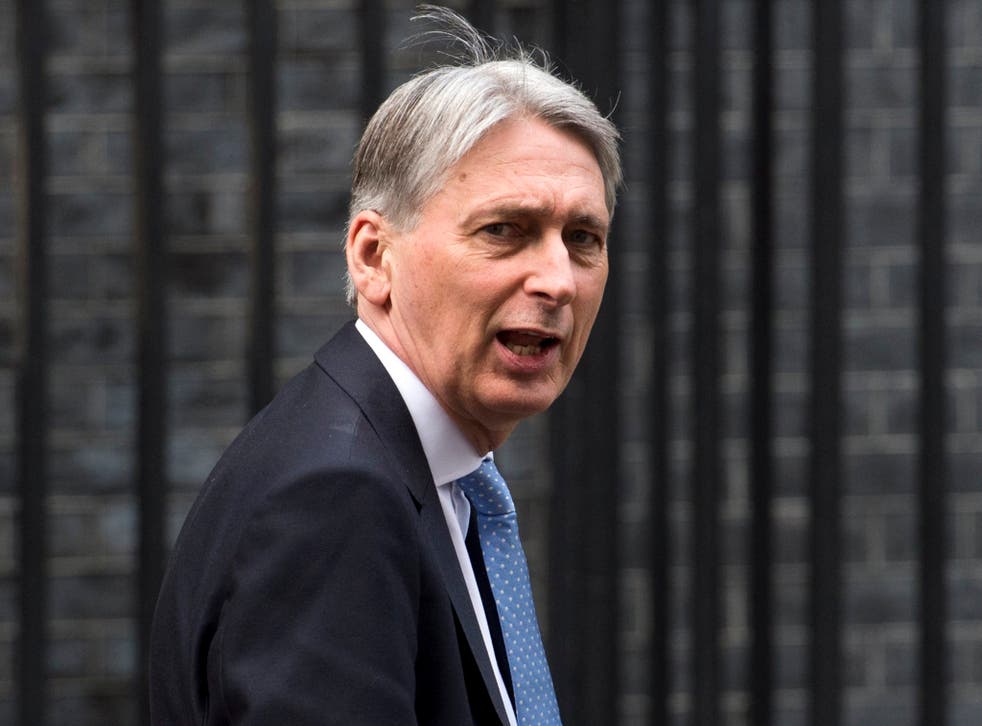 Chancellor Philip Hammond is to challenge "sceptics" in Brussels who say agreeing a trade deal with the UK that includes financial services is impossible.
The cabinet minister will say every deal the EU has ever struck is unique, and it is time the bloc accepted a future trade agreement with the UK should include access for the City of London.
But Mr Hammond's speech on Wednesday comes less than 24 hours after a key adviser to the EU's chief Brexit negotiator reiterated that it simply would not be feasible without Britain adhering to the EU's rules and enforcement bodies – something Theresa May has ruled out.
Ms May repeated her desire in a keynote speech last week for a future trade deal covering financial services, something no existing agreement in the world currently does, but other figures in Europe including French President Emmanuel Macron and chief negotiator Michel Barnier have also previously questioned the idea.
Mr Hammond will say: "It is time to address the sceptics who say a trade deal including financial services cannot be done because it has never been done before.
"To them I say – every trade deal the EU has ever done has been unique. The EU has never negotiated the same arrangement twice. It has bespoke relationships with Turkey, Canada, Singapore, South Korea, Switzerland.
"A trade deal between the UK and the EU must start from the reality of today – that our economies, including in financial services, are interconnected; that our regulatory frameworks are identical and that our businesses and citizens depend on cross-border financial services trade in their day-to-day lives."
Theresa May sets out trade plans for new relationship with the EU post-Brexit
He will go on to point out that the EU itself pursued "ambitious financial services cooperation" in its proposals for trade deals with the US and Canada.
Mr Hammond will underline that while the two North American markets had very different rules from the EU, the UK has almost identical rules – in his view easing the possibility of a deal covering financial services.
In an apparent reference to opposition in Paris, the Chancellor will highlight that British and French officials "worked hand-in-hand" on the proposals for the US and Canada deals.
He will add: "If it could be done with Canada or the US it could be done with the UK – the EU's closest financial services partner by far.
"So I am clear not only that it is possible to include financial services within a trade deal but that it is very much in our mutual interest to do so."
Brexit so far: in pictures

Show all 53
In her Mansion House speech last week, Ms May suggested the EU and UK could move towards a financial services agreement by mutually recognising each-others' rules at the outset as obtaining the same "regulatory outcomes", with a third-party independent court overseeing disputes.
But Stefaan de Rynck, advisor to Mr Barnier, said on Tuesday that the EU's current approach to trade necessitated a "single EU rulebook" – which would appear at odds with the PM's latest idea.
He told an audience at LSE: "The EU has moved away in the wake of the financial crisis from mutual recognition of national standards to a centralised approach with a single EU rulebook and common enforcement structures and single supervisory structures.
"If you are in a very integrated market but you don't have the joint enforcement structures then you can see the potential for all kinds of difficulties."
Mr Barnier himself has warned that British banks will lose "passporting rights" to do business in the European Union after Brexit.
Meanwhile, Mr Macron has previously said giving the UK's financial services full access to the single market without accepting its rules is "not feasible".
Register for free to continue reading
Registration is a free and easy way to support our truly independent journalism
By registering, you will also enjoy limited access to Premium articles, exclusive newsletters, commenting, and virtual events with our leading journalists
Already have an account? sign in
Register for free to continue reading
Registration is a free and easy way to support our truly independent journalism
By registering, you will also enjoy limited access to Premium articles, exclusive newsletters, commenting, and virtual events with our leading journalists
Already have an account? sign in
Join our new commenting forum
Join thought-provoking conversations, follow other Independent readers and see their replies