PM dismisses lobbying probe demands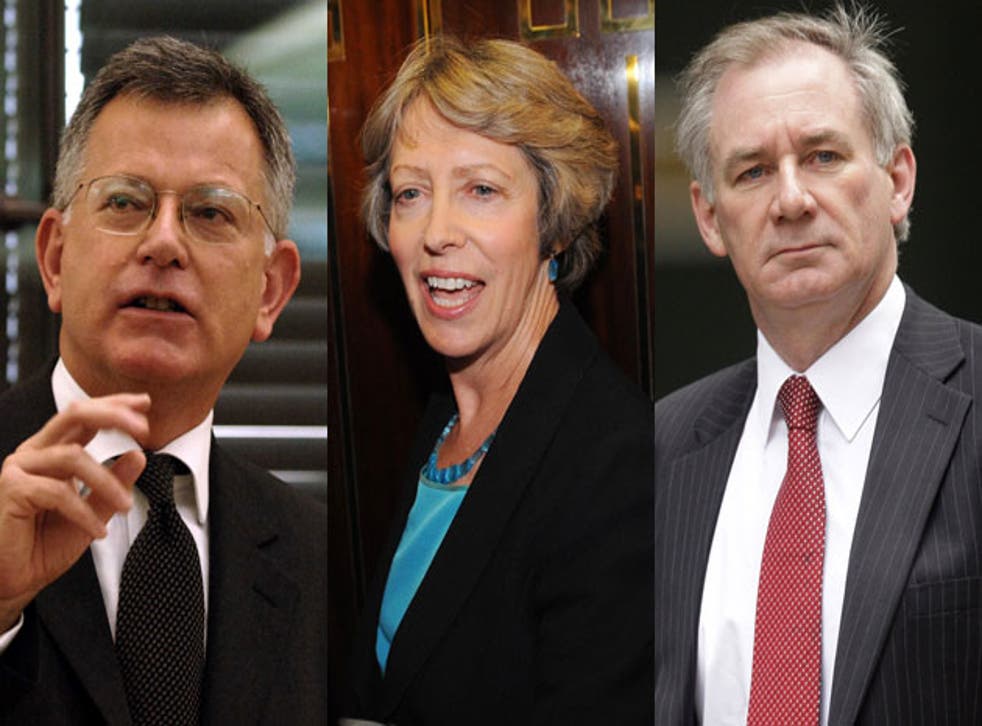 Gordon Brown today dismissed opposition calls for a Government investigation into claims that policy decisions were swayed by lobbying from former Cabinet ministers.
The Prime Minister accepted assurances from the permanent secretaries of three Whitehall departments that there had been "no improper influence" on ministerial decisions.
But Conservatives denounced the decision as "outrageous", and Tory chairman Eric Pickles said there increasingly appeared to be "a cover-up at the heart of Government".
Channel 4's Dispatches was this evening broadcasting footage of a "sting" operation in which a number of MPs, including former ministers Stephen Byers, Patricia Hewitt and Geoff Hoon, were secretly filmed in discussion with an undercover reporter posing as the representative of a fictitious US lobbying firm.
Mr Byers, describing himself as a "cab for hire", apparently requested £5,000 a day and boasted he had previously secured secret deals with ministers over a rail franchise contract and food labelling on behalf of private companies.
Ms Hewitt and Mr Hoon were filmed suggesting they would charge £3,000 a day for their services. Both have since denied any wrongdoing and insisted they had not breached parliamentary rules.
Mr Byers, who has held major Cabinet portfolios including trade and transport, later retracted his claims and today referred himself to the Parliamentary Standards Commissioner John Lyon for an inquiry into his conduct.
The North Tyneside MP, who is standing down at the general election, said he was "confident" Mr Lyon would clear him of breaching the Westminster code of conduct.
His claim to have lobbied successfully for National Express over their east coast mainline rail franchise was today dismissed as "pure fantasy" by Transport Secretary Lord Adonis.
Lord Adonis told the House of Lords he had a "brief conversation" with Mr Byers last year about the company's threat to default on its franchise, but said there was "no truth whatsoever" in suggestions that he changed his policy as a result.
Leader of the Commons Harriet Harman said in a statement that, in response to a request from Mr Brown, the heads of three Whitehall departments have looked into claims raised in the documentary.
"They have assured the Cabinet Secretary (Sir Gus O'Donnell) that they are satisfied that there has been no improper influence on Government policy or ministerial decisions," Ms Harman told the Commons.
She confirmed Government plans for a legally-enforceable register on which lobbyists would have to name their clients.
A Cabinet Office spokesman said Sir Gus took allegations of impropriety "very seriously".
"When he was made aware of the recent claims in the press, he asked the relevant permanent secretaries to examine the evidence and assure themselves that there was no question of impropriety by current ministers or officials," said the spokesman.
"As their statements show, they have looked into these matters and are confident there has been no improper influence."
Downing Street said that the Prime Minister was "satisfied" with these assurances and saw "no need" for an inquiry.
But Mr Pickles said: "It is outrageous that the Prime Minister has ruled out an investigation into these extremely serious allegations before the programme containing them has even been broadcast.
"People have the right to know whether senior Cabinet ministers like Lord Mandelson and Lord Adonis have been complicit in the scandal."
Mr Pickles said voters would wonder what Mr Brown "has to hide", adding: "This looks increasingly like a cover-up at the heart of Government."
And Mr Cameron said: "These ministers, Hewitt and Byers, were claiming that they changed Government policy, they got people appointed, they cost the taxpayer money.
"They are making these claims and that goes to the heart of the issue of the integrity of the Government.
"It is a question of Government integrity. It can't be left as it is."
Mr Brown's spokesman told reporters at a regular daily briefing: "The Prime Minister has seen the statements from the departments and is satisfied that there is no impropriety."
He added: "The most important thing is to be sure - as we are - that there has been no impropriety in these departments about which there have been allegations... There is no need for an inquiry if the departments have made the statements they have."
Liberal Democrat parliamentary spokesman David Heath said that when his party put forward measures to restrict the influence of lobbyists, Labour voted them down and Conservative MPs failed to turn up to vote.
"Labour and the Tories claim they want to clean up politics but the reality proves different," said Mr Heath.
"Once again it seems the Government and the Tories will say one thing while the truth reveals another."
Reports suggested that some MPs may raise the lobbying affair at this evening's scheduled meeting of the Parliamentary Labour Party in the Commons, but party sources said it was not on the agenda for discussion and there was no procedural process for a vote to remove the whip from offending MPs.
Join our new commenting forum
Join thought-provoking conversations, follow other Independent readers and see their replies