PM sets out tough new anti-terror measures in response to heightened threat
The move is seen as a return to control orders in all but name
Jane Merrick
,
Charlotte McDonald-Gibson
Saturday 30 August 2014 23:32 Comments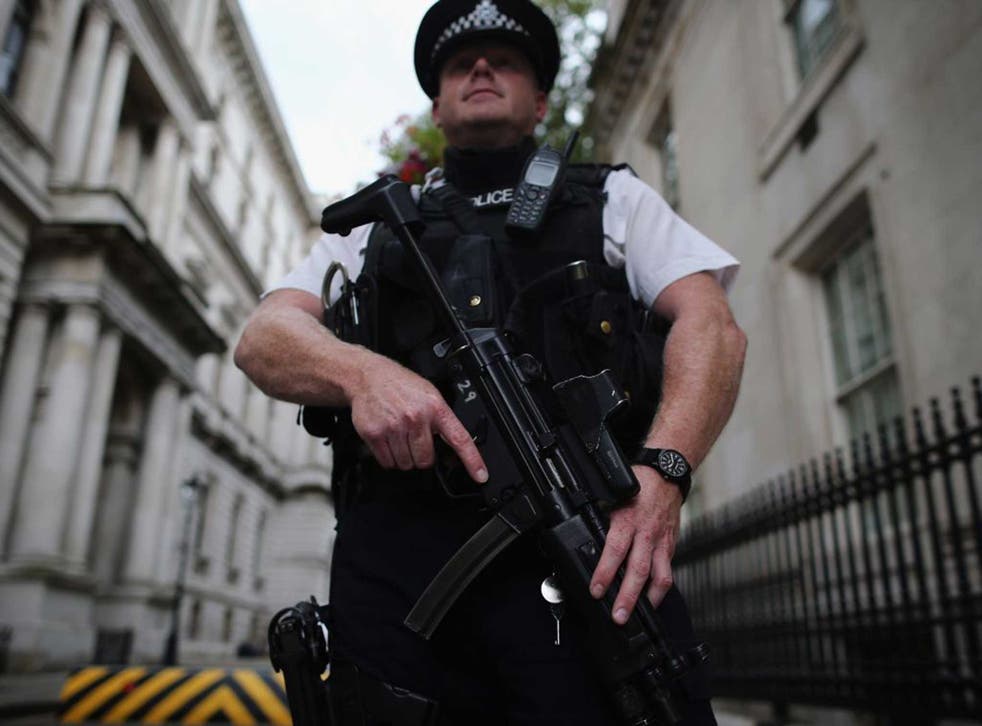 David Cameron and Nick Clegg have agreed to a toughening of anti-terror measures in what will be seen as a return of control orders in all but name, it emerged last night. The Prime Minister will address the House of Commons tomorrow on Parliament's first day back after the summer recess to tell MPs how the Government is responding to the heightened terror threat to the UK and the rise of Islamic State.
Despite the Liberal Democrat party having major reservations about further anti-terror measures encroaching on civil liberties and human rights, the Deputy Prime Minister has been briefed along with the Prime Minister by security officials on the serious nature of the threat, which was raised on Friday from "substantial" to "severe" – meaning an attack on British soil is "highly likely". Senior Lib Dems have accepted that the Government's current terrorism prevention and investigation measures (TPims) need to be enhanced.
The Labour government's control orders, which were scrapped in 2012, restricted the movement of terrorism suspects through tagging, curfews and relocation to other towns and cities. There were also restrictions on mobile phone and internet use – increasingly crucial in stopping young British Muslims from being lured abroad to fight in foreign wars. TPims do not limit suspects' movements to the same extent, and also allow some mobile and internet use.
While a No 10 source insisted that there would be "no return to control orders" because they had been struck out by the courts, the toughening up of TPims will be similar in limiting the movement of terror suspects, effectively imposing "internal exile" on individuals.
Earlier this year David Anderson QC, the Government's independent reviewer of terrorism laws, called for TPims to be expanded to limit people's movements and ability to meet other named individuals.
Mr Cameron attended an EU summit yesterday to discuss Iraq, Syria and security. He was expected also to talk with the President of the European Parliament, Martin Schulz, to discuss a European Union directive on sharing air passenger records, a measure currently stalled by the parliament as it looks into concerns about civil liberties and privacy. Other discussions were expected to focus on possible support the EU could give to third countries on aviation and airport security, and on any progress by the EU foreign affairs service in pulling together a team to look at countering radicalisation across the bloc. "We are looking to put resources into that team," said a Downing Street official.
A statement from the council said yesterday: "The European Council calls on the council and the European Parliament to finalise work on the EU Passenger Name Record proposal before the end of the year.
"The European Council also underlines the need for close cooperation with third countries to develop a coherent approach, including to strengthen border and aviation security and counter-terrorism capacity in the region."
In a press conference in Downing Street on Friday, Mr Cameron made clear his determination to close "gaps in our armoury", including introducing new legislation to make it easier to take people's passports away to prevent them from travelling to Iraq and Syria.
Arriving in Brussels, the Prime Minister said: "Yesterday I set out the terrorist threat we face in the United Kingdom and the strategy we have to take it head on both at home and overseas. Today in Brussels it's an opportunity to talk to other EU leaders and to make sure we all coordinate to stop people travelling out to Iraq and Syria, to stop radicalisation and to confront extremism, and that's what we will be discussing today."
A Lib Dem source said Mr Clegg and the Prime Minister were in "constant communication" on the issue and "we will consider very carefully any new proposals that are put to us". The source said the DPM agreed with Mr Cameron that there should not be a "knee-jerk response" to the threat posed by extremists returning from the Middle East.
The Lib Dem source added that "any new proposals would be discussed carefully, based on the evidence and with regard to the liberty of British citizens".
Writing in The Independent yesterday, the Labour leader Ed Miliband called for a return of control orders and proposed a mandatory programme of deradicalisation for those involved on the fringes with IS.
Richard Barrett, a former head of counter-terrorism at MI6, said many Britons who had travelled to Syria or Iraq would not pose a threat to the UK on their return, but would need help to reintegrate.
He said: "The one thing with these people who are out there who would like to come back and just want to be shown that there's a way to come back, they can be very, very useful indeed in preventing further radicalisation and dealing with the problem we have at the moment."
He told Radio 4's Today programme that they could have valuable information on why people had gone to the region which could be used to prevent others from travelling to the war zone. "They will be of enormous help, or could be, in helping to build the resilience of vulnerable communities to the sort of radicalising messages which are all too easily available on social media," he said.
Register for free to continue reading
Registration is a free and easy way to support our truly independent journalism
By registering, you will also enjoy limited access to Premium articles, exclusive newsletters, commenting, and virtual events with our leading journalists
Already have an account? sign in
Join our new commenting forum
Join thought-provoking conversations, follow other Independent readers and see their replies