As it happened
ended
1509542534
PMQs live updates: Theresa May faces Jeremy Corbyn as sexual harassment scandal deepens
Follow the latest updates from the Commons here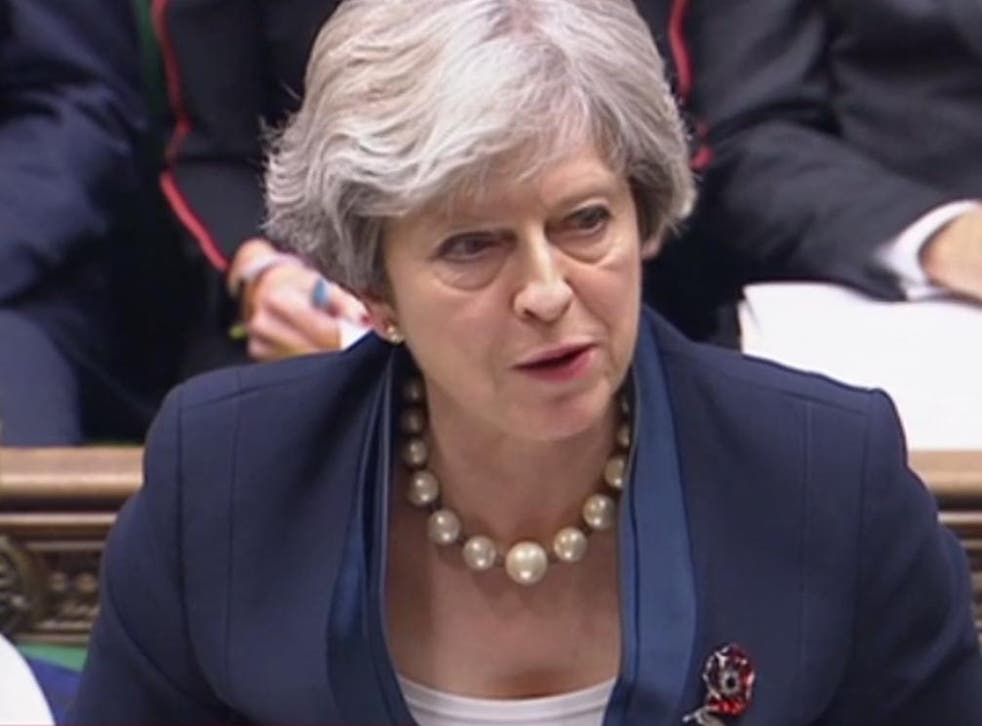 Welcome to The Independent's liveblog of Prime Minister's Questions, in a week where British politics has been dominated by allegations of sexual harassment and abuse.
Theresa May announced plans for cross-party talks over how to cope with the growing scandal, as MPs on all sides piled in to condemn reports of intimidation, bullying and sexual assault in Westminster.
The Prime Minister has faced pressure to ask her de-facto deputy Damian Green to stand aside during an investigation into claims he made inappropriate advances towards a Tory activist - an allegation he denies.
Mr Corbyn agreed to meet with Ms May and joined her in condemning the abuse, as his own party launched an independent probe into claims that activist Bex Bailey was discouraged by a party official from reporting an alleged rape at a Labour event in 2011.
The Labour leader focused most of his questions on tax avoidance, kicking off the clash with concerns over a loophole on importing private jets onto the Isle of Mann.
1509537882
Theresa May starts PMQs with a tribute to those involved in the New York terror attacks.
Lizzy Buchan
1 November 2017 12:04
1509538097
She mentions the sexual harassment claims, saying she has invited all party leaders for a meeting on it next week.
She said: "Members on both sides have been deeply concerned about allegations of harassment and mistreatment here in Westminster. I've written to all party leaders inviting them to a meeting early next week so we can discuss a common, transparent, independent grievance procedure for all those working in Parliament."
Lizzy Buchan
1 November 2017 12:08
1509538506
Jeremy Corbyn says he is happy to meet the PM to discuss sexual harassment and says workplace unions must play an important role in the solution. Parties must have proper procedures in place, he claims.
The Labour leader also pays tribute to two former MPs, Frank Doran and Cathy Atherton, who both died this week.
Corbyn moves onto claims of tax avoidance and urges HMRC a scheme where jets are being imported through the Isle of Man.
Lizzy Buchan
1 November 2017 12:15
1509538772
Ms May says vital that proper procedures are established to investigate abuse. On tax avoidance, she says HMRC take all complaints very seriously.
Corbyn hits back, saying more than 900 business jets in the Isle of Man seems "excessive". He moves onto wider tax avoidance, which he says accounts for around £190bn.
Lizzy Buchan
1 November 2017 12:19
1509539031
Corbyn argues the super-rich are getting help to avoid taxes, prompting huge jeers from MPs when he says school budgets are also being cut. 'One rule for the super rich and one rule for the rest of us', he says.
May dismisses his claims and says Labour would make matters worse by borrowing more.
Lizzy Buchan
1 November 2017 12:23
1509539166
SNP Westminster leader Ian Blackford is up and adds his condemnation of sexual misconduct in Westminster.
He uses his question to push Ms May on Universal Credit, saying working single parents can lose more than £1,300 per year through the changes. He describes UC as the Prime Minister's "poll tax" and urges her to do another u-turn.
Lizzy Buchan
1 November 2017 12:26
1509539199
The PM defends the policy and says Universal Credit is a 'simpler system which ensures people keep more as they earn more'.
Lizzy Buchan
1 November 2017 12:26
Join our new commenting forum
Join thought-provoking conversations, follow other Independent readers and see their replies