Poll: Voters do not want second EU referendum and think Theresa May should continue without general election
Exclusive: ComRes opinion poll for The Independent indicates new PM will not face pressure to call snap election
John Rentoul
Sunday 17 July 2016 15:36 Comments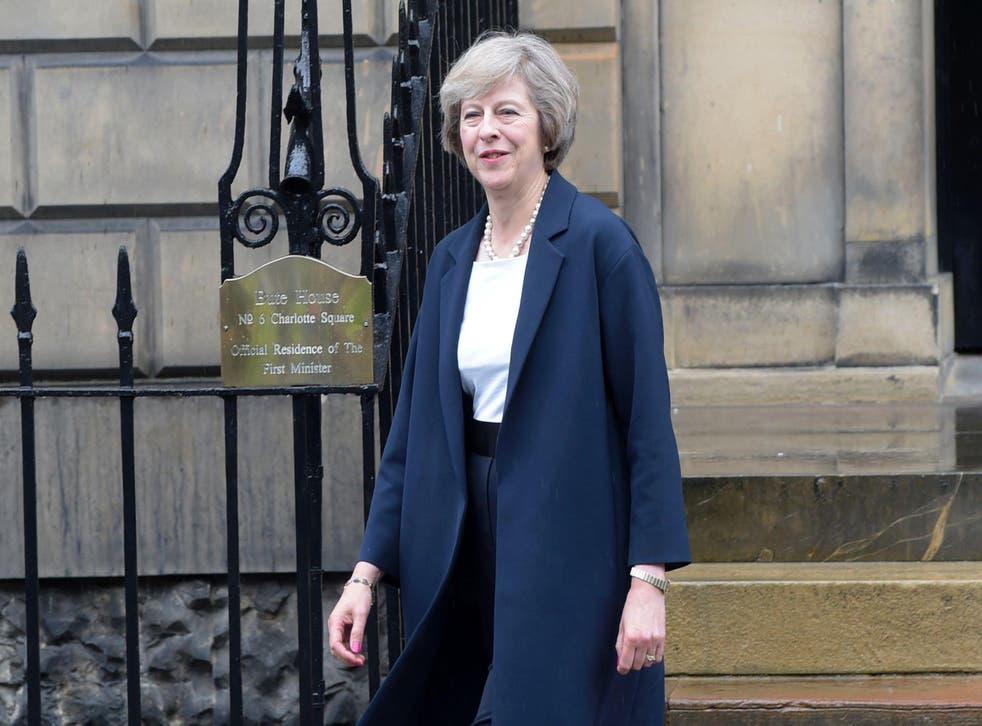 Most British people have had enough democracy for the time being, according to an exclusive ComRes opinion poll for The Independent.
They say Theresa May should carry on without a general election, and they are opposed to a second referendum on Brexit.
The poll found that nearly half of the population, 46 per cent, agree that "the Conservatives were elected for a five-year term so Ms May does not need to face a general election to get support for her programme", whereas 38 per cent say she does need an election.
Theresa May: How her leadership speech differed from her voting record
Jon Trickett, Labour's election co-coordinator and an ally of Jeremy Corbyn, called for an immediate election before Ms May became Prime Minister on Wednesday, saying the country's new leader should be "democratically elected".
And despite growing demands from Labour MPs for a second referendum after a Brexit deal has been reached with the EU, that option is rejected even more decisively, by 57 per cent, and supported by only 29 per cent.
Owen Smith and Angela Eagle, the two candidates challenging Mr Corbyn for the leadership of the Labour Party, have both said the Brexit deal, when it is finalised, should be put to the people either in a referendum or in an election. That option was also supported by Jeremy Hunt, who retained his post as Health Secretary.
The Independent's poll finds that Ms May has made a good impression in her first days in Downing Street: 52 per cent of voters say they expect she "will be a good Prime Minister".
By a margin of 36 per cent to 21 per cent they say she will be a better Prime Minister than David Cameron was. And by a margin of 58 per cent to 19 per cent they say she would be a better Prime Minister than Mr Corbyn would be.
In a head-to-head comparison with Mr Corbyn, Ms May is better regarded in the respects chosen except "understands ordinary people", which 42 per cent said applied to Mr Corbyn and only 31 per cent said applied to Ms May; "principled", on which Mr Corbyn and Ms May are in effect tied, on 43 per cent and 44 per cent respectively; and "honest", which 37 per cent said applied to Mr Corbyn and 36 per cent to Ms May.
Ms May is regarded as a "strong leader" by 55 per cent, against 13 per cent for Mr Corbyn, and "good on the world stage" by 48 per cent, against 11 per cent.
Among negative labels, 39 per cent regard Mr Corbyn as "incompetent", against 8 per cent for Ms May; 38 per cent say he is "boring", against 16 per cent for Ms May; and 18 per cent say he is "nasty", an epithet once applied by Ms May to the Conservative Party, against 16 per cent who say it applies to her.
Brexit protest: Thousands march in London

Show all 12
The poll finds that most voters, 53 per cent, think Mr Corbyn is doing a bad job as leader, and that either of his challengers for the leadership would be more likely to win an election for Labour.
Owen Smith, the former shadow work and pensions secretary who will formally launch his leadership campaign on Sunday, has a seven-point advantage over Mr Corbyn when voters are asked which of them has a better chance of winning – although two in five voters have no opinion, presumably because they don't know enough about him.
Angela Eagle, the former shadow First Secretary of State who launched her leadership campaign on Monday, has a four-point advantage over Mr Corbyn, and a slightly lower level of don't knows.
ComRes interviewed 2,097 GB adults online 13-15 July 2016. ComRes is a member of the British Polling Council and abides by its rules. Full results on the ComRes website.
Register for free to continue reading
Registration is a free and easy way to support our truly independent journalism
By registering, you will also enjoy limited access to Premium articles, exclusive newsletters, commenting, and virtual events with our leading journalists
Already have an account? sign in
Join our new commenting forum
Join thought-provoking conversations, follow other Independent readers and see their replies