Powerful swing voters say Labour lacks vision - and that the Tories are still nasty
Voters in four key marginals were asked about the two main parties – neither came out well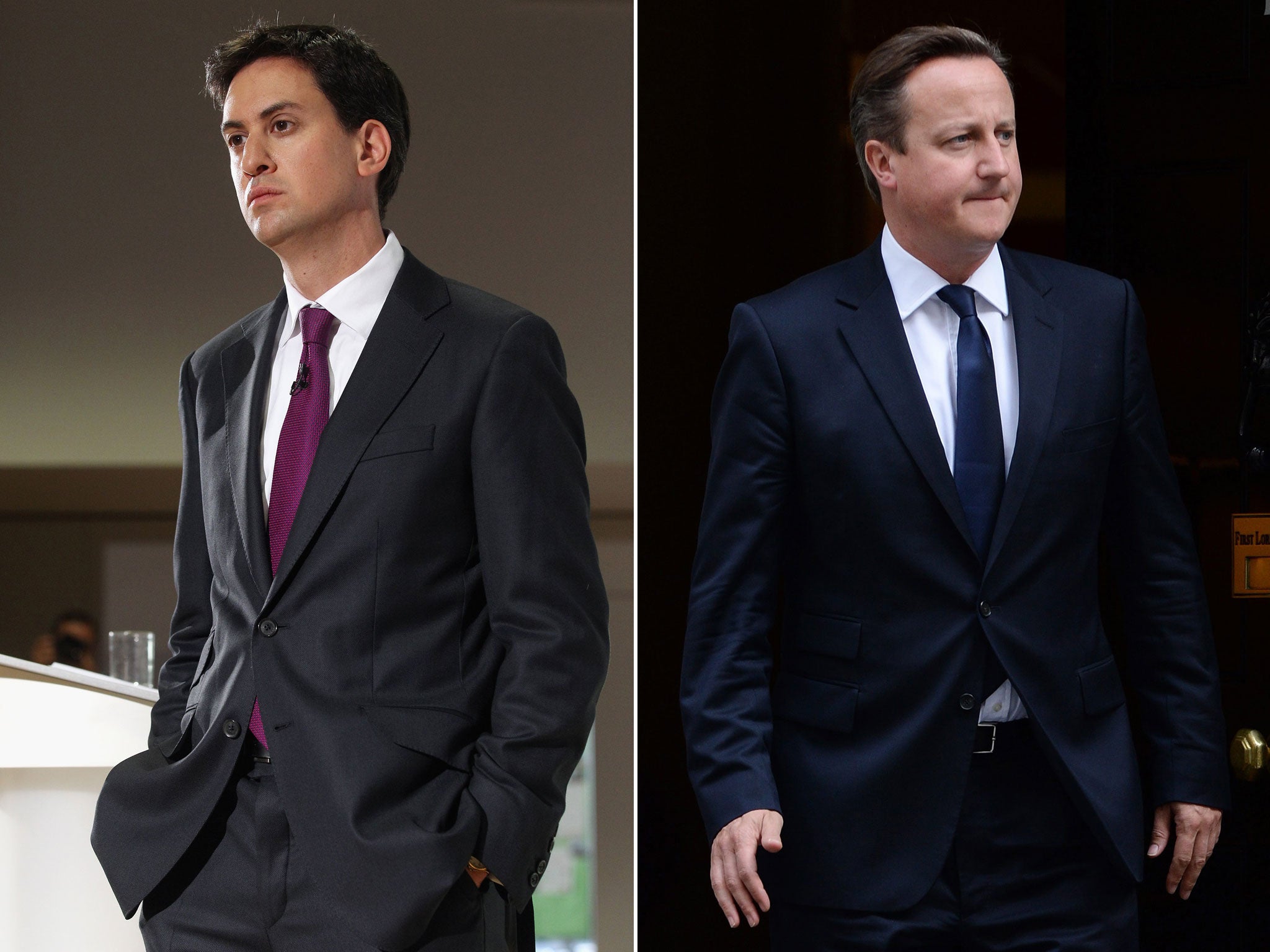 Voters in key marginal seats believe Ed Miliband lacks a clear vision to mount a convincing challenge to become prime minister, new research has revealed.
Labour's flagship policy to freeze energy prices may have changed the political weather, but swing voters see it as little more than a "sweetener" rather than a strong proposal that will carry Mr Miliband into No 10, according to detailed focus group research seen by The Independent on Sunday.
But the Conservatives are also viewed unfavourably among swing voters – with "cuts" and "looks after the rich" the two phrases most strongly associated with David Cameron's party. Despite this, voters give Mr Cameron credit for taking tough decisions on the economy and welfare, even if this is "hurting". "Unions", "Tony Blair" and "benefits" were the top word associations for Labour.
Labour should consider a more striking policy as its centrepiece for the 2015 election such as a National Care Service, even with a 2p rise on the basic rate of income tax to fund universal care for the elderly, the research suggests.
The research was conducted by BritainThinks, led by Deborah Mattinson, Gordon Brown's former pollster, on behalf of Progress, the New Labour campaigning organisation. Researchers targeted voters in four marginal seats that are key for a convincing Labour victory.
The seats – Crewe and Nantwich, Harlow, Finchley and Golders Green, and Redditch – are all central to Labour's path to Downing Street because they are Tory-held, two-way fights, held by Labour under Tony Blair but lost to the Conservatives in 2010. Progress has identified them among a list of "frontline 40" seats out of Labour's 106 target constituencies. The research is being launched by Progress at an event in Westminster on Tuesday evening.
Ms Mattinson and her team focused on "Labour considerers" – people in those seats who voted for Tony Blair in 1997, 2001 and 2005 but switched to the Tories in 2010, or voters who said they would have voted for Mr Blair if they had been old enough.
Asked to come up with characters at a house party to describe each party brand, "Mr Conservative" was described as "posh, arrogant and out of touch", drinking champagne, choosing classical music or a Michael Bublé album, and eating "something posh like tapas or olives".
"Mr Labour" was a quieter guest who stands on his own wearing a grey suit and a brown tie and spends a long time sorting through the CDs so he can "avoid talking to other people" but does not actually choose any music. When researchers asked "What is Labour's vision for Britain?", there were "10 full seconds of silence" while they looked around the room. While Labour is strong on the National Health Service and other public services, economic credibility is still lacking. The Tories were still seen as the nasty party, but were thought better at taking tough economic decisions and having a "strong, clear vision and direction".
Labour was more of a "blank page", with one voter saying: "We don't know what Labour's vision is. We don't know what they are offering us. At least with the Tories, you know where they are going, rightly or wrongly. I assume everything will go to the top 5 per cent."
Ms Mattinson said last night: "The view of the Tories is deeply unflattering. The [modernisation] project hasn't worked. It is a massive problem in some ways – really nasty party stuff, absolutely toxic and overwhelmingly negative. Some voters we talked to don't have any sense of economic recovery reaching them.
"The problem for Labour is that they have made a little bit of progress, but they haven't made enough. People are just a bit confused. There were almost as many opinions about Labour as people in the room; there was not a clear picture at all. The V-word – vision … that is what they felt is lacking. They don't really know what Labour is there for."
Ms Mattinson said there was a clear "plague on all your houses" among swing voters, with the top three word associations about British politics being "cost of living", "immigration" and "confusing".
The research will prove troubling for Mr Miliband and his campaign team because they believe the energy price freeze is a strong policy that will help win the election.
In the run-up to the 1997 election, Labour's pledge card was in itself seen as something symbolic that voters could latch on to, and researchers said that Mr Miliband now needed to find a policy equally totemic.
More than 50 policies were floated, including a "no claims bonus" for benefits, where someone would get more pension if they had never claimed benefits at working age, but this was rejected as too punitive.
Of the energy price freeze, one voter said: "We were a bit unsure … Obviously, we'd all like the costs not to go up every month. But I think it would be just like the fuel tax. You know, get to the end of the two years then up it goes." Another said: "We liked it, but I don't think this would make me believe what we were talking about was the vision thing."
The full details of the research are in December's edition of 'Progress' magazine, out this week
Join our commenting forum
Join thought-provoking conversations, follow other Independent readers and see their replies