Pressure grows to scrap controversial new financial penalties for anyone convicted of a crime
Could this be the moment when Mr Gove announces that the penalty will be means-tested or scrapped outright?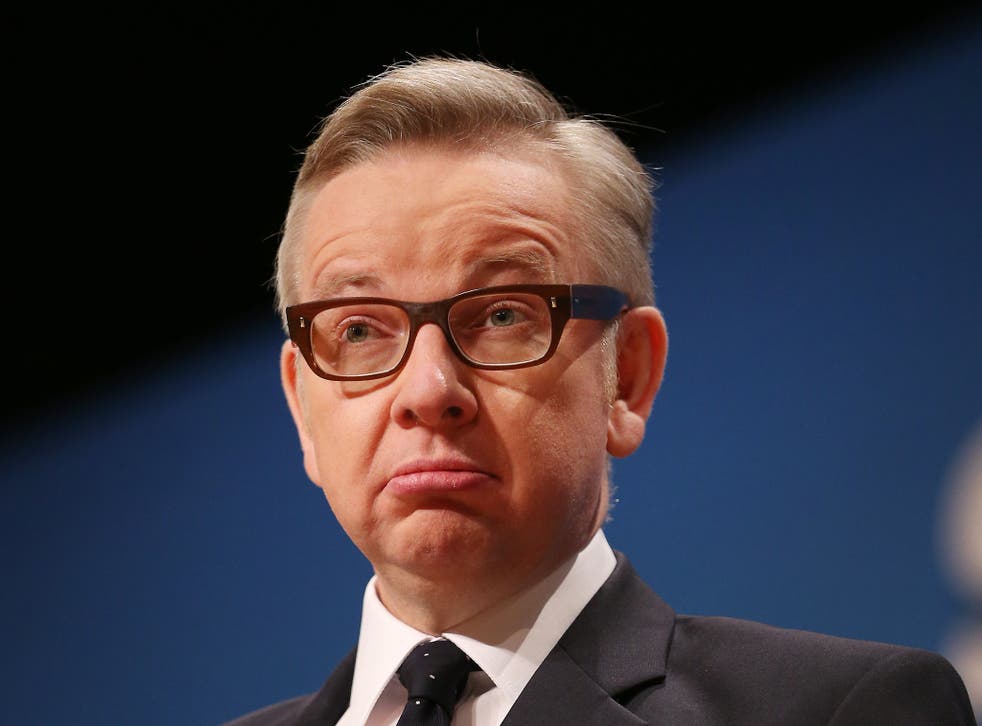 The outcry over the new financial penalties for anyone convicted of a crime presents Michael Gove with a crucial test of his willingness to jettison flawed policies inherited from Chris Grayling, his predecessor as Justice Secretary and Lord Chancellor.
Magistrates are quitting the bench in frustration that the Criminal Courts Charge forces them to impose a mandatory fine of £150 on offenders without taking account of their means or the severity of their wrongdoing.
As evidence mounts of disproportionate penalties being handed out, the Commons Justice Select Committee will examine the impact of the charge as part of an inquiry into court fees.
Could this be the moment when Mr Gove announces that the controversial penalty will be means-tested or scrapped outright?
He built a reputation during his four years as Education Secretary as the minister most committed to radical reform of public services as he championed free schools and tougher exams.
In his early days in his new job he has displayed similar reforming instincts by condemning a "creaking and dysfunctional" criminal justice system which lets down victims and offenders alike.
His scathing analysis will have made uncomfortable reading for Mr Grayling, whose approach to running courts and prisons is now being slowly dismantled by his successor.
Mr Gove has already eased the universally condemned restrictions on prisoners having books to read in their cells, scrapped plans for a giant secure college for young offenders and wound up the Ministry of Justice's commercial arm, which advised countries such as Saudi Arabia on prison policy.
He has struck a more emollient note over cuts to legal aid than Mr Grayling and delighted penal reform campaigners by promising a drive to improve education in prisons. The famously courteous Mr Gove has also won plaudits inside and outside Westminster for the manner in which he has approached his new job.
Bob Neill, the Select Committee's chairman, said: "It is very clear he is willing to listen. He made a very favourable impression on us."
A source in the courts system said: "We much prefer Michael Gove – he is a very different individual from Chris Grayling. He is much more reflective and collegiate and treats members of the judiciary with respect. Mr Grayling tended to make his mind up and then consult with you."
One prison reformer said: "Language plays an important part in criminal justice and the tone Michael Gove has used has been markedly different. Chris Grayling was unwilling to listen to sector. He had a very clear vision of what he wanted to achieve and was determined that it was going to happen."
The introduction of the Criminal Courts Charge one month before the election was one of the final legacies from Mr Grayling's spell at the MoJ.
The department is committed to reviewing it in three years' time and Mr Gove told MPs this week that it was "important not to rush to judgement" and that the system should be "given time to bed in".
However, critics found causes for optimism in his comments – notably his acknowledgement of the "widespread concern" over its operation – and they detected a subtle shift on the issue in the department.
They believe it is impossible to delay the review until 2018 given the hostility among magistrates to the scheme and think Mr Gove could intervene well before then.
That would provide concrete proof that he is ready to act as well as listen to complaints from people charged with the smooth operation of the justice system.