Prime Minister will attempt to solve the Tory's 'women problem' in Government reshuffle next week
The move is designed to present a more female-friendly face to the electorate
Nigel Morris
Saturday 12 July 2014 01:20 Comments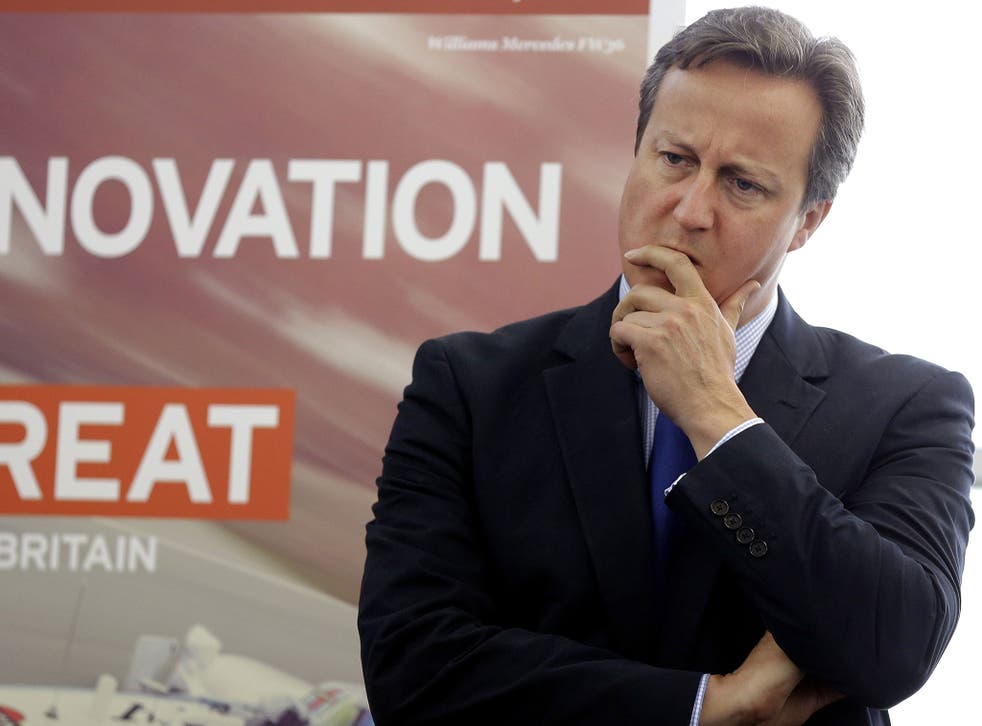 David Cameron is set to tackle his "women problem" by promoting a series of high-flying female ministers in the Government reshuffle due next week.
The Prime Minister is preparing to elevate at least two more women to the Cabinet in the final planned shake-up of his top team before the election.
Front-runners for top jobs are Esther McVey, the Employment Minister, and Liz Truss, the Education Minister, who have both impressed Downing Street over the last year.
The move is designed to combat the male-dominated image of senior Tory ranks and present a more female-friendly face to the electorate.
Following Maria Miller's resignation as Culture Secretary in April, just three of the 22 full Cabinet posts are filled by women.
Female ministers and MPs are expected to advance at all levels of the ministerial ladder.
Among those who could progress up the ranks are Nicky Morgan and Andrea Leadsom, who are both Treasury ministers, as well as the Health Minister, Anna Soubry.
Harriett Baldwin, Claire Perry and Amber Rudd are all tipped for promotion from the whips office to posts in Whitehall departments.
The backbench MPs Penny Mordaunt, who appeared on the reality television programme Splash!, and Priti Patel, who sits on the Tory party's policy board, are also in line for jobs.
In opposition Mr Cameron promised that by the end of this first term in government at least one third of his ministers would be female.
He has so far fallen well short of that ambition with women currently occupying 18 per cent of ministerial posts.
Nick Clegg, who is also conscious of the dearth of female Liberal Democrat ministers, is expected to promote the Business Minister Jo Swinson and the whip Jenny Willott.
Sir George Young will step down as Chief Whip nearly two years after returning to the Cabinet following Andrew Mitchell's resignation. He is expected to be replaced by his deputy, Greg Hands, a close ally of Chancellor George Osborne.
Kenneth Clarke, the Minister Without Portfolio, who attends Cabinet meetings, looks certain to return to the backbenches after a ministerial career spanning four decades.
Amid speculation that the reshuffle could be wider than originally forecast, a number of senior Cabinet figures could be vulnerable.
They include Andrew Lansley, the Commons Leader, and Eric Pickles, the Communities Secretary.
There has been speculation, which has been denied by Tory sources, that Iain Duncan Smith, the Work and Pensions Secretary, and Philip Hammond, the Defence Secretary, could swap jobs.
None of the current Lib Dem Cabinet ministers will lose his post, with Mr Clegg limiting any changes to lower levels of his ministerial team.
Mr Cameron's calculations could be complicated by his decision over who to nominate as Britain's next European Commissioner. It will be a key appointment in the run-up to a referendum on EU membership in 2017 if the Conservatives win the election.
Several names in the frame – including Mr Lansley, the Universities Minister David Willetts and the Business Minister Michael Fallon – are government members.
There have also been suggestions that Mr Cameron might want to propose a female Commissioner. One possible candidate is the Northern Ireland Secretary Theresa Villiers, a former Euro MP.
However, momentum is growing behind the former Tory leader Lord (Michael) Howard.
He is close to Mr Cameron and would be a strong contender to land a plum role in the Commission such as an economic portfolio.
If he were to go to Brussels, that would also avoid a potentially perilous by-election.
Register for free to continue reading
Registration is a free and easy way to support our truly independent journalism
By registering, you will also enjoy limited access to Premium articles, exclusive newsletters, commenting, and virtual events with our leading journalists
Already have an account? sign in
Join our new commenting forum
Join thought-provoking conversations, follow other Independent readers and see their replies