Palestinian Ambassador attacks Priti Patel's secret Israel meetings and Theresa May's refusal to sack her
'It was shocking for me a Cabinet minister breaking the ministerial protocol and meeting twelve officials, high-ranking, including Netanyahu'
Rob Merrick
Deputy Political Editor
Tuesday 07 November 2017 19:57 Comments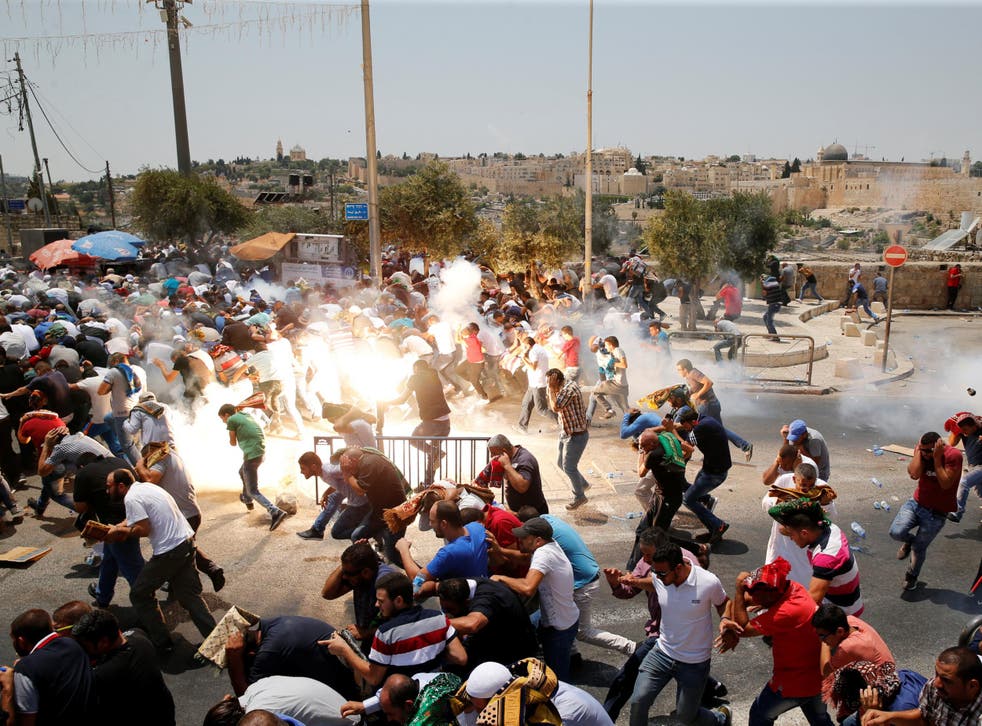 The head of the Palestinian mission to the UK has described his "shock" at Priti Patel's secret Israeli meetings and criticised Theresa May's refusal to sack her.
Manuel Hassassian said he believed the International Development Secretary had clearly broken ministerial rules and that there was "no justification" for her actions.
Ms Patel's offer to send aid money to the Israeli army made a mockery of the British Government's claim to be "pushing for a two-state solution", the ambassador to the UK added.
"It was shocking for me a Cabinet minister breaking the ministerial protocol and meeting twelve officials, high-ranking, including Netanyahu," Mr Hassassian told ITV News
"That in itself was shocking to me, in a government that is considered to be a democracy. You know, this is not a third world country."
Mr Hassassian spoke out after No 10 admitted Ms Patel wanted to send aid money to the Israeli Defence Force (IDF), after meeting Israeli politicians including Benjamin Netanyahu, the prime minister.
The Foreign Office said it rejected the call, because it involved humanitarian operations in the Golan Heights, which Israel has occupied illegally since 1967.
Ms Patel did not reveal the staggering 12 meetings – held during a 13-day "holiday" in August - until after they took place, despite earlier claiming otherwise.
Alistair Burt, a Foreign Office minister, told MPs she she did not meet "anyone representing Palestinian interests" during the trip.
Mr Hassassian added: "This is absolutely taking one side. There is no justification.
"When you talk about funnelling money to an army that is occupying five million people, there is no justification.
"Since when does the occupation army of Israel help humanitarian people? They have been subduing us, incarcerating us, destroying our houses, uprooting us, building settlements, uprooting trees - how on earth can she justify such a statement?
"There's no grounds for humanitarian stuff. It's like giving money for the occupier to continue his occupation of the Palestinian people."
On the Prime Minister's decision not to launch an investigation and to declare the matter "closed", Mr Hassassian said: "It's not enough to just to say I accept the apology.
"What are the consequences for such a behaviour? Breaking, breaching the ministerial code and not taking action?"
In the Commons earlier, during an urgent question on the controversy, Opposition MPs reacted with anger and astonishment after being told the absent Ms Patel was "in the air", en route to Africa.
Kate Osamor, her Labour shadow, said Ms Patel should do "the decent thing" and resign, saying: "It is hard to think of a more black and white case of breaking the code of ministerial conduct."
Register for free to continue reading
Registration is a free and easy way to support our truly independent journalism
By registering, you will also enjoy limited access to Premium articles, exclusive newsletters, commenting, and virtual events with our leading journalists
Already have an account? sign in
Join our new commenting forum
Join thought-provoking conversations, follow other Independent readers and see their replies