Priti Patel MP: Who is the new Treasury minister who supports death penalty and rejects plain packaging for cigarettes?
MP for Witham in Essex has been promoted from an influential Downing St policy board to role of exchequer secretary - dealing with tax policy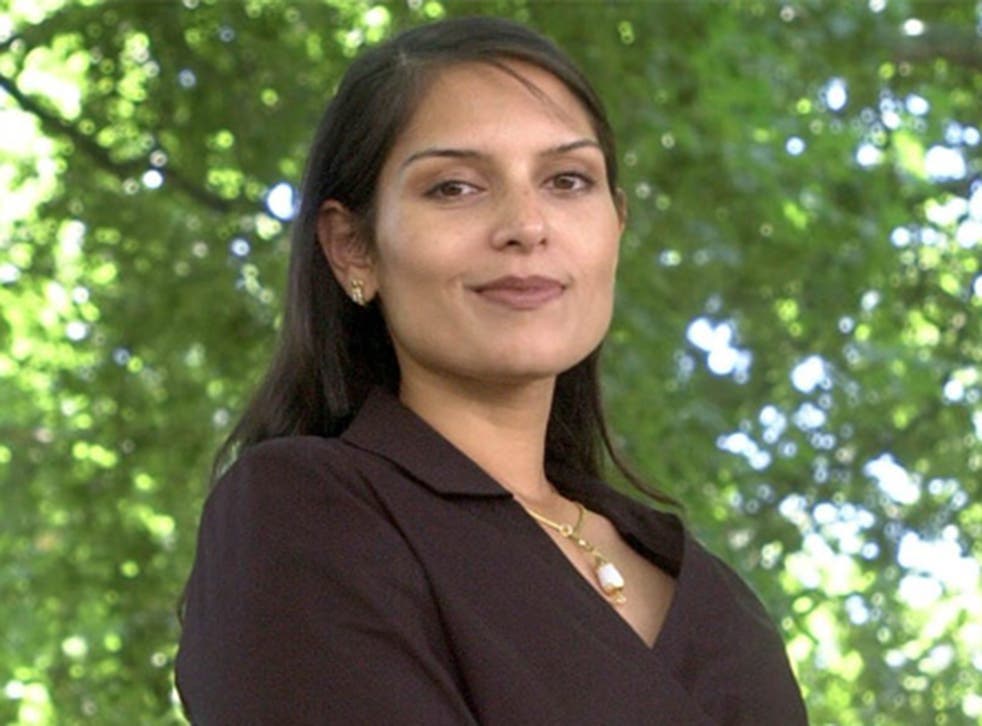 In Priti Patel, the MP for Witham in Essex, David Cameron has promoted to the Treasury a woman with right-wing views who has said she supports the death penalty and has in the past been linked with big tobacco business.
The 42-year-old is one of the big winners in the Prime Minister's reshuffle, moving up from a Downing Street policy board to the middle-ranking ministerial position of exchequer secretary dealing with tax policy.
Born in the London borough of Harrow, she became the Conservatives' first female Asian MP when she won her Essex seat in 2010.
Ms Patel has a history of supporting campaigns for small businesses, transport infrastructure investment and affordable homes – but it is her views on the criminal justice system that make her promotion into the heart of George Osborne's ministerial team controversial.
She famously clashed with Ian Hislop, the editor of Private Eye and team captain on the BBC's Have I Got News For You, in a Question Time debate on the US's execution of Troy Davis.
She said at the time that she would "support the reintroduction of capital punishment" on the grounds that "murderers and rapists and people who have committed the most abhorrent crimes go into prison but then are released back into the community to do those crimes again and again".
Disagreeing with other panel members including the Lib Dem Business Secretary Vince Cable and Labour's Harriet Harman, she said: "Capital punishment [could] serve as a deterrent. I do not think we have enough deterrents in this country for criminals – let's not forget that murders, rapists and criminals of that nature choose to commit the crimes that they commit."
Ms Patel is also against prisoners having the vote and favours a tough stance on immigration and asylum, while her own record on voting in Parliament has shown support for higher education tuition fees, greater defence spending and in favour of a reduction in spending on benefits.
Before moving into politics, Ms Patel worked in PR with the consultancy firm Weber Shandwick, where according to the Observer one of the clients at the time was British American Tobacco (BAT), a multinational tobacco firm based in London.
The newspaper said an internal memo explained that Patel would "provide strategic advice on the account, with a particular focus on the Conservative party". She told her local paper, the Essex Chronicle: "I worked in consultancy for 10 years and worked with charities, car companies, not-for-profit organisations, I had hundreds of clients. Consultancy is exactly what it says on the tin, I provided advice, but to say I was a lobbyist is completely inaccurate."
She has since rejected plans for plain packaging on cigarettes, and voted in favour of relaxing the smoking ban for pubs and private members' clubs in the Commons.
Ms Patel, who is chair of the all-party parliamentary small shops group, has said standardised packaging for cigarettes would be "the final nail in the coffin" for hundreds of newsagents.
After entering Westminster in 2010 Ms Patel has sat on the Tory party's 1922 committee of backbench MPs, and joined the Number 10 policy board last year.
She studied economics at Keele University, is married with a five-year-old son and describes her and her husband's interests as "horse racing, cricket and travelling".
Register for free to continue reading
Registration is a free and easy way to support our truly independent journalism
By registering, you will also enjoy limited access to Premium articles, exclusive newsletters, commenting, and virtual events with our leading journalists
Already have an account? sign in
Register for free to continue reading
Registration is a free and easy way to support our truly independent journalism
By registering, you will also enjoy limited access to Premium articles, exclusive newsletters, commenting, and virtual events with our leading journalists
Already have an account? sign in
Join our new commenting forum
Join thought-provoking conversations, follow other Independent readers and see their replies