Proposal to build 3.5m homes in 40 UK towns wins the £250,000 Wolfson Prize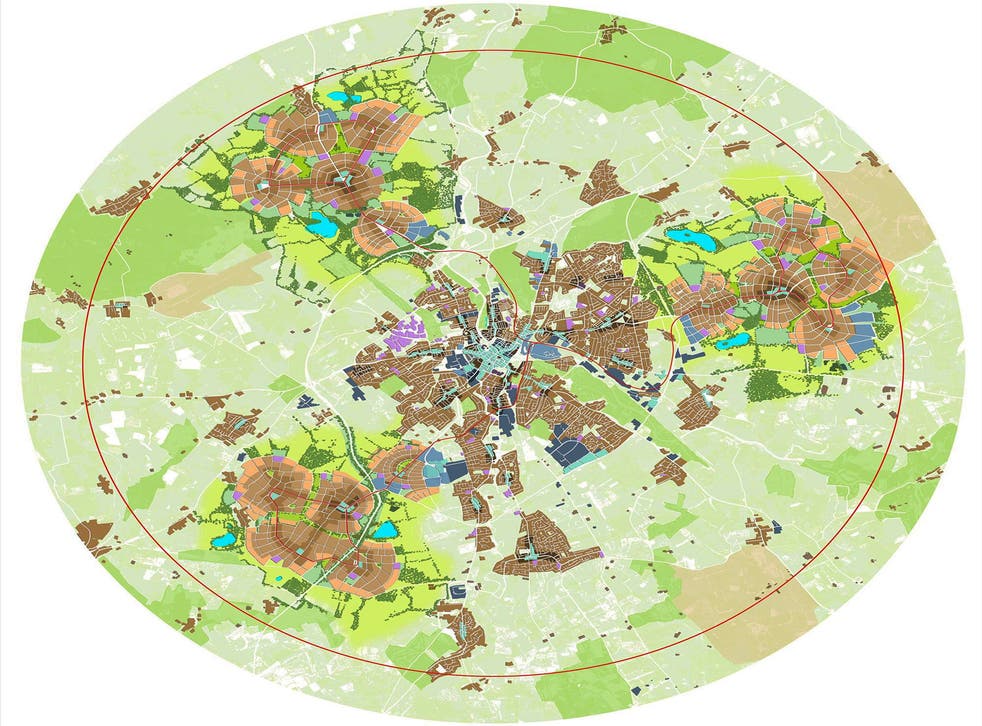 A plan to provide about 3.5m new homes in England by allowing up to 40 towns and cities to double in size and become garden cities has been unveiled.
The scheme was announced as the winner of the £250,000 Wolfson Prize, the second biggest economic prize in the world after the Nobel Prize. Labour and the Liberal Democrats are keen to see more garden cities as a way of tackling the housing shortage and will study the blueprint closely. George Osborne, the Chancellor, has announced a garden city in Ebbsfleet, Kent, with an initial 15,000 homes. But Conservative ministers are wary of supporting building in the countryside, fearing that it might boost Ukip's support in Tory heartlands at next year's general election.
The Wolfson Prize for how to deliver a new garden city, which attracted 279 entries, was won by David Rudlin, who manages the urban design consultancy URBED. He argued that the best way to achieve growth was to allow existing towns and cities to expand, saying this could be achieved by taking a "bite" out of the Green Belt while still protecting the overwhelming majority of it.
He proposed about 86,000 new homes for about 150,000 people in up to 40 towns and cities over 30 to 35 years. These include Oxford, Cambridge, Reading, Guildford, Canterbury, Ashford in Kent, Rochester, Colchester, Chelmsford, Ipswich, Norwich, Northampton, Bedford, Peterborough, Rugby, Stratford-on-Avon, Worcester, Cheltenham, Stroud, Bath, Salisbury, Winchester, Poole, Taunton, Exeter, Shrewsbury, Stafford, Chester, Preston, Blackburn, Harrogate, York, Harrogate, Lincoln, Durham and Carlisle.
Towns and cities would be allowed to bid for garden city status but should not have expansion imposed on them. Based on the Scandinavian, Dutch and German models, town extensions would be served by trams or bus rapid transport systems like the one in Cambridge, and include green, walkable neighbourhoods with schools, businesses and local shops. The hope is that the new residents would revive town centres by using their shops and protecting them against competition from out-of-town retail stores.
Some 20 per cent of the new homes would be reserved for affordable housing for people on low incomes. For every plot developed, the same area would be allocated for parks and gardens.
The winning bid included a detailed plan to develop a fictional garden city called Uxcester, which was modelled on Oxford. A study carried out as part of the project argued that if Oxford does not grow, Oxford University's position as one of the top universities in the world could be lost.
Mr Rudin said: "We believe that the expansion of existing places like Uxcester to create garden cities has the potential to make a significant contribution to meeting our housing needs as well as creating places that are attractive and popular, and that fulfil their economic potential."
As the judges' decision was very close, Lord Wolfson awarded a £50,000 runners-up prize to Shelter, the homelessness charity, which drew up plans for a garden city in Medway, Kent.
Register for free to continue reading
Registration is a free and easy way to support our truly independent journalism
By registering, you will also enjoy limited access to Premium articles, exclusive newsletters, commenting, and virtual events with our leading journalists
Already have an account? sign in
Register for free to continue reading
Registration is a free and easy way to support our truly independent journalism
By registering, you will also enjoy limited access to Premium articles, exclusive newsletters, commenting, and virtual events with our leading journalists
Already have an account? sign in
Join our new commenting forum
Join thought-provoking conversations, follow other Independent readers and see their replies