Proposal to legalise outdoor weddings: Legislation ending need for licensed venue or religious ceremony is discussed by ministers
At present, marriages are only legal if they are conducted by religious or civic officials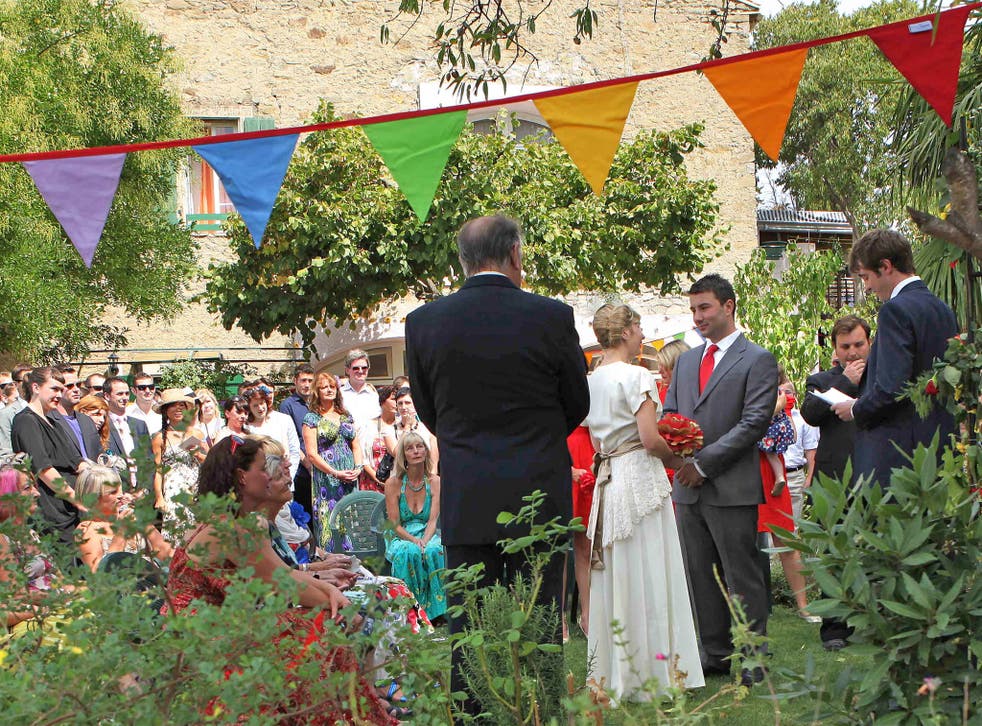 Outdoor weddings could become an option for thousands of couples, after the Government agreed to consider allowing groups, including humanists, to conduct legally-binding ceremonies in England and Wales.
Ministers are in discussions with pressure groups about a groundbreaking change in marriage law which would give "non-religious" wedding ceremonies legal status. This is already the case in Scotland, where 2,500 humanist weddings are held every year.
The move could also cut the cost of getting married because couples would not have to hire venues licensed to host weddings.
At present, marriages are only legal if they are conducted by authorised religious or civic officials. Although the ceremonies can be held outdoors, the register must be signed inside.
The British Humanist Association (BHA) conducts more than 600 weddings every year. But the couples involved have to repeat the process in a registry office – or even a church – if they want their "marriage" to have legal status. The change has been put forward by a cross-party group of MPs scrutinsing the Government's proposals to allow same-sex marriage. An earlier attempt to amend the gay marriage Bill to allow humanist marriages was defeated last month.
Government ministers claim the same-sex marriage Bill is not the best vehicle for making such a "significant change" to marriage law.
But Justice minister Helen Grant, who has been in discussions with the BHA, conceded that: "The inability to hold legally valid humanist marriages in England and Wales, including the option of holding marriages outdoors, is one of several issues that merit further consideration."
Last night a Whitehall source said the change was "under active discussion".
"There are some elements of the present laws on marriage which can appear a bit outdated, and frankly a bit restrictive," the source said. "There is some sympathy for changing the law on things like outdoor ceremonies and giving non-religious groups more freedom. The only immediate difficulty is that this debate should not interfere with the legislation we are trying to get through, which would allow same-sex couples to marry."
Humanist weddings were given legal status in Scotland eight years ago and have become the third most popular form of marriage north of the border.
The move comes amid growing concerns about the rising cost of weddings in the UK – a recent survey showed that venue hire costs an average of £2,763.
Labour MP Chris Bryant, a former Church of England minister, who has conducted several humanist ceremonies, including weddings and funerals, said: "I understand why some people might think the proposal is opening the door to anybody being able to get married and abandoning regulation, but all the normal provisions that exist in law would still apply to humanist ceremonies."
Andrew Copson, BHA chief executive, said: "Everyone has access to a civil ceremony, but currently only religious people can have a ceremony based on their own values, conducted by someone who shares those values."
Register for free to continue reading
Registration is a free and easy way to support our truly independent journalism
By registering, you will also enjoy limited access to Premium articles, exclusive newsletters, commenting, and virtual events with our leading journalists
Already have an account? sign in
Register for free to continue reading
Registration is a free and easy way to support our truly independent journalism
By registering, you will also enjoy limited access to Premium articles, exclusive newsletters, commenting, and virtual events with our leading journalists
Already have an account? sign in
Join our new commenting forum
Join thought-provoking conversations, follow other Independent readers and see their replies