Simon Calder: My five-point plan to fix the railways
Our travel correspondent presents his manifesto for transporting Britain's rail network into the 21st Century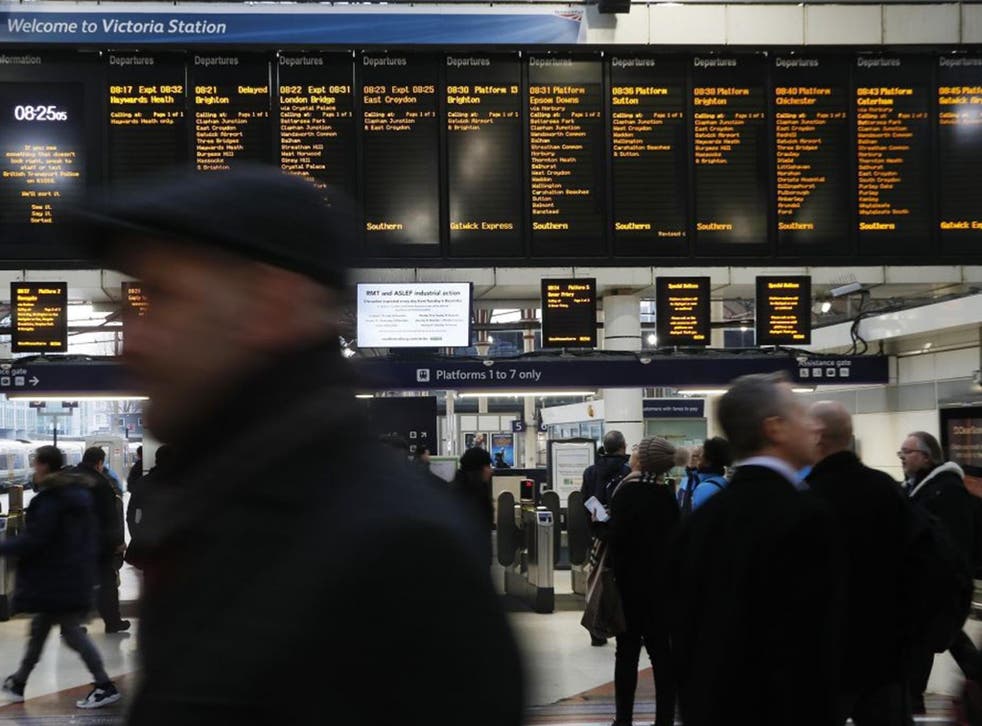 Hats off to the media team at the Department for Transport for getting so much positive coverage for an announcement.
"Transport Secretary Chris Grayling has put the passenger at the heart of delivery across the railway by announcing plans to bring track and train operations closer together."
In reality, the statement is confirmation of the enduring refusal of governments to tackle the terrifying tangle of problems that shackle the nation's railway.
Rail travel has never been more popular, as shown by the 5 per cent increase in station use announced by the Office of Rail and Road. Next Monday, Chiltern Railways opens a new inter-city link between London Marylebone and Oxford. But passengers and the wider nation are far from getting the railway they deserve.
How are we going to reach that elusive destination?
The DfT provides the Transport Secretary's cunning five-point plan. In case you are currently stranded at Sanderstead or some other strike-hit station on the Southern network, allow me to bring them to you and briefly critique them, before providing a proper five-point plan to sort out the railways.
1. Invest across the country to improve passenger journeys
The taxpayer – who is statistically unlikely to be a regular rail traveller – has been funding investment for decades.
2. More pay as you go options through smart ticketing
Why has it taken so long?
3. Improving service by bringing track and train teams together
Mr Grayling's main theme will horrify rail travellers, and the taxpayers who support them. If train operators and Network Rail have not hitherto been working together to solve problems, that is a shocking indictment of the system that the Transport Secretary heads up.
4. Giving employees a financial stake in the future success of our railway
They get that already, in the form of wages and continued employment prospects.
5. Reopening the Oxford and Cambridge rail line
While confirmation of this long-standing plan is welcome, the number of beneficiaries of this work-in-progress will be tiny compared with commuters to London, Birmingham, Manchester, Leeds and Glasgow.
So how to re-route the clapped-out train calling at Mish, Mash and all stations to Prevarication? These are five hacks that do not need a decade and a deluge of cash to deliver.
1. Put the fares up
Only a small proportion of them: the season tickets that allow commuters to catch the most sought-after morning and evening trains. Regular passengers often complain that trains are too crowded, and too expensive. These are mutually exclusive. The reason that it's standing room only from Woking to Waterloo at 8am is because the season ticket is too cheap. So offer a carrot – "arrive at your destination by 7.30am or after 10am and we'll give you a cheaper season ticket" – funded by raising the price of the super-peak season.
2. Get Amazon (or poach some of their team) to organise ticketing
Pay-as-you-go is only one element of the revolution that is needed to move from the quaint 19th-century habit of queuing up to buy a printed piece of cardboard.
On the typical train, most passengers will have a smartphone. They will have checked the journey time online. Why are they not just one click away from buying a barcoded ticket?
3. Ask the Germans to help with the timetable
On Deutsche Bahn, a three-minute gap between one train arriving and another departing is a passenger benefit allowing for swift journeys; here, it's an "illegal" connection.
4. Fill up off-peak trains with another German idea
Regional tickets offer a day's unlimited travel on slower services, outside rush hour, for a flat fare. Five people can roam around Bavaria, with city transport thrown in, for €43 (£37) . A greater social good: reducing traffic by enticing price-sensitive motorists.
5. Sort out the ludicrous planning process
One station in the ORR survey showed a three-fold increase in passengers last year. That's the good news. The bad news: it's Teeside Airport, and the number of passengers went up from 32 to 98 last year. Yes, all year. If you miss the 12.36pm from the airport – which, years ago, was renamed Durham Tees Valley – you'll wait a full week for the next train. It's a "ghost station" that the rail industry would love to close, but rather than go through the expensive planning process, politicians and the industry connive to run just one train a week so they can pretend the station is still a sensible part of the railway network. Either legislate to close it – and other anomalies – or introduce a meaningful service.
That last piece of advice was one I offered in 1997 to a new Labour transport minister, Glenda Jackson. Since then, all that has changed is that the one-train-a-week has shifted from Saturday to Sunday. Which, as far as I know, didn't merit a media announcement from the Department of Transport.
Join our new commenting forum
Join thought-provoking conversations, follow other Independent readers and see their replies