'Resentful' taxpayers prompt Labour to get tough on benefits
Chancellor insists 'public agrees' with changes to disability benefits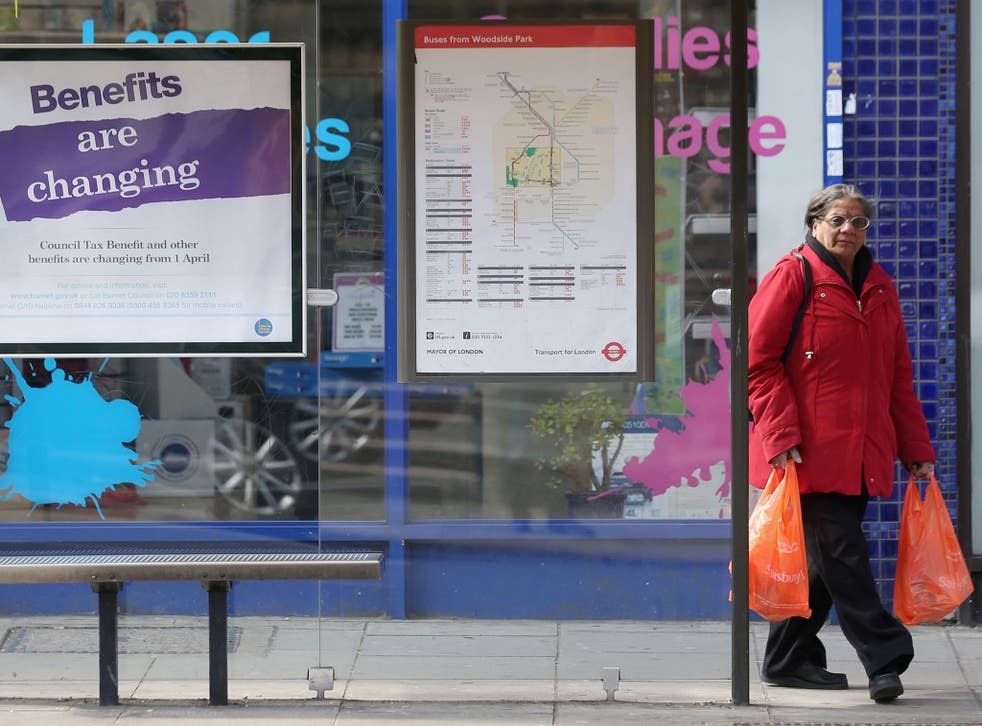 The Chancellor George Osborne last night insisted the public strongly supported the Coalition's controversial welfare reforms and took a swipe at critics of the plans, who have included church leaders and charities.
His comments came as senior Labour figures moved to toughen the party's message on benefits in an apparent recognition that most voters back efforts to squeeze spending.
Mr Osborne denied he "set out to be divisive", blaming rows over the reforms on "pressure groups" and "sensationalist media reports". He claimed many of his views were "in tune with what the great majority of the country thinks and experiences".
In an interview with BBC Radio 5 Live, the Chancellor said the "public agrees" with his proposed changes to disability benefits. Asked about the role of churches and charities in the controversy, he replied: "When you just have groups going on the television campaigning against any change, I don't think that is a sensible contribution to the debate."
Labour's deputy leader, Harriet Harman, conceded some taxpayers felt "resentful" about claimants who did not try to find a job as it emerged Labour was studying proposals to link benefit payments to past contributions to the state.
The shift comes as a new welfare system for disabled claimants comes into force today, alongside a £500-a-week cap on the amount of benefit a household can receive.
David Cameron insisted the shake-up was "putting fairness back at the heart of Britain" and Downing Street was heartened by a YouGov poll yesterday which found 67 per cent of people believe the welfare system needs urgent reform.
The battle over benefits gained added edge last week when George Osborne questioned whether the welfare state should "subsidise" the lifestyles of people such as Mick Philpott, who was jailed for life for killing six of his children.
Ed Balls, the shadow Chancellor, accused him of cynicism by exploiting "shocking and vile" crimes to score a political point. Ed Miliband, the Labour leader, is expected to level the same charge when he launches his party's local election campaign today.
Liam Byrne, the shadow Work and Pensions Secretary, is working on policy proposals under which benefit payments are linked to the amount of national insurance contributions a claimant has made.
He said in a newspaper article: "There are lots of people right now who feel they pay an awful lot more in than they ever get back. That should change."
However, Labour sources stressed the plans were not finalised and their affordability was being scrutinised.
Ms Harman said the party was working on three yardsticks – a "contributory principle for people putting into the system as well as taking out"; a guarantee that work should pay; and an obligation to accept a job that is offered.
She told BBC1's Andrew Marr Show it was "not surprising" people were concerned about the system.
"The difficulty is for people who are in work, seeing their standard of living pressurised, understandably, they feel very resentful for people who are not working," she said.
"For people who are looking for a job and can't find a work it's deeply frustrating and then of course the small minority who don't want to work – well they are let off the hook by the fact there isn't a proper work programme."
Grant Shapps, the Tory chairman, said: "Labour have opposed every single step we've taken to reform welfare to make work pay and cut the deficit. But today Labour has noticed the public is not on their side so have made this panic announcement which has unravelled within hours."
The Labour former welfare minister, Frank Field, yesterday backed the £500 benefits cap which he said was a "mega-sum" in his Merseyside constituency.
In a swipe at his party's record on the issue, he said: "The idea we have allowed a welfare state to pay out these sums without trying to put some element of responsibility back strikes [my constituents] as mad."
The Trades Union Congress claimed that some families would be £60 a week worse off in two years' time as a result of tax credit changes which came into effect this weekend.
It said two-income family with salaries of £25,000 and £15,000 and two children could lose over £3,000 a year by 2015-16.
Join our new commenting forum
Join thought-provoking conversations, follow other Independent readers and see their replies