Revealed: The Twitter user who hoodwinked David Cameron with the Iain Duncan Smith parody account @IDS_MP
The Independent can exclusively reveal that the Twitter user who fooled the PM is a 42-year-old Army veteran from Berkshire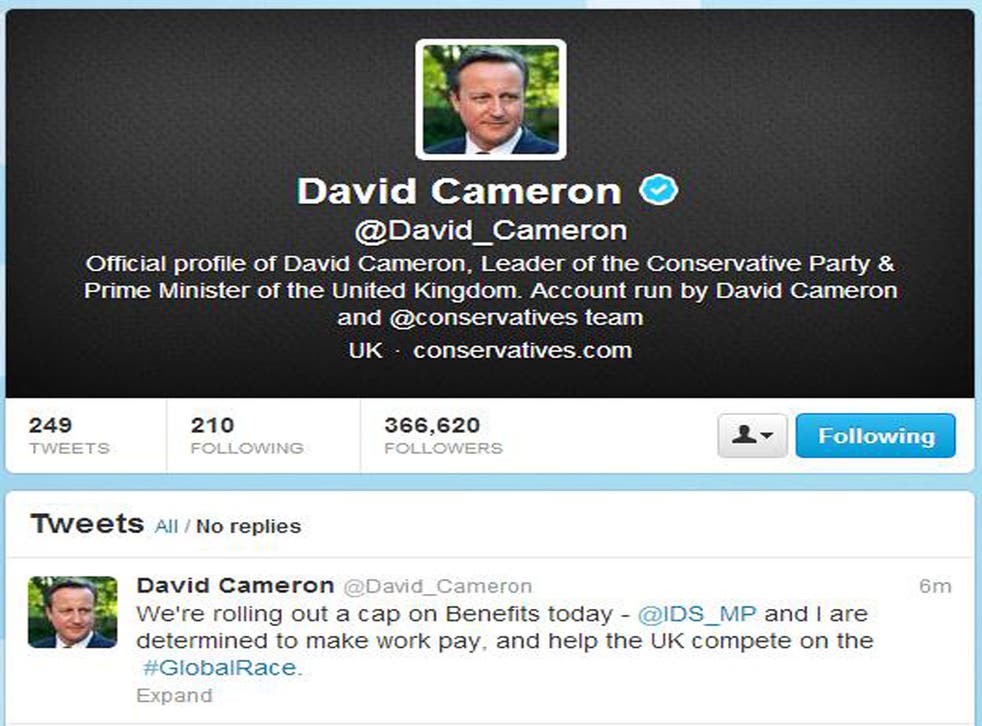 The Independent can exclusively reveal that the Twitter user who made the Prime Minister look like a fool this morning is a 42-year-old Army veteran from Berkshire.
"David Cameron uses Twitter to try and seem cool but it massively backfired on him," said the man, who did not want to be named but confirmed his ownership of the @IDS_MP account by favouriting a specified tweet on request.
This morning, the Prime Minister's official account mentioned the parody feed in a tweet about the coalition's controversial benefits cap: "We're rolling out a cap on Benefits today - @IDS_MP and I are determined to make work pay, and help the UK compete on the #GlobalRace."
The man behind the feed said this morning: "I got a text message off a mate of mine who knew it was my account saying the PM has just mentioned your spoof. I said, yeah, whatever, then got on and it's gone insane. I've had thousands of new followers and messages from people who think it's great."
He set up the account on 1 April, starting with the tweet "Now playing Common People... Choon!" and a YouTube link to the Pulp classic. Tweets since have included: "I've always supported a Mansion Tax. Your Tax buys my Mansion. Chin chin!"
"It was just a bit of a dig," he explained. "A bit of fun. I try not to take Twitter too seriously and it's always good to poke fun at our MPs. Times are quite difficult, the country's in a mess and I get quite angry with a lot of things. It's a way of expressing myself."
The Prime Minister is not the only user to be fooled. The IDS parodist, whose following more than doubled from 3,000 this morning, receives hundreds of replies to his tweets from people believing he's real, most of them unprintable.
He now works as an engineer and is a serial Twitter prankster. He started a parody account last year in the name of Trenton Oldfield, the student who disrupted last year's Boat Race in protest at elitism.
He says he managed to fool the Daily Mail website before Oldfield himself sent an email threatening legal action unless the account was deleted. He complied.
Later, he drew thousands of followers to a parody Olympics account drawing attention to the corporatism of the event. Twitter eventually suspended the account.
"They are always clearly parodies," the man said. The IDS profile is a rough latin translation of "parody bullshit", he added. He has not yet received any requests to close the account.
"It's such an easy thing to do, he added. It's a bit of fun and can have a bit of an impact, although I'll be honest and say I didn't expect today to be on Sky News this morning."
Join our new commenting forum
Join thought-provoking conversations, follow other Independent readers and see their replies