Chancellor boosts Treasury communications budget by £600,000 as he rolls out 'Brand Rishi'
A 25 per cent jump in finance ministry's communications budget under Rishi Sunak in 2020-21 raises questions about Treasury priorities, say critics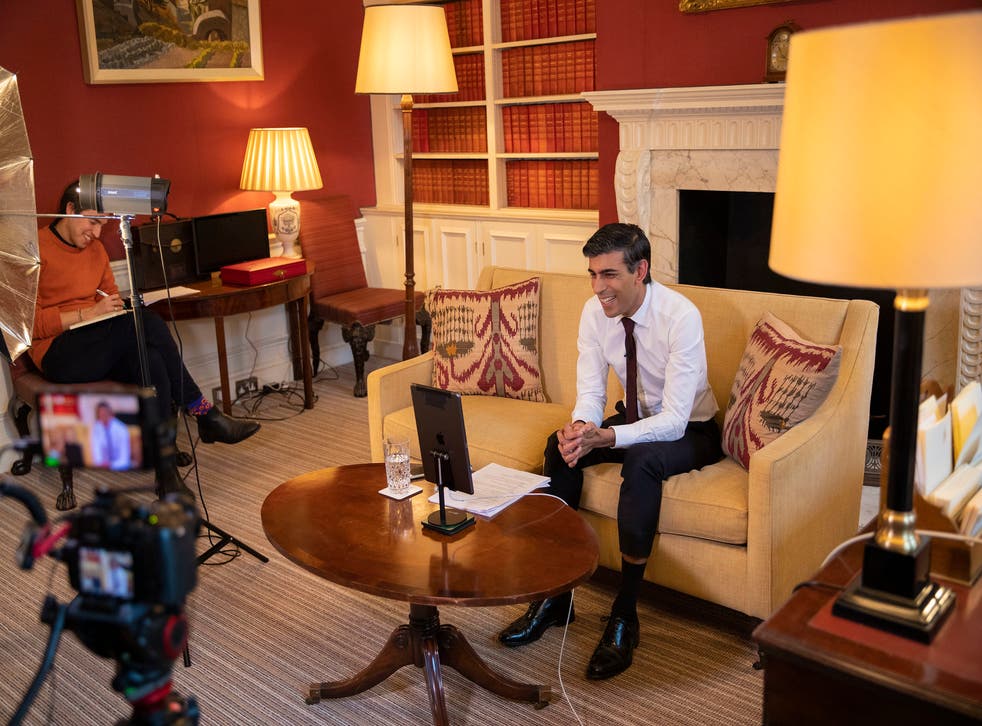 The Treasury's official communications budget jumped by more than a quarter last year as Rishi Sunak launched a major personal branding and publicity campaign drawing on the finance ministry's resources.
The budget for the Treasury's communications team was £2.7m in 2020-2021, roughly 25 per cent more (or £570,000) than the £2.1m spent in 2019-20.
Since he became chancellor in February last year, Mr Sunak has launched an extraordinary self-promotion drive that has raised eyebrows across Westminster.
It has included tweeting out messages outlining coronavirus support programmes which include the chancellor's personal signature.
In advance of the March Budget, the Treasury released a five-minute-long high-quality video of Mr Sunak talking about his year in office.
Read more
The Treasury also has an institutional photographer – or "digital content editor and photo lead" – and took on a "digital content editor" last year.
In recent weeks it has put out, with Treasury branding, a recorded zoom chat between the chancellor and celebrity chef Gordon Ramsay.
The figures showing the overall Treasury communications budget increase were revealed, in an answer to a Commons question, by the exchequer secretary to the Treasury, Kemi Badenoch.
Ms Badenoch said the increase in the Budget in 2020-21 had been "driven largely by the additional demands of responding to the coronavirus crisis including new [opinion polling] contracts".
The Treasury awarded contracts to Hanbury Strategy last year worth £68,000 and £171,000, one without competitive tender.
Treasury sources refused to divulge the specific questions asked of participants but stressed that they were related to policy, rather than impressions of the chancellor.
Yet the money spent on the contracts covers less than half of the £570,000 increase in communications spending between 2019-20 and 2020-21.
The Independent understands the extra spending was not used to advertise directly to the public Treasury policies, such as the furlough scheme or the self-employment support grants.
Sources suggested some new funding did go to new "digital capability", but they stressed there had also been an additional need for general staffing resources too because of pressures arising from the unprecedented coronavirus emergency, and rejected the suggestion that the jump in communication spending was excessive.
However, the figures are likely to intensify questions about whether it's appropriate for the Treasury to be increasing public spending on its own communications in this manner, with at least some of it promoting the chancellor personally, especially at a time when Mr Sunak is pencilling in public spending cuts for unprotected departments next year.
"It obviously raises eyebrows because it's a departure from previous chancellors," said Jill Rutter a former senior Treasury civil servant and now senior research fellow at the UK in a Changing Europe think tank.
"The Treasury should be the most austere about doing this sort of thing. It needs to lead by example in clamping down on spending that looks a bit marginal."
Doubts have also been expressed over whether it's appropriate for departments to be spending heavily on opinion polling, even if it is only related to policy.
"Chancellors have got slapped in the face for being completely out of touch with public opinion, but it needs to be very directly linked in to helping them make policy better, rather than just crafting skillful media messages," said Ms Rutter.
"You want a Treasury that is aware of public opinion but you don't want a Treasury that just manages the economy by focus group."
Labour drew a contrast between the 25 per cent increase in Treasury communications spending with the below-inflation pay rise proposed for nurses by the government next year.
"Rishi Sunak's mask is slipping," said Bridget Phillipson, shadow chief secretary to the Treasury.
"While he's been splashing public cash on promoting his own brand, he's been slashing pay for our NHS heroes. It's clear where this chancellor's priorities really lie."
A Treasury spokesperson said: "The Treasury has one of the smallest communications teams in Whitehall and has over the past year been dealing with the most significant economic crisis in living memory, including by delivering and communicating support schemes like furlough."
Join our new commenting forum
Join thought-provoking conversations, follow other Independent readers and see their replies