Rupert Murdoch did try to dictate government policy on EU, says Sir John Major
Starkest evidence of political interference as ex-PM recalls threat to withdraw papers' support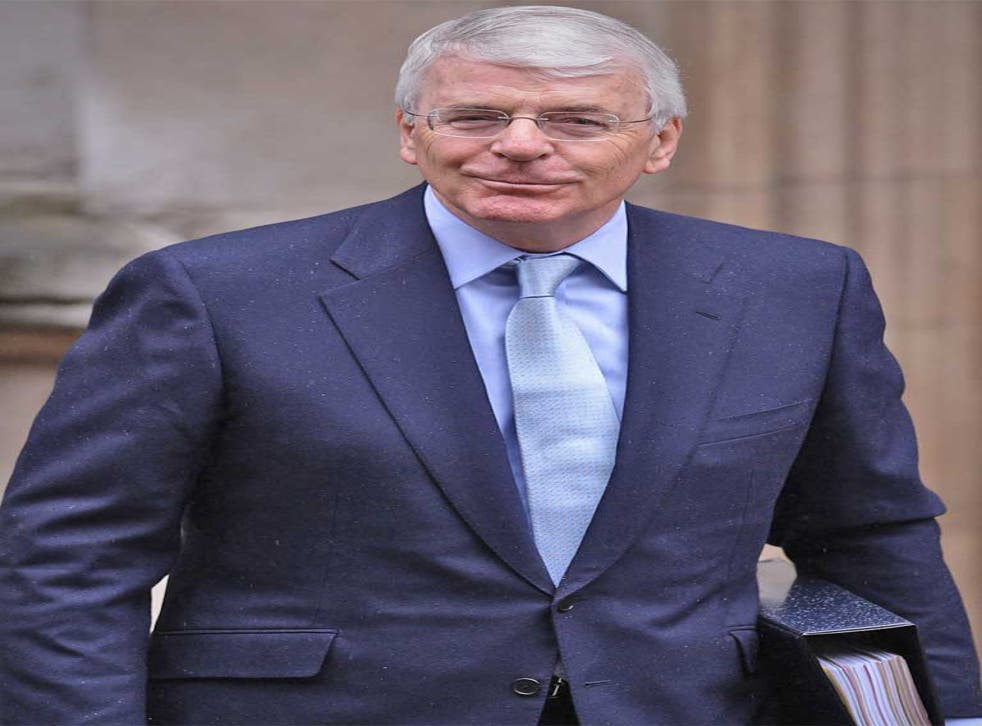 Rupert Murdoch threatened the Conservatives that unless they changed policy on Europe they would lose the support of his newspapers, Sir John Major revealed yesterday, in the starkest evidence so far of the media tycoon's interference in politics.
The former Prime Minister told the Leveson Inquiry that the proprietor of The Sun and The Times made the threat over dinner in February 1997.
"Mr Murdoch said he really didn't like our European policies," he told Lord Justice Leveson. "That was no surprise to me. He wished me to change our European policies. If we couldn't change our European policies his papers could not, would not support our Conservative Government."
"As I recall he used the word 'we' when referring to his newspapers," added Sir John, who was Prime Minister between 1990 and 1997. "He didn't make the usual nod to editorial independence." The comments flatly contradict Mr Murdoch's evidence to the inquiry on 25 April, when the News Corp chief executive said under oath: "I have never asked a Prime Minister for anything."
Explaining the circumstances of the meeting, which he said took place on 2 February 1997, Sir John said: "Just before the 1997 election it was suggested to me I ought to try to make some effort to get closer to the Murdoch papers. I agreed I would invite Mr Murdoch to dinner."
During the discussion, Mr Murdoch was "edging towards" a referendum on Britain's membership of the EU. Sir John, who fought running Parliamentary battles with Tory eurosceptics, added: "There was no question of me changing our policies."
Saying he remembered the discussion clearly, the 69-year-old told Lord Justice Leveson: "It is not often someone sits in front of a Prime Minister and says to a Prime Minister 'I would like you to change your policy or my organisation cannot support you'. It is unlikely to be something I would have forgotten."
A News International spokeswoman did not contradict Sir John's remarks, but pointed out that its titles did not act in unison at the 1997 election: "The Sunday Times supported John Major, The Times was neutral, and The Sun and the News of the World supported Labour."
Calling for tougher controls on irresponsible journalism, Sir John criticised Mr Murdoch and parts of his empire. He said that the "sheer scale" of Mr Murdoch's perceived influence was "an unattractive facet in British national life," noting that he held considerable power despite being unable to vote in the UK.
In a lighter moment, he was also asked about an incident involving the then editor of The Sun, Kelvin MacKenzie. According to Fleet Street folklore, at the height of the "Black Wednesday" exchange rate crisis in 1992, Sir John phoned the editor to ask him how he would cover the story.
"Well, John, let me put it this way – I've got a large bucket of shit lying on my desk and tomorrow morning I'm going to pour it all over your head," Mr MacKenzie is said to have replied.
But yesterday Sir John said he could not remember that particular phrase.
"I have read the alleged conversation with a degree of wonder and surprise," he said, "I frankly can't recall the bit that has entered mythology.
"I'm sure I would not have forgotten that but I don't recall it." Confirming that the call did take place, he told the inquiry it had been the only time he had telephoned Mr MacKenzie and added: "I was certainly never going to do so again."
Sir John also gave personal examples of bad behaviour by newspapers. In one episode, he said, he was called and falsely told his son's girlfriend required emergency surgery after an accident, but that the hospital needed to know first of all whether she was pregnant or not.
Join our new commenting forum
Join thought-provoking conversations, follow other Independent readers and see their replies