Sadiq Khan to ban junk food advertising on London transport to tackle child obesity 'ticking timebomb'
Jamie Oliver urges Theresa May to also 'do the right thing' – nearly two years after she dumped similar plans
Rob Merrick
Deputy Political Editor Comments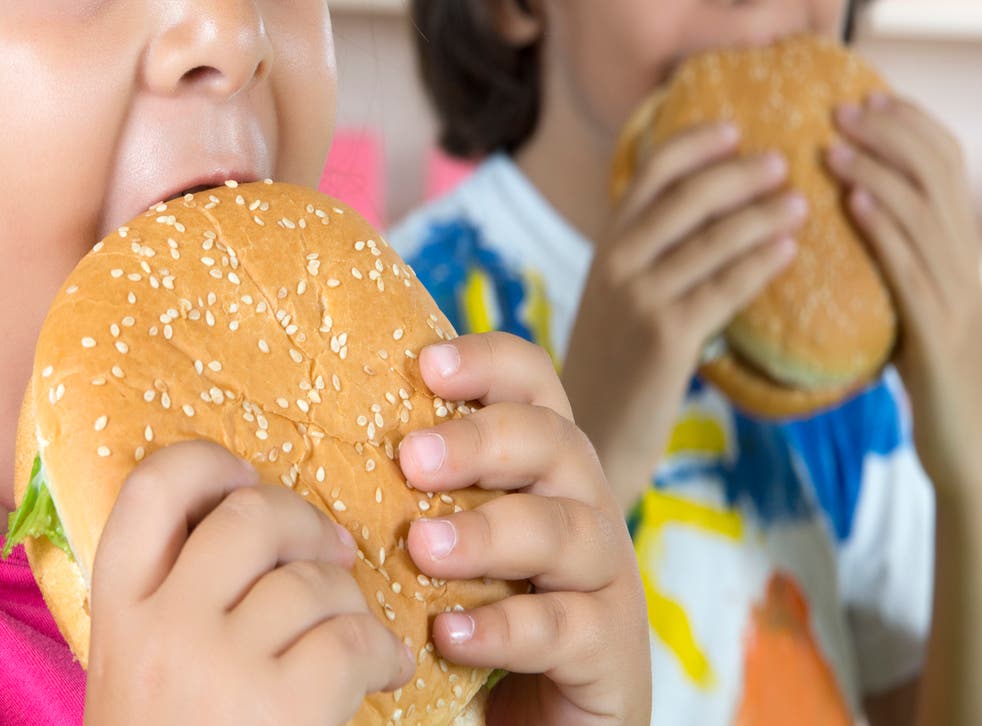 Junk food advertising will be banned from London's tube and bus network, under plans put forward by the city's mayor that steal a march on Theresa May.
Sadiq Khan said the move was necessary to curb the "ticking timebomb" of child obesity, which has left almost 40 per cent of 10 and 11-year-olds in the capital overweight or obese.
Hot food takeaways would also be barred from opening within 400 metres of schools, under a new draft London Food Strategy published today.
"If we don't take bold steps against child obesity we are not doing right by our young people, as well as placing a huge strain on our already pressurised health service in years to come," Mr Khan.
"It can't be right that, in a city as prosperous as London, where you live and the income you have can have a massive impact on whether you have access to healthy, nutritious food and your exposure to junk food advertising."
The strategy comes nearly two years after the prime minister watered down plans to tackle obesity, throwing out restrictions on junk food averts and promotions in supermarkets.
Ms May has been fiercely criticised, including by celebrity chef Jamie Oliver who said the action had been gutted after she "took over and pushed it out".
Under Mr Khan's plans, adverts for unhealthy food and drink would be banned from the underground network, buses and bus shelters, plus the Overground trains run by Transport for London (TfL).
Products high in fat, salt or sugar would be targeted under an established standard set by the Food Standards Agency's nutrient profiling system.
UK news in pictures

Show all 50
TfL is said to boast "the most valuable out-of-home advertising estate in the world", because of the 30m journeys made every day and the city's diverse population.
City Hall said that Amsterdam had introduced a similar ban, as part of a package of measures that had seen child obesity fall by 12 per cent and by 18 per cent among the most deprived children since 2012.
The mayor urged No 10 to act as well, saying: "The Government needs to step up and join this fight against child obesity, so we can achieve real progress – not just in London, but across the entire country."
Mr Oliver took another swipe at the prime minister as he praised Mr Khan for "a massive and bold step forward for child health".
"This surely must give Ms May and her cabinet inspiration to do the right thing, be bold, be clear, and pull every lever they can to protect all British kids. Now is the time!" he said.
And Dame Sally Davies, the chief medical officer, said: "The evidence is clear that, although it is not a silver bullet, restricting the amount of junk food adverts children are exposed to will help reduce obesity."
The prime minister is now expected to revive some of the proposals she dumped in a new strategy expected next month – after an appeal by Jeremy Corbyn and other party leaders.
They could include restricting "buy one get one free" deals on unhealthy products and a 9pm watershed on advertising for foods high in sugar, salt or fat.
Register for free to continue reading
Registration is a free and easy way to support our truly independent journalism
By registering, you will also enjoy limited access to Premium articles, exclusive newsletters, commenting, and virtual events with our leading journalists
Already have an account? sign in
Join our new commenting forum
Join thought-provoking conversations, follow other Independent readers and see their replies