Sajid Javid condemns 'glib comparsions' with Nazis amid Boris Johnson row
Mr Javid said: 'We have to push back when people lazily reach for glib comparisons that belittle what happened… calling those we disagree with 'Nazis' or claiming someone's actions are 'just like the Holocaust'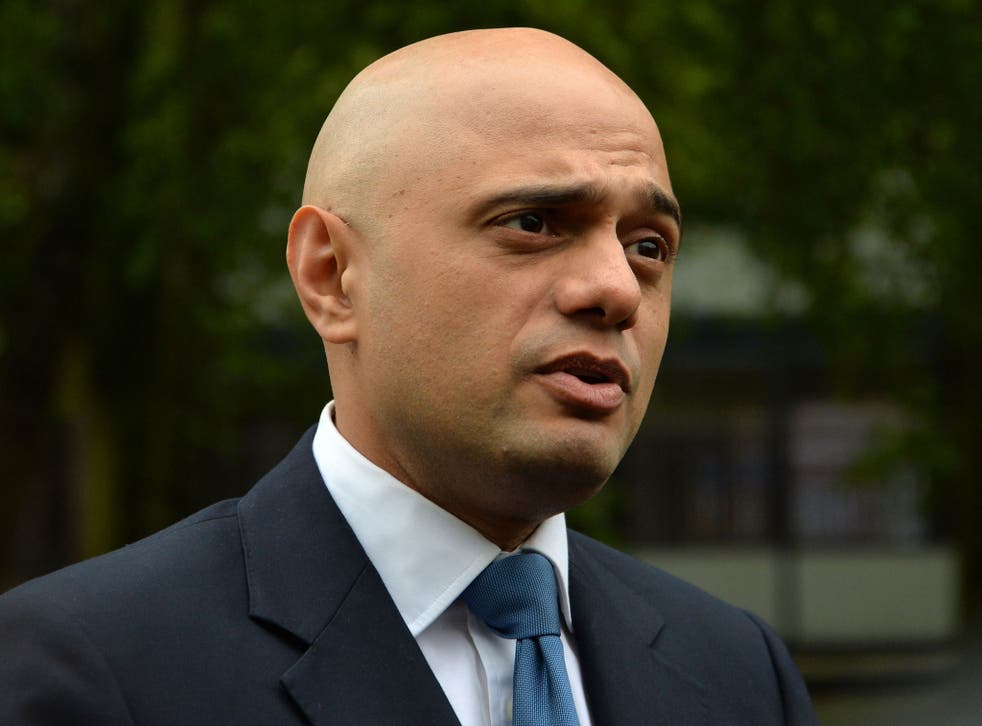 Sajid Javid has condemned those who make "glib comparisons" with the Nazis just hours after Boris Johnson was rounded on for comparing the French President to World War Two prison guards.
Speaking at reception hosted by the Holocaust Education Trust the Communities Secretary urged people to "push back when people lazily reach for glib comparisons that belittle what happened... calling those we disagree with 'Nazis' or claiming someone's actions are 'just like the Holocaust".
"Ultimately, we have to be prepared to do that most un-British of things – we have to make a scene. Maybe that'll be in private. Maybe in the media. Maybe on Twitter.
"In fact it could be anywhere from the top deck of a bus to right here in Parliament. What's certain is that if we don't speak out against hatred and anti-Semitism it will become normalised. It will become part of everyday life. And once that happens, the consequences will be tragic."
Earlier on Wednesday the Foreign Secretary had suggested the President of France might be considering World War Two "punishment beatings" on Britain for wanting to leave the European Union. In characteristically unconventional remarks made in India, Mr Johnson said Francois Hollande might want "to administer punishment beatings to anybody who seeks to escape [the EU], in the manner of some World War Two movie".
The comments brought to mind images of famous war films, such as The Great Escape, The Colditz Story and Bridge On The River Kwai, in which British soldiers are abused by Germans, or the Japanese.
When asked whether Theresa May agreed with Mr Javid's comments – at a journalists' briefing – a spokeswoman for the Prime Minister, replied: "Yes". But Downing Street insisted Mr Johnson made no reference to Nazi's in his remarks, adding that he was being "theatrical".
"He was talking about conjuring up the kind of idea of punitive behaviour from World War II, but he didn't make a specific remark. If you can find for me where the foreign secretary said the word 'Nazis', we'll have to take questions on it."
It is not clear whether Mr Javid knew about Mr Johnson's remarks when he spoke at the event at the House of Lords, but they are likely to be hugely embarrassing for the Government just a day after Theresa May's major speech on Brexit. It also appears Mr Javid's remarks were prepared in advance of the Foreign Secretary's comments in India.
Mr Johnson's comments, however, have been widely condemned with Ed Miliband, the former Labour leader, suggesting his language demonstrated "he is not fit to be Foreign Secretary".
"Showing you can be supremely clever and yet immensely stupid," he added.
Guy Verhofstadt, the European Parliament's chief Brexit negotiator, said the comments made by the Foreign Secretary about Francois Hollande are "abhorrent and deeply unhelpful" as the UK and EU prepare for sensitive talks to determine Britain's future relations with the bloc.
A spokesman for the Foreign Secretary said: "He was not suggesting anyone was a Nazi and the word never passed his lips. He was simply saying that treating Britain harshly for trying to leave the EU makes no sense."
Join our new commenting forum
Join thought-provoking conversations, follow other Independent readers and see their replies