Home secretary under pressure over revelation government made Windrush citizen sign 'totally unacceptable' non-disclosure agreements
Labour condemns 'unacceptable' use of non-disclosure agreements as revealed by The Independent
Benjamin Kentish
,
Rob Merrick
Sunday 05 August 2018 17:53 Comments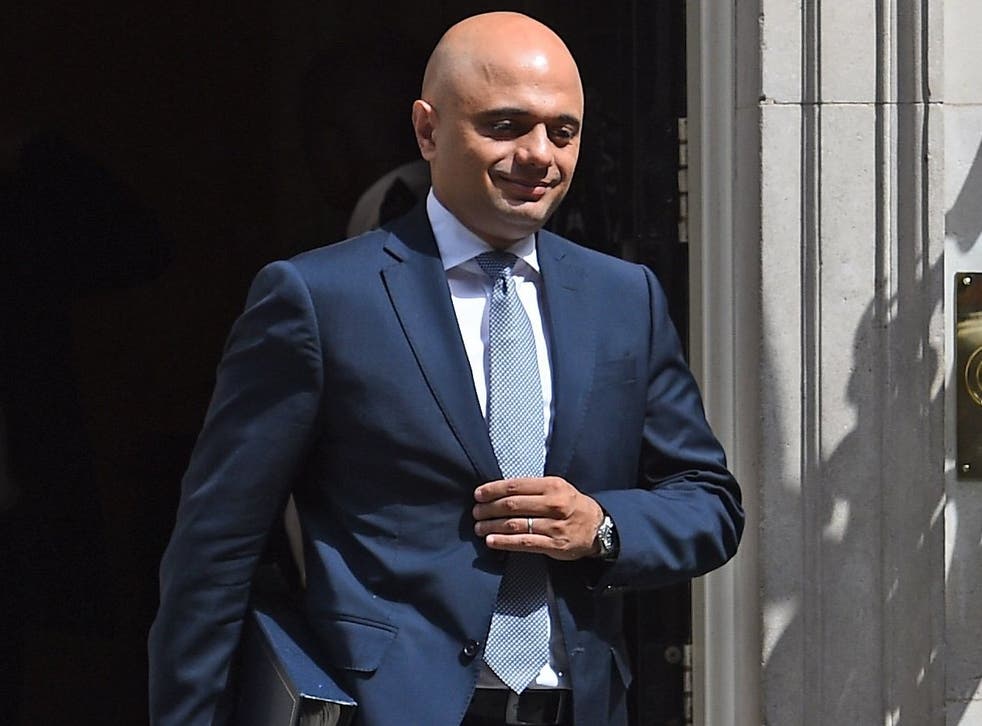 Labour has criticised Sajid Javid over the government's "unacceptable" gagging of people caught up in the Windrush scandal.
It comes after The Independent revealed the Home Office had made at least one person sign a non-disclosure agreement (NDA) in return for compensation, while another person is understood to have been asked to do so.
That prompted accusations that Mr Javid, the home secretary, had broken a promise to parliament.
Last month, he told MPs: "No one will be asked to sign any kind of non-disclosure agreement or anything like that."
Responding to reports that at least two people have been asked to do so, Diane Abbott, Labour's shadow home secretary, said: "The Windrush generation has been failed time and time again by this government. The home secretary promised to do right by our fellow citizens from the Windrush generation yet it appears he has gone back on his word. The Home Office must not attempt to buy the silence of citizens who have been so shockingly wronged and had their rights so gravely infringed in return for compensation that they are entitled to.
"It is totally unacceptable for the Home Office to impose non-disclosure agreements and gag those who have suffered at the hands of the hostile environment in order to cover up the true scale of the Windrush scandal. The Home Office must compensate all those who have suffered without further delay and without any form of non-disclosure agreement.
"It is an insult that the home secretary has still failed to even confirm when the promised compensation scheme will be up and running after so many of our fellow citizens have been left destitute, in debt and jobless by the government's hostile environment."
The Home Office said the case in question "predates" its compensation scheme.
Earlier, Yvette Cooper, the chair of the Commons Home Affairs Committee (HASC), had said she was "extremely concerned" about the reports.
She said: "The home secretary has assured us that the Home Office will be transparent over Windrush – but using NDAs to hide things that have gone wrong cannot be justified. We will continue to pursue this."
The controversy follows criticism of Mr Javid over delays in implementing the government's official compensation scheme for Windrush victims and plans to cap their payments.
No decision on how the scheme will work will be taken until the end of the year, despite warnings that people have been left destitute after losing their jobs, their benefits or even their homes, or being wrongly detained.
They were trapped by Theresa May's "hostile environment" crackdown, unable to provide the correct documents to employers, landlords and the NHS acting as "de facto border guards".
Windrush generation: threat of deportation from UK

Show all 15
But Mr Javid has now revealed the Home Office is prepared to pay out immediate compensation if threatened with "possible legal action" and if it accepts it is culpable.
However, these offers are "sometimes accompanied by confidentiality clauses, depending on individual circumstances", said a letter sent to the home affairs committee.
"Where we consider that the department has erred, we will seek to reduce any further distress for the claimant by making an offer of compensation, rather than continue through a lengthy legal challenge," Mr Javid wrote.
"I can confirm that Windrush generation cases are sometimes addressed through this route."
The Home Office refused to say how many Windrush victims had been asked to sign gagging orders, but did confirm that one individual had done so and there had been "contact sought" with a second person.
A Home Office spokesperson said: "The case referred to in the letter to the HASC predated the Windrush Compensation Scheme. There will be no requirement or need to sign a non-disclosure agreement for any individual who receives compensation through this scheme, and the home secretary has already made clear his intention to take this different approach for the Windrush generation."
Register for free to continue reading
Registration is a free and easy way to support our truly independent journalism
By registering, you will also enjoy limited access to Premium articles, exclusive newsletters, commenting, and virtual events with our leading journalists
Already have an account? sign in
Join our new commenting forum
Join thought-provoking conversations, follow other Independent readers and see their replies