Saudi King Abdullah: Britain mourns a tyrant
Campaigners and MPs said the officially sanctioned show of sympathy for the oil-rich nation's ruling elite made a mockery of its dismal human rights record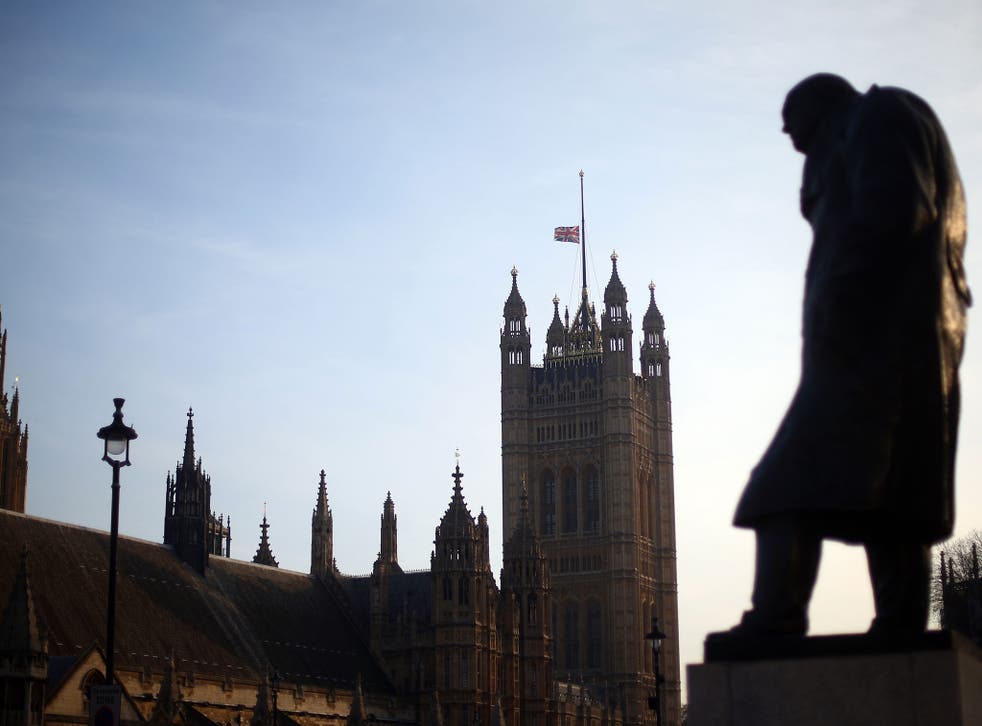 The Government face demands to reassess Britain's relationship with the Saudi Arabian regime amid fury over the reverential tributes paid to King Abdullah following his death.
Flags were lowered across England and Wales in tribute to the late monarch after an instruction from Whitehall, while both Prince Charles and David Cameron will join foreign dignitaries in Saudi Arabia today to pay their respects to his memory.
Campaigners and MPs said the officially sanctioned show of sympathy for the oil-rich nation's ruling elite made a mockery of its dismal human rights record.
Saudi Arabia has recently faced worldwide condemnation over the public beheading of a woman and the sentence of 1,000 lashes handed to a liberal blogger.
King Abdullah dead: Reaction from around the world

Show all 8
Following the announcement of the 90-year-old monarch's death, Mr Cameron said he was "deeply saddened" and praised King Abdullah for his commitment to peace and for "strengthening understanding between faiths". The Queen said the late king would "be long remembered by all who work for peace and understanding".
For decades, Britain has had close economic, political and intelligence ties with Saudi Arabia, viewing it as a key market for UK defence exports and a crucial ally in a volatile region.
As it emerged that Union Flags were being lowered, anger grew over Britain's deferential response to the death, and ministers faced calls to take a tougher approach to Saudi Arabia under the new monarch, King Salman.
The senior Labour MP Ann Clwyd said the nation's human rights record was among the worst in the world – and accused Britain of responding with "touchy-feely" diplomacy for fear of creating offence.
"People from countries such as ours should use every opportunity to protest, because the public are appalled by such barbarity," said Ms Clwyd, who chairs the all-party parliamentary human rights group.
"Lots of heads of countries die but I don't think flying flags at half-mast for a country which has such a human rights record is acceptable."
Chris Doyle, the director of the Council for the Advancement of Arab-British Understanding, said: "Saudi Arabia is going to continue to be an important partner of Britain's, but that needs to be a critical relationship. It won't be taken seriously as a critical relationship if we go over the top in paying respects.
"There has been a lot of talk to British Muslims about British values. What does that mean when there's a completely non-critical reaction to events in Saudi Arabia like the flogging of a blogger? This creates a sense of double standards.
"We need to maintain a relationship, but on a far more honest basis where we are more expressive of our criticism. We need to try to encourage it not to move forward at the glacial pace which it has, but at a more robust pace."
Buckingham Palace said the Queen had asked for flags to be lowered following guidance from the Department for Culture, Media and Sport (DCMS). It is understood that flags are automatically lowered following deaths of heads of government in Commonwealth countries and on a discretionary basis after the deaths of monarchs in other nations.
The DCMS and the Foreign Office last night each insisted the other had ultimate responsibility for the decision.
The spectacle attracted widespread condemnation, with Amnesty International's UK director, Kate Allen, protesting: "When the flags are run back up their flagpoles, the UK Government needs to move on from the tributes and put on public record their desire to see sweeping human rights reform under King Salman."
Ruth Davidson, the Conservative leader in Scotland, where flags were not routinely lowered yesterday, condemned the move as "a steaming pile of nonsense".
Douglas Carswell, the Ukip MP, said the decision demonstrated that Whitehall officials held "immoral" values far removed from the public.
A Westminster Abbey spokesman said: "For us not to fly at half-mast would be to make a noticeably aggressive comment on the death of the king of a country to which the UK is allied in the fight against Islamic terrorism."
One of the most fulsome tributes to the late king was paid by Tony Blair. The former Prime Minister said: "I knew him well and admired him greatly. Despite the turmoil of events in the region around him, he remained a stable and sound ally, was a patient and skilful moderniser of his country leading it step by step into the future."
In stark contrast, Ed Miliband's terse statement said: "I send my thoughts and condolences to the Saudi royal family on the death of His Majesty King Abdullah bin Abd Al Aziz Al Saud."
Christine Lagarde, the head of the IMF, called the King "a strong advocate of women", while US Secretary of State John Kerry said: "The United States has lost a friend, and the Kingdom of Saudi Arabia, the Middle East, and the world has lost a revered leader. He was so proud of the Kingdom's journey, a brave partner in fighting violent extremism who proved just as important as a proponent of peace."
Human rights: A grim record
Women's rights
Women face systematic discrimination in Saudi Arabia where they are not even allowed to drive. Under the male guardianship system, they cannot travel, get a passport, marry or go into higher education without the approval of a man.
Freedom of speech
The appointment of newspaper editors is controlled by the government, and journalists criticising the royal family, senior clerics or government policy can be jailed for more than 10 years.
Capital punishment
In 2013, according to figures from Amnesty International there were at least 79 public executions, the fourth highest in the world. Most were by beheading. Sorcery, adultery and sodomy are among the "crimes" that carry the death sentence.
Gay rights
Homosexuality is illegal and punishable by death or chemical castration. In July last year, a man caught trying to arrange dates with other men was sentenced to three years in prison and 450 lashes. Non-Muslims who commit sodomy with a Muslim can be stoned to death.
Religious persecution
Shia citizens, a minority group, are banned from certain jobs such as teaching subjects including history and religion, and can struggle to get into higher education. Few Shias are found in senior government positions, and citizens are not permitted to form trade unions, limiting their ability to demand action.
Register for free to continue reading
Registration is a free and easy way to support our truly independent journalism
By registering, you will also enjoy limited access to Premium articles, exclusive newsletters, commenting, and virtual events with our leading journalists
Already have an account? sign in
Register for free to continue reading
Registration is a free and easy way to support our truly independent journalism
By registering, you will also enjoy limited access to Premium articles, exclusive newsletters, commenting, and virtual events with our leading journalists
Already have an account? sign in
Join our new commenting forum
Join thought-provoking conversations, follow other Independent readers and see their replies