Scottish Labour leader to stand against Nicola Sturgeon in her own constituency
'It may well be her constituency, but it's my home,' says Anas Sarwar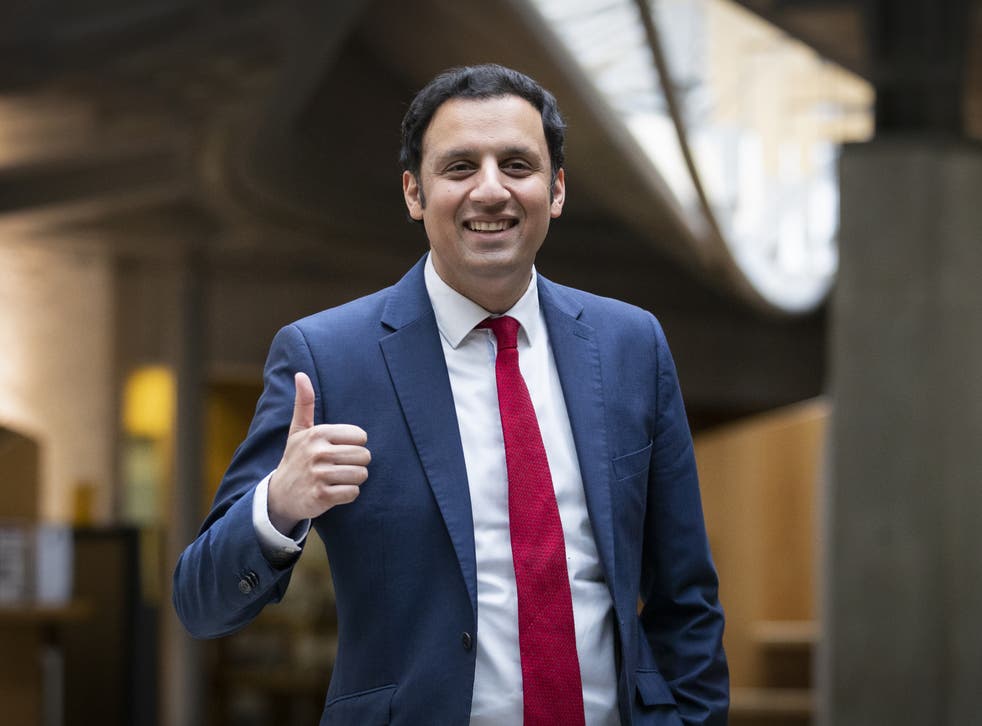 Scottish Labour leader Anas Sarwar will make a bold attempt to oust SNP leader Nicola Sturgeon from her constituency seat at the upcoming Holyrood election.
The newly-elected leader has decided to run against Scotland's first minister in her Glasgow Southside stronghold ahead of May's Scottish parliament vote.
"It may well be her constituency, but it's my home," said Mr Sarwar. "I was brought up on the south side of Glasgow, I live here and it's where I bring up my children. I'm not doing this because I think it's brave, I'm doing it because I believe in it."
It marks the first time two major party leaders anywhere in Britain have contested the same seat at any election.
Although Ms Sturgeon has a commanding majority of almost 10,000 in the constituency, Mr Sarwar is still likely to be elected to the Scottish parliament in the event he is defeated.
He is second on his party's list for the Glasgow region, so anything short of a collapse in the Labour vote would give him a seat through the proportional representation system used in the Holyrood election.
In his first major speech as party leader on Monday, Mr Sarwar set out his "education comeback" plan and attacked the SNP for wanting to "go back" to divisive arguments about independence.
"We can't rely on the SNP to focus on the recovery, because they've already made clear they will prioritise a referendum this year," he said.
Commentator Duncan Hothersall, editor of the LabourHame blog, thinks Mr Sarwar has made a "strong start" since winning the leadership last month – and praised his bold move to take on Ms Sturgeon directly.
"I think it's smart and it sends an ambitious message," he told The Independent. "I don't think it matters that it's a hell of a tall order to dislodge her – though one never knows [if he could win], given the internal volatility in the SNP. I think people will see it as gumption, something that has been missing from us for too long."
Kenny Farquharson, commentator for The Times, said the decision to stand in Ms Sturgeon's seat was "such a smart move" – pointing out that it will help "frame the whole Holyrood election as Sturgeon versus Sarwar."
In his most controversial move since taking charge, Mr Sarwar dropped Labour candidate Hollie Cameron after she claimed the party would, at some point, support a fresh independence referendum.
"We shouldn't underestimate how important it was to be clear that deviating from the agreed party line on independence is not going to be tolerated," said Mr Hothersall.
Scottish Tory leader Douglas Ross, who addresses his party's conference later on Monday, challenged Mr Sarwar and other opposition leaders to form a pro-union coalition aimed at keeping the SNP out of power.
"I think it is sad that the Labour party seem happy to work with SNP administrations in councils across Scotland, but they're not happy to work with other opposition parties in Holyrood to get rid of the SNP," he toldThe Scotsman.
The latest Panelbase poll found that only a quarter of Scottish voters back the idea of holding another independence referendum in the next year. However, 55 per cent of voters would back a referendum within five years.
The survey found 46 per cent of Scots in favour of independence and 47 per cent opposed. It also showed the SNP on course to win a majority in the Scottish parliament, but only by one seat.
It comes as the SNP's under-pressure deputy first minister John Swinney insisted there was "precisely no connection" between the announcement of a return to schools in Scotland and Ms Sturgeon's recent evidence to the Salmond Inquiry.
From Monday, primaries four to seven will return to school, along with part-time lessons for secondary schools.
The decision was announced by Ms Sturgeon on 2 March – the day before she appeared before the inquiry investigating the handling of harassment complaints against former first minister Alex Salmond.
Andrea Bradley, assistant secretary of the EIS teaching union, claimed the Scottish government was looking for a "good news story that week", but Mr Swinney rejected the claim.
"There is precisely no connection between those two events," he told BBC Radio Scotland's Good Morning Scotland on Monday.
Join our new commenting forum
Join thought-provoking conversations, follow other Independent readers and see their replies