Scots Wha Hae! The battle for independence
This much is now clear: Scotland will get a vote on separation and it will be in late 2014. All else is up for grabs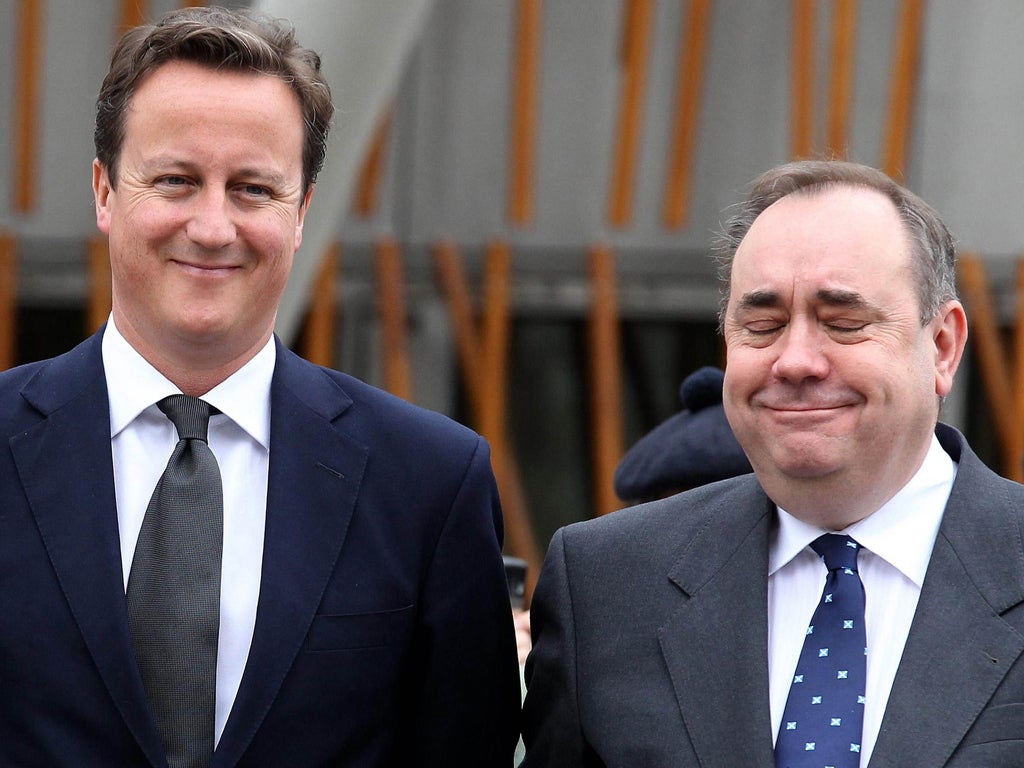 The Scots and the English share many things, but a sense of humour is not always one of them. As the Scottish National Party's ruling body met on Friday at the end of a tumultuous week for the nation, one senior member ventured his own suggestion for resolving the new problem presented by an agitated Prime Minister down at Westminster.
Click here to launch our Q&A graphic on Scottish independence
"Maybe we should organise a whip-round," he told the SNP's National Executive Committee (NEC), "so we can pay for David Cameron to fly up here and help out the independence campaign a bit more."
This dry suggestion captures the disconnect between Holyrood and Westminster over the latest twist in the saga of Scottish independence. In London, the Prime Minister and his colleagues are jubilant over his achievement in "calling Salmond out" on a definite timescale for a referendum; in Scotland the Nats point to the coalition's concession of a legally binding referendum.
Above all, however, Mr Salmond faces the prospect of having a Conservative leader bogeyman in London bolstering his cause. His many indignant references to "a Tory Prime Minister in London" culminated, on Friday, with an official invitation to Mr Cameron and his deputy, Nick Clegg, for independence talks in Scotland. The dramatic – and very public – gesture contrasted sharply with the Scotland Secretary's written invitation to the First Minister, revealed yesterday, for talks on the referendum on Thursday in Edinburgh – "to try to get things moving".
The uncomfortable fact for the Prime Minister is that in the – for him unfathomable – world of Scottish politics, the more he opposes independence the more likely Scotland will be to support it.
It had all been so different last weekend, when Mr Cameron launched into the independence debate with the enthusiasm of a man honouring a January resolution. Most significantly, the PM said: "I think, frankly, that a referendum on Scotland in the United Kingdom, sooner rather than later, would be a better thing than this uncertainty continuing."
Mr Cameron's sudden ardour was, his closest aides say, part of a long-term plan to stop Scotland "sleepwalking into independence". However, while Tories interpreted his intervention as a masterstroke that forced Mr Salmond on to the back foot, behind the scenes not everyone in the Government was so sure. In particular, the insistence on an 18-month deadline for a vote went further than planned. "The PM went off a bit half-cocked on Sunday," confessed a Whitehall source. "There was some mopping up to be done."
Mr Salmond's initial response was scornful. While the Scottish government's response to Mr Cameron's attack was straight from the SNP playbook – Westminster was "trying to interfere in Scottish democracy" – it was delivered not by the First Minister but his deputy, Nicola Sturgeon.
Within 24 hours, however, Mr Salmond had been forced to follow Westminster's lead and confirm plans to hold an independence referendum in 2014. While the SNP maintained that the announcement merely firmed up what they had previously suggested, their opponents insisted that Mr Cameron had forced the First Minister into a corner and extracted the promise. "While Salmond had control over the 'what' and 'when', he held all the cards," said one minister. "Now we have a seat at the table and he'll have to enter a debate on a more equal basis."
The coalition is gambling that support for independence will remain in the minority – currently below 40 per cent – up to the referendum and the issue will be killed off for a generation. The real risk is the lingering possibility that the Scots will vote "yes" to leaving the UK – or that they somehow get the chance to vote on new powers short of independence. "Devo max", increased powers for Scotland, emerged as Mr Salmond's best chance of emerging from a referendum with some form of victory – and more power. Mr Cameron insists that he will not countenance anything other than a single-question, yes/no vote on independence. But in consenting to a binding referendum he may have started a process, rather than ended it.
SNP sources confirmed that they would argue the case for a multi-option referendum including devo max. "They have the overall legal power, but we have the moral authority," one said. "I would like to see Mr Cameron try to impose a referendum on the Scottish people in the way he has tried to dictate the agenda this week."
It is a telling observation. If the coalition demands a yes/no vote, the SNP will brand it "Westminster's referendum" and thus maximise their chances of victory. If they lose, they will declare the result invalid and hold their own consultative referendum. However it happens, devo max appears the most likely option for Scotland's future.
Westminster is already marshalling its forces against Mr Salmond's march out of the UK, not least through briefings that warn of dire consequences for an independent Scotland. The outline of a cross-party "no" campaign is also starting to emerge. Even the most ardent Tory will admit the pro-Union movement "will not be led or fronted by Cameron and Osborne". Instead they will call in Labour big beasts and Lib Dems, but also business, which is more anti-independence than the public.
The SNP have transformed themselves under Mr Salmond. The party has also benefited from increasingly nationalistic – and anti-English – sentiments. The Scottish composer James MacMillan said yesterday: "There is a kind of accepted orthodoxy here that the Scots are not racist in the ways that the English can be. The SNP need this reservoir of anti-Englishness to power their secessionist agenda."
"This is High Noon," said former Lib Dem leader Lord Ashdown. "Only one of these two men is going to be standing at the end of this. David Cameron cannot continue as Prime Minister of the UK if he loses, and in my view Alex Salmond cannot carry on as First Minister of Scotland if he loses."
However elated Mr Cameron and his allies are over the accomplishment of the first week of their Scottish mission, Mr Salmond is far from crushed by the UK establishment. In Scotland, his reputation has been enhanced, and it will be Scottish voters who ultimately pick the winner.
The view North of the border: 'Where will the Pied Piper really lead us?'
"The 'status quo' is probably not sustainable, and I would support more autonomy being extended northwards. However, there are too many economic uncertainties in Europe to be going it alone right now, and most Scots will recognise this."
Clive Fairweather; Former SAS colonel
"We should aim for full independence. Scotland should go it alone if there are tax benefits for companies to work and be based in Scotland to generate revenue and low unemployment."
Sonia Scott Mackay; Model and owner of a Glasgow talent agency
"I think 'devo max' is a good solution. It means that Scotland retains a sense of independence without becoming vulnerable on the global stage. In a referendum I would vote for whichever option benefits the people rather than politicians."
Serah Kimuyu; Acting general manager for a charity in Falkirk
"Alex 'the Pied Piper' Salmond is fusing 700 years of anti-English sentiment with an almost primordial desire for 'national freedom'. The pipings of the flute sound so fine, but to where will Scotland's people really be led?"
Pen Hadow; Polar explorer and motivational speaker
"I consider myself a Scottish citizen and also contribute to the Scottish economy and social life. I think Scotland is capable of running the country by itself and making its own decisions."
Ahlam Souidi; Scottish/Algerian woman living in Glasgow
Join our commenting forum
Join thought-provoking conversations, follow other Independent readers and see their replies