Scottish independence: Coalition minister breaks ranks on currency union
Yes campaigners seize on unidentified source's suggestion that a deal could be cut on the pound
Mark Leftly
Sunday 30 March 2014 02:26 Comments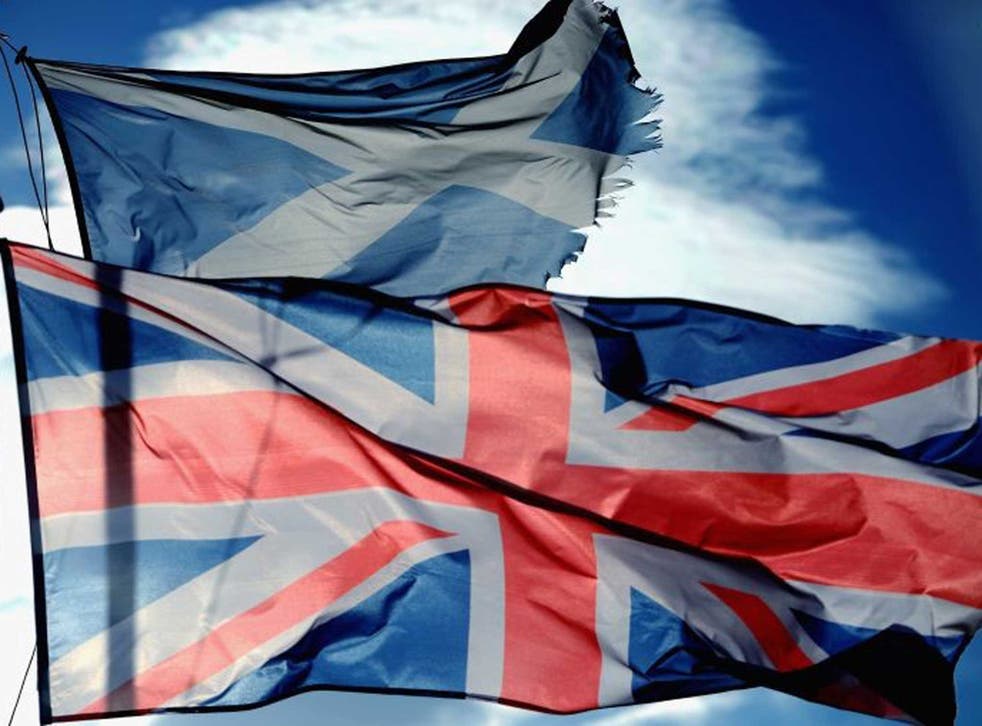 Chancellor George Osborne has denied claims that Scotland would be allowed to keep the pound in the event of a Yes vote for independence later this year.
An unnamed coalition minister was reported yesterday as saying a deal could be brokered to allow Scotland to maintain a currency union with the remainder of the UK. The Scottish National Party gleefully warned that Mr Osborne and his deputy, Chief Secretary to the Treasury Danny Alexander, appeared "frantic" at the news. Insiders in the pro-UK "Better together" campaign conceded yesterday that they are starting to look "a little nervous".
London has consistently warned that an independent Scotland would not be able to retain the pound, adding to criticism that unionists are running an overly negative campaign. Yesterday's unattributed remarks represent an embarrassing break with that position, and expose the Government to a charge of bluff.
Support for independence is growing, according to opinion polls. A recent YouGov survey found that the number who said they would vote Yes in September was up two points to 37 per cent. The anonymous minister undermined his colleagues by arguing that currency union was inevitable in the event of secession as a shared pound would ensure economic stability on both sides of the border.
Mr Osborne and Mr Alexander hit back at independence campaigners in a rare joint statement. They said: "There will not be a currency union in the event of independence. The only way to keep the UK pound is to stay in the UK.
"Walking out of the UK means walking out of the UK pound. The Scottish government are proposing to divorce the rest of the UK but want to keep the joint bank account and credit card."
They added that the UK could not be expected to "put its taxpayers at risk of bailing out a foreign country and its banks". The SNP might advocate a currency union, but the coalition argued that an independent Scotland would have no control over mortgage rates and have restricted power on tax policy to raise money for public services.
Nicola Sturgeon, Scotland's Deputy First Minister, argued: "Westminster's words on currency have now been exposed as the bluff and bluster that we always said they were. The result is a deeply damaged No campaign that is riven by splits, in disarray and which will now find it impossible to recover. For all George Osborne and Danny Alexander's frantic denials, by definition this is a story which is impossible to deny, because the story is specifically that everything the UK Government and the No campaign are saying on this issue ahead of the referendum is a campaign tactic."
Mr Osborne's choice of the words "foreign country" to describe an independent Scotland have previously been condemned by Alex Salmond. Yesterday, he repeated his criticism of Mr Osborne's language. "Scotland will not be a foreign country after independence, any more than Ireland, Northern Ireland, England or Wales could ever be 'foreign countries' to Scotland," he said. "We share ties of family and friendship, trade and commerce, history and culture, which have never depended on a parliament here at Westminster, and will endure and flourish long after independence."
Yesterday's report prompted a witch-hunt among political pundits, several of whom pointed to Defence Secretary Philip Hammond as a possible source. The minister has been quoted as suggesting that, if Britain wanted to keep its Trident nuclear deterrent at Faslane and Scotland wanted a currency union, "you can see the outlines of a deal".
However, Mr Hammond has been in the US most of the week and the unnamed source used the term "Trident nuclear weapons" – a mistake a defence minister would not make, according to his spokesman. Trident is a defence programme that ensures at least one British submarine carrying missiles and warheads is at sea at any time so as to provide a continuous nuclear deterrent.
The spokesman added that Mr Hammond has "consistently said that an independent Scotland couldn't use the pound".
The Bank of England governor, Mark Carney, has also questioned the "viability" of a currency union. He told MPs this month: "The issue for the rest of the UK would be: 'would it be credible?' I'm not predicting this, but one has to plan for contingencies; would it be credible to stand by if an independent Scotland were to be in fiscal difficulties?
"If it is not credible, then the structure of the currency union obviously is less than perfect, but it is also taking on a contingent liability or responsibility to the rest of the UK balance sheet."
However, Mr Carney also insisted that he has no view on whether currency union is a good or a bad idea for Scotland.
Register for free to continue reading
Registration is a free and easy way to support our truly independent journalism
By registering, you will also enjoy limited access to Premium articles, exclusive newsletters, commenting, and virtual events with our leading journalists
Already have an account? sign in
Join our new commenting forum
Join thought-provoking conversations, follow other Independent readers and see their replies