Scottish independence 'fast approaching' after Trident vote, SNP's Angus Robertson claims
'This Government has a democratic deficit in Scotland, and with today's vote on Trident it's going to get worse, not better' 
Alexandra Sims
Monday 18 July 2016 23:25 Comments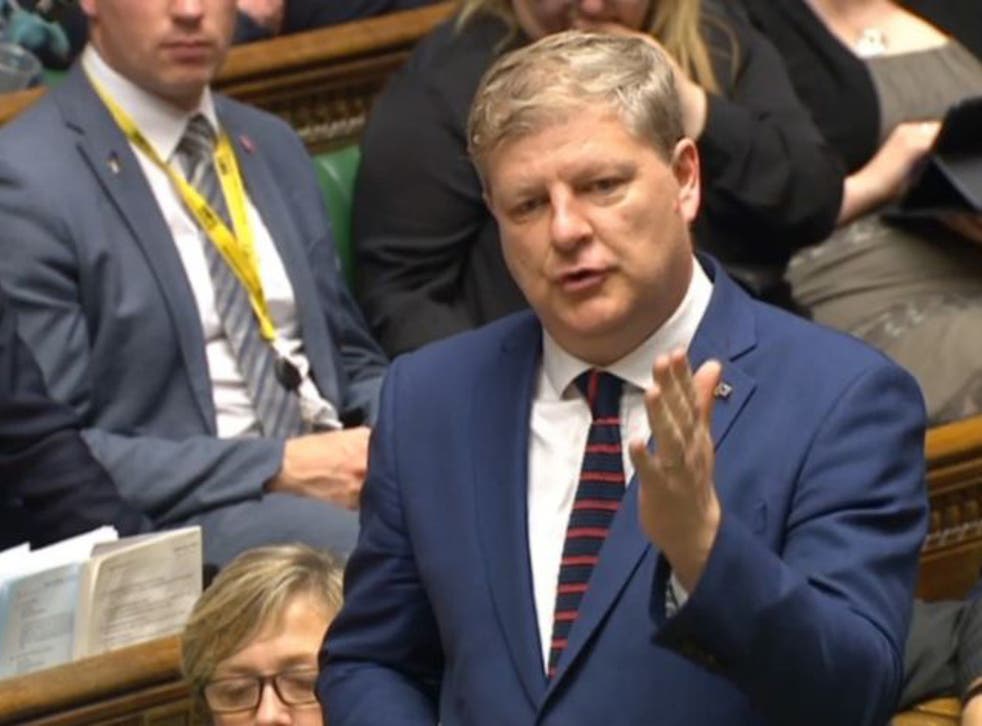 The SNP's Westminster leader has said a second Scottish independence referendum is "fast approaching" following Parliament's vote to renew Britain's Trident nuclear weapons system.
MPs overwhelmingly backed the renewal of Britain's nuclear deterrent in a Commons' vote on Monday evening, with 472 to 117 in favour of the motion.
The vote, supported with a majority of 355, supports the government's plans to replace the four Vanguard class submarines with four Successor submarines.
Fifty-eight of Parliament's 59 Scottish MPs voted against Trident renewal - with Scotland's only Tory MP, David Mundell, being the sole supporter.
In a debate on Monday, the SNP's Angus Robertson called Trident an "immoral, obscene and redundant weapons system" and said the Scottish people were being ignored by the UK government.
He said the result exacerbates the "democratic deficit" in Scotland, coming just weeks after Scottish voters overwhelmingly backed membership of the EU but were outvoted by those in England and Wales.
"Only a few short weeks ago Scotland voted to remain within the European Union," said Mr Robertson.
"If Scotland is a nation, and Scotland is a nation, it is not a normal situation for the state to totally disregard the wishes of the people, and this Government has a democratic deficit in Scotland, and with today's vote on Trident it's going to get worse, not better.
Which countries have nuclear weapons?

Show all 14
"It will be for the Scottish people to determine whether we are properly protected in Europe and better represented by a Government that we actually elect - at this rate, that day is fast approaching."
SNP leader Nicola Sturgeon has said she will hold another referendum if she believes it is the best way to protect Scotland's interests in Europe, but has said she will also consider other options.
Following the vote the SNP have called for the withdrawal of nuclear weapons from Scotland. Mr Robertson said in a statement: "The UK government must respect Scotland's clear decision against Trident renewal and remove these nuclear weapons of mass destruction from the Clyde.
"It would be democratically unacceptable if in the face of this clear opposition the UK government were to impose Trident nuclear weapons on the Clyde against Scotland's wishes."
Conservative MPs accused the SNP of disregarding the 13,000 Scottish jobs that unions say are dependent on the Trident fleet at HMNB Clyde, in Faslane on the west coast of Scotland.
They also questioned the SNP's support of nuclear-armed military alliance Nato, a policy they adopted following a U-turn ahead of the last independence referendum.
Defence Secretary Michael Fallon said: "The SNP ignores at least half of Scottish public opinion and is a party that is content to dispense with our deterrent, but happy to cower under an American nuclear Nato umbrella."
Ms Sturgeon earlier accused the UK Government of "playing games" over Trident, by calling the vote at a time of political disarray with Labour divided and the UK preparing for negotiations to leave the European Union.
Additional reporting by Press Association
Register for free to continue reading
Registration is a free and easy way to support our truly independent journalism
By registering, you will also enjoy limited access to Premium articles, exclusive newsletters, commenting, and virtual events with our leading journalists
Already have an account? sign in
Join our new commenting forum
Join thought-provoking conversations, follow other Independent readers and see their replies