Scottish independence: How Salmond can bounce back in next televised debate
Experts set out what Scottish leader must do if he is to beat Alistair Darling on this week's referendum tussle
John Rentoul
,
Jane Merrick
Monday 25 August 2014 10:00 Comments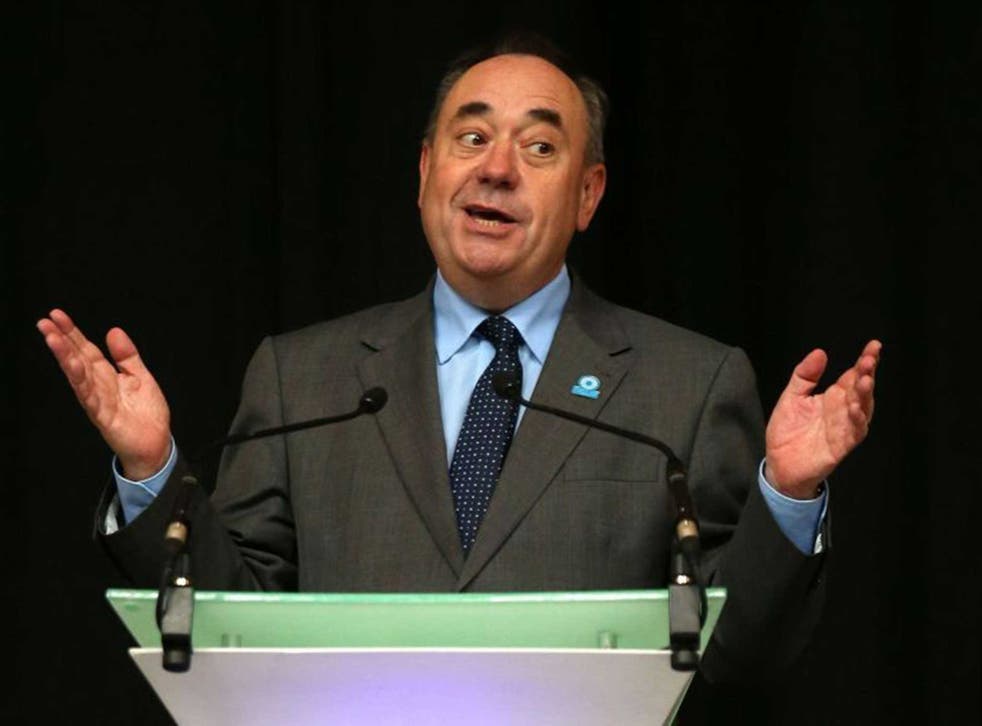 With Scotland's independence referendum less than a month away, Alex Salmond and Alistair Darling face their second crucial television debate this week.
The First Minister was judged to have lost the first on 5 August – a snap poll gave it to the leader of the Better Together campaign by 56 to 44 per cent – after Mr Darling pressed him for a "plan B" if Scotland was unable to continue to use the pound.
"An eight-year-old can tell you what Scotland's capital and flag is. But you can't tell us what Scotland's currency will be," Mr Darling said, in an uncharacteristically aggressive performance that appeared to unsettle Mr Salmond. Below, political strategists set out what the Scottish National Party leader needs to do if he is to bounce back in tomorrow's debate.
Ed Staite, former spokesman for George Osborne and media adviser to the Conservative Party
"If Alex Salmond is to get the independence campaign back on track he needs to start by forgetting about the first TV debate. Politicians who try and right the wrongs of their last battle always fail to land any punches this time around. Salmond needs instead to set out a positive vision of an independent Scotland using language that is relevant to voters so they can, perhaps for the first time in this long campaign, begin to visualise their family living in an independent Scotland."
Lance Price, deputy head of communications for Tony Blair in Downing Street
"If you're a senior politician worth your salt you should be able to script your opponent's next line. Not word for word, perhaps, but in essence. Only then can you plan your own riposte. There are very few checkmates in politics. But for once Alex Salmond is left even without his Queen – or the Queen's head on a banknote – to sacrifice and keep himself in the game. Acting tough ('they can't stop us') failed, playing for time ('a transitional option') lasted five minutes. All he has left, other than to admit defeat, is to try to rise above it: 'The future of a nation as proud and as resourceful as Scotland is about more than an argument over the name of a currency. Nobody but a fool would argue that Scotland will be left without a currency and, Alistair, I have never taken you for a fool. Let's move on.' It wouldn't convince me, but I have no better ideas. Good luck, Alex."
Scottish Independence: For and against

Show all 24
Deborah Mattinson, pollster and former adviser to Gordon Brown
"Salmond initially 'won' the emotional argument and got a bit of momentum behind him, while the No' campaign laboriously set out the rational case. However, his unwillingness to engage in the detail has lost him his early advantage on trust – Darling has caught up, and left voters worrying that the Yes campaign is less honest.
"I'd suggest that he can no longer avoid the detail and this is damaging his ability to paint the bigger picture. Almost twice as many think an independent Scotland would be worse off economically, and, crucially, nearly three times as many think they would be personally worse off. Twice as many want to keep the pound as want to see a new Scottish currency – and just 5 per cent would like Scotland to adopt the euro.
"Salmond needs clear answers to the currency issue or his credibility gap will continue to grow, causing fatal damage in the last days of the campaign."
Alex Deane, head of public affairs, Weber Shandwick
"Salmond should shrug off the last debate. He went in with expectations artificially heightened, and Darling's absurdly low. Now, people realise that both sides are pretty well armed. Salmond should simply ignore the last outing - what's past is prologue.
"Salmond has a pretty good line on entry to the EU. The fact that European bureaucrats disagree with it doesn't matter - the point is that Salmond seems and sounds credible on the potential for entry."
"The fact that European bureaucrats disagree with it doesn't matter – the point is that Salmond seems and sounds credible on the potential for entry. "
"Salmond should also show us a lot more fire this time. This debate will be won by passion, not statistics. He has passion. Time to deploy it."
Register for free to continue reading
Registration is a free and easy way to support our truly independent journalism
By registering, you will also enjoy limited access to Premium articles, exclusive newsletters, commenting, and virtual events with our leading journalists
Already have an account? sign in
Join our new commenting forum
Join thought-provoking conversations, follow other Independent readers and see their replies