Scottish referendum results: Cross-party consensus collapses amid Tory-Labour spat on the 'English question'
Both sides accuse the other of playing politics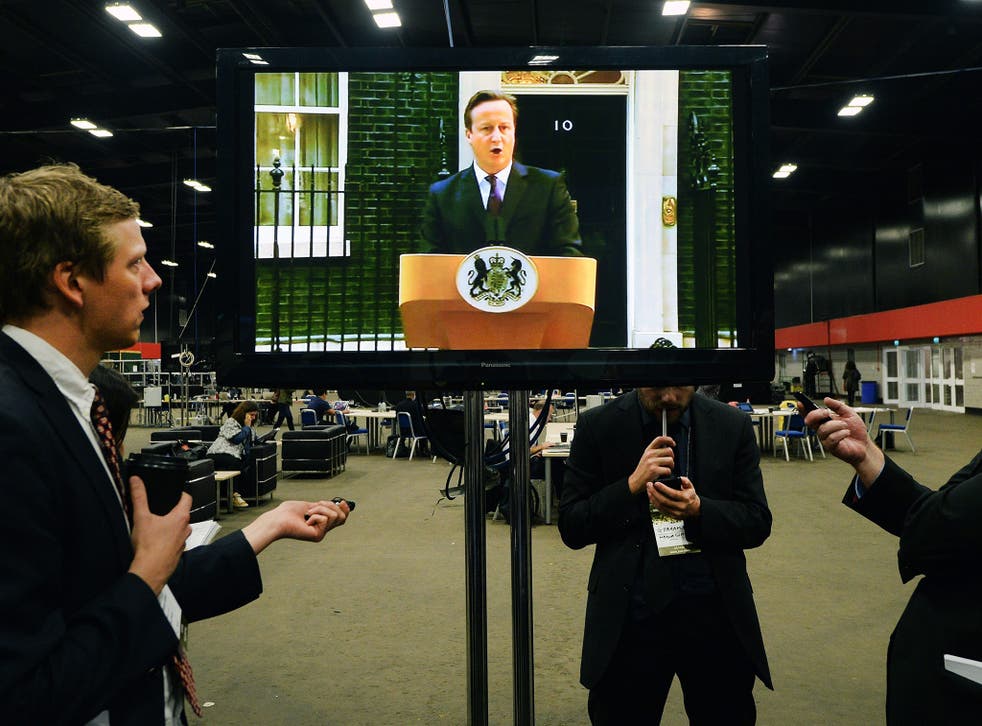 The cross-party consensus which defeated calls for Scottish independence has been shattered almost immediately by a bitter row between the Conservatives and Labour over David Cameron's plans to bring in "English votes for English laws".
Labour accused the Prime Minister of "playing party politics" with a "kneejerk quick fix", warning that his sweeping reforms could cripple a future Labour Government. Without its large contingent of Scottish MPs, a Labour administration could struggle to get its budget and laws passed by the Commons.
In turn, the Tories accused Ed Miliband of trying to kick "the English question" into the long grass after he proposed a constitutional convention that would not report until next autumn – after the May general election.
Scotland voted by 55 to 45 per cent against leaving the 307-year Union, a more decisive margin than the opinion polls had suggested. His dream of independence crushed, Alex Salmond announced his resignation as Scotland's First Minister and leader of the Scottish National Party today.
He seized on the Labour-Tory row, accusing the two parties of already reneging on the last-minute promises of further devolution for Scotland which helped sway the referendum. "I think people in Scotland would be astonished and outraged, particularly those who voted No on this prospectus," he said. "My suspicion is there is some doubt in the Prime Minister's mind about carrying his own backbenchers, therefore a reluctance to have a [Commons] vote."
Scottish independence: Referendum results in pictures

Show all 15
Although the reforms affecting Scotland and England will run in parallel, Mr Cameron hoped they would proceed "at the same pace". Some Conservative MPs, who want the Prime Minister to go further by setting up an English Parliament, threatened to vote against extra powers for the Scottish Parliament unless he beefs up his proposals for England.
The Prime Minister said: "We have heard the voice of Scotland - and now the millions of voices of England must also be heard. The question of English votes for English laws – the so-called West Lothian question – requires a decisive answer."
But Harriet Harman, Labour's deputy leader, told The Independent that Mr Cameron's proposals would provide no answers to the "disillusion and disengagement" shown by the Scottish referendum.
"You cannot deal with a problem at the grassroots with a top-down solution," she said. "He is doing it to try to outflank Ukip, assuage his rebellious backbenchers and set a trap for us. It is all about narrow party political advantage and not about the future of the country."
Mr Miliband, who wants to put the NHS centre-stage at Labour's annual conference starting tomorrow, could find his strategy disrupted by the "English question".
He proposed "codifying" Britain's unwritten constitution, including replacing the House of Lords with "a senate of the nations and regions".
Labour will oppose "English votes for English laws", arguing that any government needs to be able to "command a majority in the Commons".
But the Labour leadership is under pressure from some Labour MPs to address the issue highlighted by Mr Cameron. John Denham, a close ally of Mr Miliband, said: "English Labour needs its own voice in this process, unrestrained by Labour from other parts of the Union.
"I'd argue that devolution with England has been held back by a UK Labour Party not convinced that England needs change as much as Wales and Scotland. Now we need a voice of our own."
He added: "Any attempt to change Westminster without wider change in the way England is governed will be a crude fix, lacking legitimacy or authority."
Frank Field, Labour's former welfare reform minister, said: "The promises to Scotland ensure that the 'English question' will dominate May's general election.
"Voters will demand from all English candidates whether they support English home rule and if they support giving an additional £1,500 a year, for ever, for every person living in Scotland, over and above what they will vote for their own constituents.
"Voters will demand 'yes' to the first question, and 'no' to the second."
Mr Cameron is also under pressure from his own party. Owen Paterson, the former Environment Secretary, demanded an immediate recall of Parliament.
He said: "It is unacceptable that in the late stages of the campaign an ex-Labour leader [Gordon Brown] was allowed to make rash promises of 'extensive new powers' to the Scottish people with the endorsement of all three UK party leaders, but with no mandate from Parliament.
"Such a lopsided constitutional settlement cannot last; it is already causing real anger across England. If not resolved fairly for all the constituent parts of the UK for the long term, it will fall apart."
Peter Bone, Tory MP for Wellingborough, called for a devolution Bill to "cover the whole of the UK" rather than just provide more powers for the Scottish Parliament.
William Hague, the Commons Leader, who will draw up the English reforms, said it was "inconceivable" to continue to allow Scottish MPs to vote on English matters. But Mr Hague ruled out plans for a new English executive or parliament, saying: "I don't think people in this country will want that, and I don't think our work will lead to more expensive government."
Nick Clegg, the Deputy Prime Minister, said major constitutional issues "should not be the playthings of one individual party or the other".
In a statement from Balmoral, the Queen welcomed Scotland's vote to stay as part of the UK as "a result that all of us throughout the UK will respect".
Register for free to continue reading
Registration is a free and easy way to support our truly independent journalism
By registering, you will also enjoy limited access to Premium articles, exclusive newsletters, commenting, and virtual events with our leading journalists
Already have an account? sign in
Register for free to continue reading
Registration is a free and easy way to support our truly independent journalism
By registering, you will also enjoy limited access to Premium articles, exclusive newsletters, commenting, and virtual events with our leading journalists
Already have an account? sign in
Join our new commenting forum
Join thought-provoking conversations, follow other Independent readers and see their replies