Alex Salmond resigns as Scottish First Minister: SNP leader to stand down after referendum defeat
Mr Salmond said he is 'immensely' proud of his campaign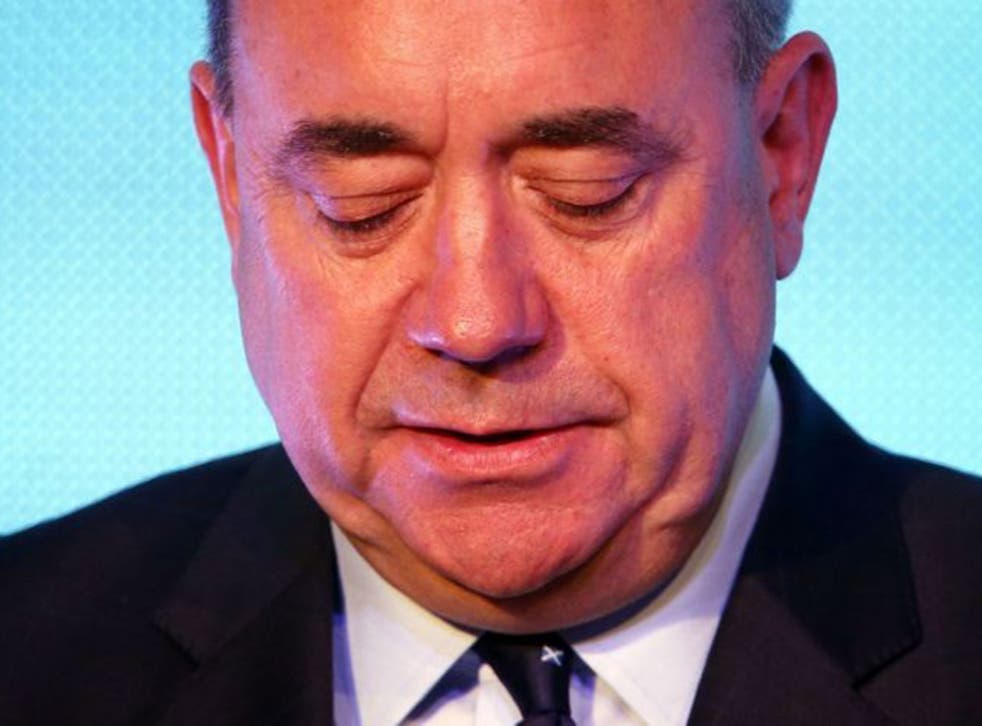 Alex Salmond has announced he is to stand down as the leader of the Scottish National Party (SNP) and as Scotland's First Minister after losing the independence vote at the Scottish referendum.
Mr Salmond said that at the age of 59, after 20 years as SNP leader and seven years as First Minister, it was time to hand over the reins.
He confirmed that he will not accept nomination to be a candidate for leader at the Annual Conference in Perth in November. After the membership ballot, he will stand down as First Minister.
Mr Salmond stressed he is not retiring completely from political life and will instead continue to offer to serve as MSP for Aberdeenshire East.
He told the media gathered at a press conference at Bute House in Edinburgh: "We lost the referendum vote but Scotland can still carry the political initiative. For me as leader my time is nearly over but for Scotland the campaign continues and the dream shall never die."
A seemingly tired Mr Salmond said he had to make a judgement about whether he is best placed to take Scotland forward, saying he believed there are others better suited.
In pictures: Alex Salmond's campaign for Scottish independence

Show all 9
The Deputy First Minister Nicola Sturgeon is widely considered to be one of the frontrunners to replace him both as SNP leader and First Minister - but paying tribute to Mr Salmond, said it was not the day to decide.
There are a "number of eminently qualified and very suitable candidates for leader", he added, but declined to comment on who he would be backing as his replacement.
The SNP leader suggested that while the David Cameron "reiterated his intention to proceed as he has outlined", he may not commit to a second reading vote by 27 March on a Scotland Bill.
"That was a clear promise laid out by Gordon Brown during the campaign," he said. "The Prime Minister says such a vote would be meaningless. I suspect he cannot guarantee the support of his party."
Mr Salmond said Scotland "now has the opportunity to hold Westminster's feet to the fire on the 'vow' that they have made to devolve further meaningful power".
When asked if he took any responsibility for the Yes campaign's defeat, he said "no campaign is ever perfect, and whatever mistakes are mine and my own".
"The position is this. We lost the referendum vote but can still carry the political initiative. More importantly, Scotland can still emerge as the real winner.
"I have believed in Scottish independence all my political life […] I shall do everything I possibly can to contribute to that cause."
Following his announcement, both Mr Salmond's allies and opponents have paid tribute to his work, with Mr Cameron hailing him as a politician of "huge talent and passion."
"Alex is a politician of huge talent and passion. He has been an effective First Minister and always fights his corner," he said on Friday.
"While we disagree profoundly about his goal of a separated Scotland, and many other things, I respect and admire his huge contribution to politics and public life."
Ms Sturgeon said Mr Salmond's achievements as SNP leader and Scotland's First Minister are "second to none." She added she owes him a "personal debt of gratitude" as a friend, mentor and colleague for over two decades.
"Quite simply, I would not have been able to do what I have in politics without his constant advice, guidance and support through all these years.
"Alex's announcement today inevitably raises the question of whether I will be a candidate to succeed him as SNP leader.
"I can think of no greater privilege than to seek to lead the party I joined when I was just 16. However, that decision is not for today.
"I also want the focus over the next few days to be on the outstanding record and achievements of the finest First Minister Scotland has had," she added.
Alistair Darling, former Chancellor and leader of the victorious Better Together campaign, called Mr Salmond a "formidable political figure" who "transformed the SNP into a party of government and delivered their referendum on independence which they had craved so long".
"He can look back with pride on being the longest-serving First Minister and to the huge contribution he has made to public life in Scotland. I wish him well in the future."
Scotland's Finance Secretary John Swinney, who campaigned for independence, also commended Mr Salmond.
Additional reporting by PA
Join our new commenting forum
Join thought-provoking conversations, follow other Independent readers and see their replies