Sinn Fein claims released documents show DUP walked out on deal to restore Northern Ireland government
'The DUP failed to close the deal and went on to collapse the talks process'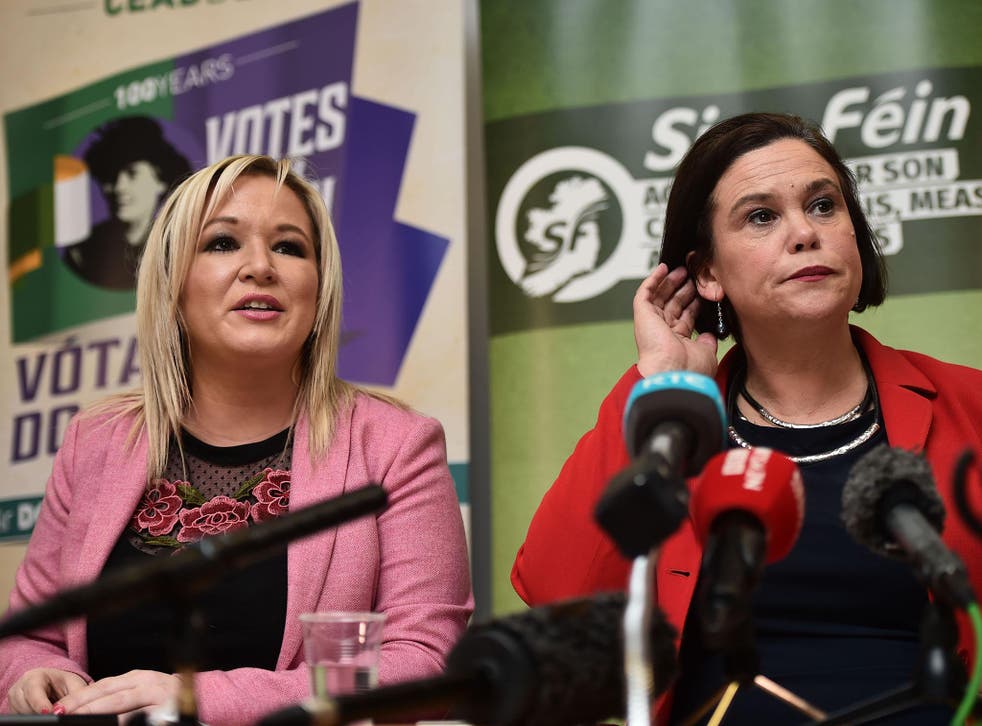 Sinn Fein has released documents that it says show the Democratic Unionist Party (DUP) reneged on a deal that would have restored power-sharing in Northern Ireland.
The nationalist party said an agreement had been reached at the end of last week following months of negotiations to restore the Stormont government, which collapsed in January 2017.
Sinn Fein leader Mary Lou McDonald said the parties had reached "an accommodation across the issues involved", including plans for an Irish Language Act to boost the legal status of Gaelic– a move strongly opposed by many DUP supporter.s
It comes amid the on-going fallout over who was responsible for the talks collapsing on Wednesday. Negotiations were halted after DUP leader Arlene Foster issued a statement saying there was "currently no prospect" of a solution.
However, Sinn Fein has now claimed a deal had in fact been agreed in principle last week. In addition to new laws placing Gaelic on the same legal footing as English, it said the agreement would also have resulted in an act to protect Ulster Scots and a third piece of legislation on respecting language and diversity.
Sinn Fein said no consensus was reached on the issue of same-sex marriage, which the DUP has blocked despite a majority of Northern Irish assembly members supporting it, but that the parties had agreed to set up a committee to look at the possibility of a Bill of Rights for Northern Ireland.
Ms McDonald said: "The DUP leader brought this phase of negotiations to a close and said 'there is no current prospect of these discussions leading to an Executive being formed'.
"It is up to Arlene Foster to explain this given that the DUP and Sinn Fein leaderships had achieved an accommodation across the issues involved."
Mark Steel: Wondering what the Tory-DUP deal will actually look like? I've got a pretty good idea
She added: "We had a draft agreement by the end of last week. At that time we advised the DUP leadership that the deal should be closed before those opposed to it could unpick what we had achieved.
"We made it clear that if there was a delay there was every chance that the package would unravel.
"The DUP failed to close the deal and went on to collapse the talks process."
Loughs, Brexit and fishermen in Northern Ireland

Show all 14
Sinn Fein said it would not agree to calls for the draft agreement to be published but had given a copy of the document to the Irish and British governments and will brief the smaller Stormont parties on the issue.
The documents prove the DUP was responsible for the breakdown in talks, it said.
However, Ms Foster said the claims were untrue and insisted she had never agreed to a standalone Irish Language Act.
She dismissed suggestions that she had agreed a deal but been overruled by her colleagues as "nonsense".
"I regret that we didn't reach an agreement because they were insisting on having this free-standing Irish Language Act," she told Sky News. "That is not something that I could sign up to and I was always very clear about that."
Theresa May says she has urged Northern Ireland's political leaders to make 'one final push'
The recriminations come as Theresa May insisted there was still hope of an agreement being reached.
The Prime Minister travelled to Northern Ireland earlier in the week amid reports a deal was close. Speaking afterwards, she said only "one final push" was needed.
However, DUP negotiators later claimed her visit had been a "distraction".
Ms May spoke to the leaders of both Sinn Fein and the DUP on Thursday evening,
A No 10 spokeperson said: "In both phone calls the Prime Minister expressed her disappointment that an agreement had not yet been reached despite recent progress being made by everyone involved.
"She reiterated how the Government remains absolutely committed to restoring an Executive and that it is still her firm belief that restoring devolved Government - so that democratically elected politicians can make locally accountable decisions - is in the best interests of everyone in Northern Ireland.
"The Prime Minister was clear that she still believes the basis for an agreement exists and recognised the leadership both parties had shown over past weeks and months. She urged them both to reflect on the recent phase of talks in order to find the best way forward."
Join our new commenting forum
Join thought-provoking conversations, follow other Independent readers and see their replies