Baldrick bites back: Sir Tony Robinson calls Michael Gove 'irresponsible' over criticisms of Blackadder as propaganda tool for the left
Actor says comments by Education Secretary amounted to 'slagging off teachers'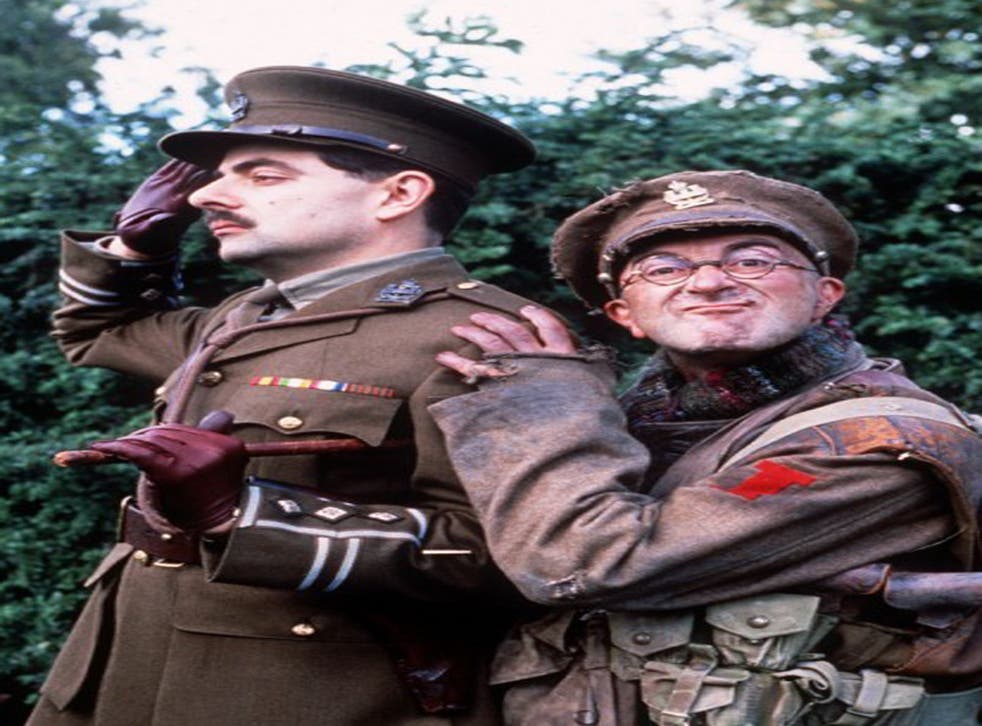 Sir Tony Robinson has accused Michael Gove of "slagging off teachers" after the Education Secretary suggested Blackadder had become a left-wing propaganda tool for portraying the First World War.
The actor starred as Baldrick in the BBC TV classic whose final series, Blackadder Goes Forth, is set in the trenches towards the end of the conflict.
Sir Tony, who is also a prominent member of the Labour Party and once sat on its National Executive Committee, said the minister seemed to be "categorising teachers who would introduce something like Blackadder as left-wing".
Mr Gove wrote in an article for the Daily Mail that the left insisted on "denigrating virtues such as patriotism, honour and courage", and though not specifically mentioning teachers he accused "left-wing academics" of peddling myths about the war.
Speaking on the Sky News Murnaghan programme, Sir Tony said: "I think Mr Gove has just made a very silly mistake; it's not that Blackadder teaches children the First World War.
"When imaginative teachers bring it in, it's simply another teaching tool; they probably take them over to Flanders to have a look at the sights out there, have them marching around the playground, read the poems of Wilfred Owen to them. And one of the things that they'll do is show them Blackadder.
Read more:
"And I think to make this mistake, to categorise teachers who would introduce something like Blackadder as left-wing and introducing left-wing propaganda is very, very unhelpful. And I think it's particularly unhelpful and irresponsible for a minister in charge of education."
"Ultimately, if you think about it, what it's really doing is just slagging off teachers. It's just another example of slagging off teachers. I don't think that's professional or appropriate."
Mr Gove wrote that the war was "an unspeakable tragedy" and said that "even as we recall that loss and commemorate the bravery of those who fought, it's important that we don't succumb to some of the myths which have grown up about the conflict".
He said: "The conflict has, for many, been seen through the fictional prism of dramas such as Oh! What a Lovely War, The Monocled Mutineer and Blackadder, as a misbegotten shambles - a series of catastrophic mistakes perpetrated by an out-of-touch elite. Even to this day there are left-wing academics all too happy to feed those myths."
Tristram Hunt, the historian and shadow Education Secretary, also criticised Mr Gove's essay, which he said was aimed at hijacking of the debate around the First World War to forward his own Tory agenda.
In a response in The Observer, he wrote: "There was always a fear that the timing of the First World War anniversary alongside the May 2014 European parliament elections and the rise of Ukip could undermine a dignified response to the events of 1914-18.
"Yet few imagined the Conservatives would be this crass. The reality is clear: the Government is using what should be a moment for national reflection and respectful debate to rewrite the historical record and sow political division."
While promoting his own five-part documentary Great Britain's Great War last October, the broadcaster Jeremy Paxman accused schools of relying on Blackadder Goes Forth to teach children about the First World War.
His comments were echoed by the defence minister Dr Andrew Murrison, who said it was "remarkable" that a satirical TV programme was being used educate children about the war.
The former surgeon commander with the Royal Navy said: "We must commemorate this centenary because with the passing in 2009 of Harry Patch, Bill Stone and Henry Allingham, our last tangible links with the First World War are retreating into the shadows.
"Because there are those who are asking what's the point of it all, we risk disconnection from a defining event of our time and an opportunity, perhaps, to balance the Oh! What A Lovely War/Blackadder take on history, that has sadly been in the ascendant for the past 50 years."
Join our new commenting forum
Join thought-provoking conversations, follow other Independent readers and see their replies