Theresa May rules out snap election as Tories warn waiting until 2020 could 'open the door to Labour'
Theresa May could more than quadruple her majority if a snap election were called, polls say
Katie Forster
Saturday 01 October 2016 17:30 Comments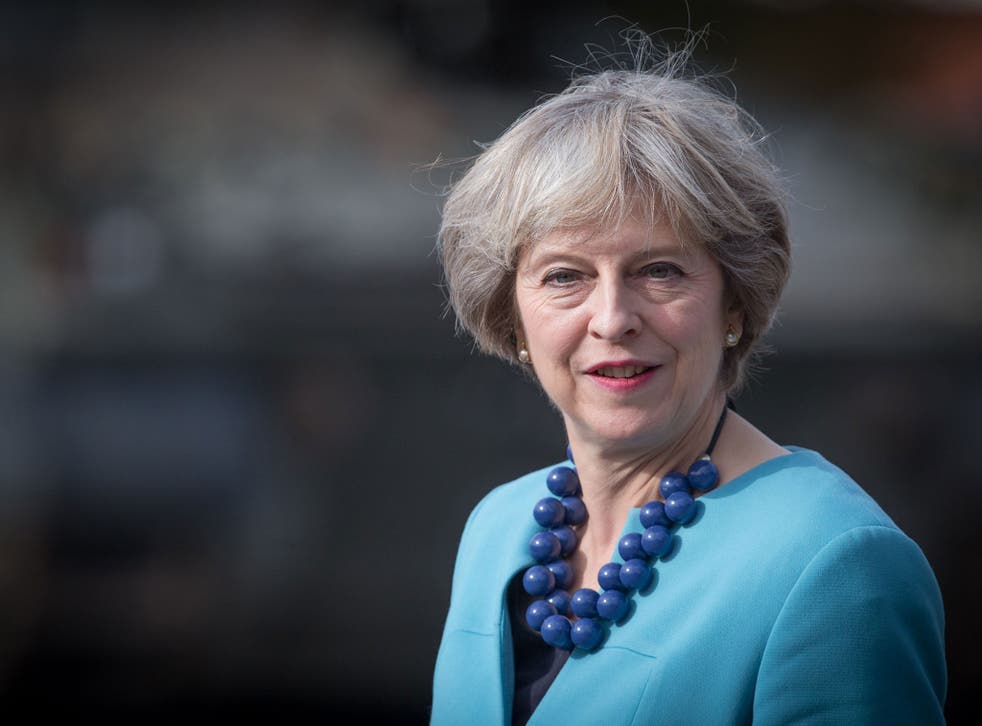 Theresa May has ruled out the possibility of a general election before 2020 due to the risk of "instability" posed by a snap vote.
Tory politicians and campaigners had called for an early election to avoid a backlash over the Brexit deal that could win votes for Labour.
But Ms May has made her position on the issue clear in an interview with The Sunday Times, reported Sky News.
Hopes had been raised for an early election after it was revealed Ms May could increase her party's majority by more than four times if an early election were to take place.
Conservative MP Jake Berry told The Telegraph an election next year would give the Prime Minister an easier ride for the five years that follow, allowing her to negotiate leaving the EU without an election looming.
"An election in 2020 would effectively be an election on the Brexit deal, which could potentially open the door to Labour if the public are not happy," he said.
The most recent polls conducted by YouGov suggest if there was a general election tomorrow, 39 per cent of people would vote for Ms May, compared to 30 per cent for Labour leader Jeremy Corbyn.
But The Telegraph reported the Prime Minister could more than quadruple her majority, from 12 to 62 seats in the House of Commons, according to analysis of polls conducted since she took office.
In June, Ms May ruled out an early general election when she announced her intention to stand as a Tory leadership candidate. She argued at the time that the country is "only one year into" the current parliament.
Theresa May announces she is standing for Tory leadership
But some Conservatives thought she should change her mind, with the chairman of the activist group Grassroots Conservatives calling the decision to call an early election a "no brainer".
An early election is constrained by the 2011 Fixed Term Parliament Act, which has set the date of the next election in 2020.
Before it was passed, the Prime Minister could simply "call an election" – but this power was transferred to the House of Commons under the Act, which was introduced by the 2010 Coalition government.
There are now two ways an election can be called ahead of schedule.
The first is if two thirds of MPs vote to hold an election. This would in practice require both Labour and Conservative support.
Despite the polls, Mr Corbyn is believed to support an early election as it could help restore his authority in a divided Labour Party.
The second is if there is a no confidence vote in the government of the day. After such a vote other parties are given 14 days to form another government. If none can be formed, a new election is held.
On paper, a majority government could, by a simple vote, declare "no confidence" in itself. Since no other party has a majority, after 14 days an election would be set.
But Professor Robert Hazell of University College London's Constitution Unit told The Independent this "artificial" move could backfire.
"This does have the potential to go embarrassingly wrong. It would only take a handful of Conservative rebels to derail an attempt to call an election," he said.
The government could also choose repeal or "bypass" the Fixed Term Parliament Act, said Professor Hazell, which might raise "awkward questions" but would be completely within the rules.
Paddy Ashdown, the former Liberal Democrat leader, previously said the only way Mrs May could secure a "soft Brexit" deal that appeased her Eurosceptic backbenchers would be to call an election in May next year.
What experts have said about Brexit

Show all 11
At the Liberal Democrat conference, Mr Ashdown said "the possibility curve rises now quite sharply towards a May election".
He claimed Mrs May will have to "declare her hand" over what Brexit means for the country, and that she is facing a "revolt" either way.
"There are deeper divisions in the Tory party than we are paying attention to. The only way out of that conundrum is a general election," he said.
Register for free to continue reading
Registration is a free and easy way to support our truly independent journalism
By registering, you will also enjoy limited access to Premium articles, exclusive newsletters, commenting, and virtual events with our leading journalists
Already have an account? sign in
Join our new commenting forum
Join thought-provoking conversations, follow other Independent readers and see their replies