The solution to congested railways? Turn train tracks into high-traffic 'busways'
Think tank wants to convert some railways into special coach-only roads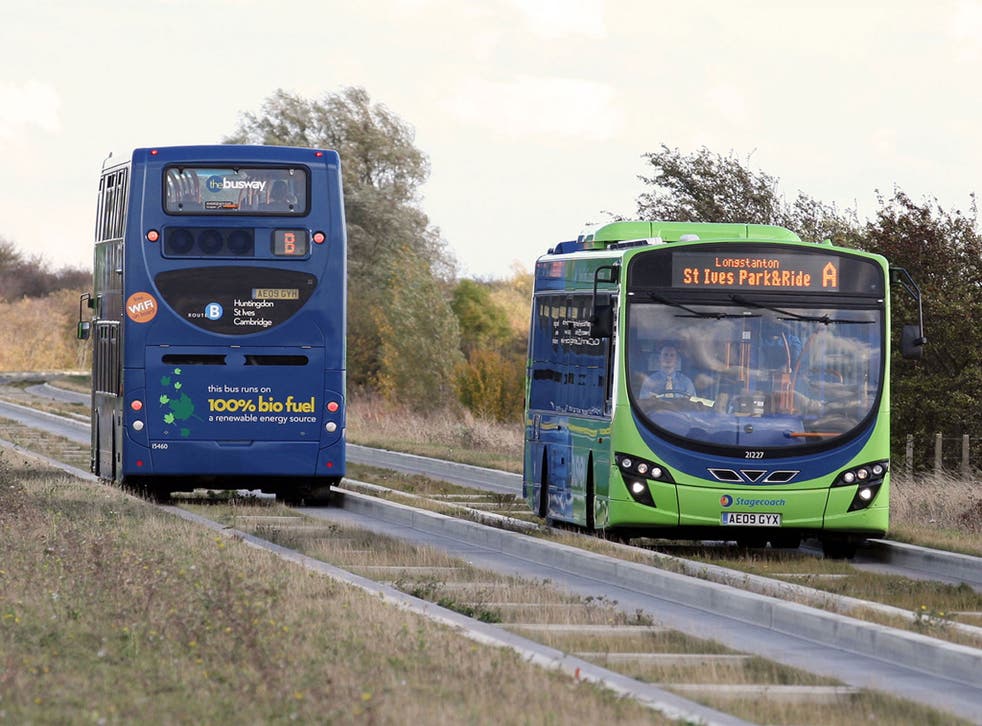 Catching the coach rather than taking the train could help solve the UK's commuter gridlock, under radical plans to rip up rail lines and use the land for express "busways".
Creating a network of high-speed bus and coach road would save the country billions of pounds and cut fares for passengers, according to a new report released today.
The ambitious proposal from the Institute for Economic Affairs think tank comes amid growing discontent over the performance of Britain's railways, with satisfaction levels at their lowest in five years. Some London train routes have more than trebled in the last 20 years.
While the speed of trains may make them preferable for long-distance travel, the IEA argues that buses could be significantly cheaper and just as quick for shorter journeys - if they were allowed to evade traffic by using existing rail routes.
Such schemes could also save taxpayers around £6bn by cutting state support for rail franchises. "It is estimated that busway fares would be at least 40 per cent cheaper than current rail fares, while on longer journeys all passengers could expect to be seated," the IEA report claims.
It features examples such as the Cambridgeshire Guided Busway, which runs along the route of two closed rail branch lines and transports thousands of people each day. At 16 miles long it is the longest such scheme in the world.
The authors argue that Government transport spending has been "misallocated on a grand scale", with priority given to major rail schemes like Crossrail and HS2.
For and Against HS2

Show all 5
Although trains can carry more passengers than coaches, this could be addressed by simply having more coaches on the roads, says the report.
It compares the capacity of HS2, which would provide 20,000 seats per track an hour, with 75,000 seats an hour which 1,000 coaches could provide. The authors also claim that greater use of buses would not significantly increase greenhouse gas emissions - but concede that "urban air pollution may be a more challenging issue".
Stephen Joseph, chief executive, Campaign for Better Transport, said: "This report is based on fantasy numbers and bears almost no relation to the real world. Conversion of commuter railways to busways would not result in the claimed economies or cuts in fares and would jam up London and other cities. It would also add to noise and air pollution."
In a statement, a Department for Transport spokesperson said: "We have no plans to replace rail routes with express busways. As part of our long-term economic plan, £38bn will be invested in the rail network over the next five years because it is the most economically effective way of transporting large numbers of passengers."
Join our new commenting forum
Join thought-provoking conversations, follow other Independent readers and see their replies