Stella Creasy MP targeted by protesters over vote on Syria air strikes
The Walthamstow MP has apparently been threatened with deselection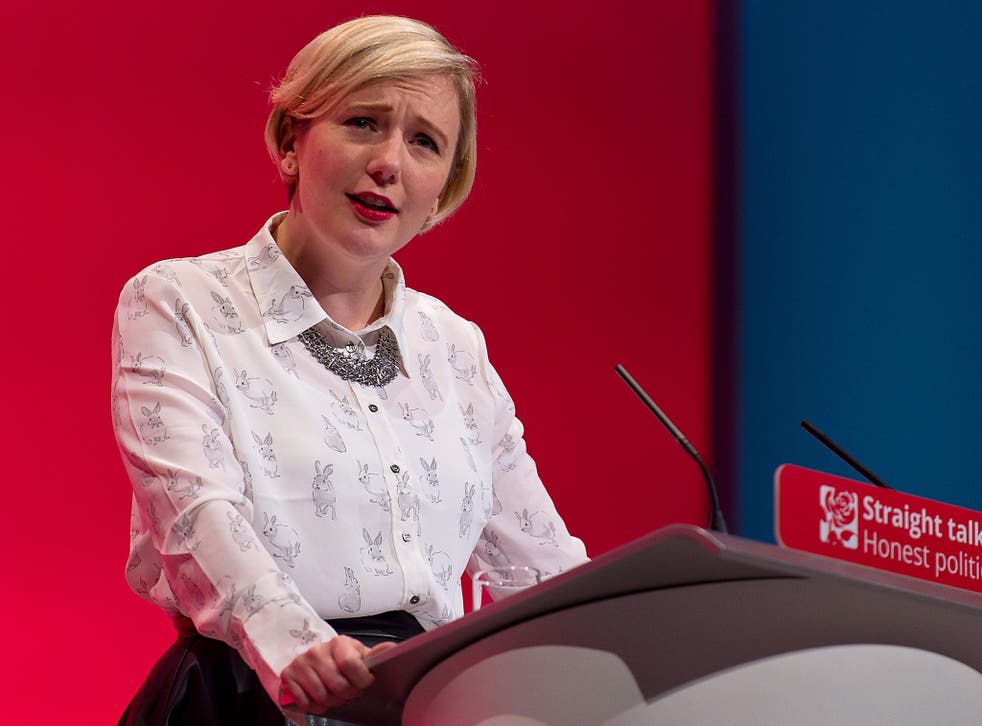 Labour MP Stella Creasy was subject to a large protest in her constituency of Walthamstow, east London on Tuesday night.
A group of around 500 people set off from a local mosque to end up outside her constituency office. The group were protesting under the mantra "Don't bomb Syria", in response to Ms Creasy, who has since voted in favour of Britain's involvement in air strikes in the region.
There was some confusion as to the route of the protest, with some claiming the demonstration targeted her private residence - and expressing outrage that a woman at home alone would be targeted in this way.
In a photograph posted to the Facebook page: 'Refugees welcome UK', a user by the name of Paul S Jakubovic wrote: "Outside Labour MP, Stella Creasy's house in Walthamstow tonight (added on later edit: apparently she has still to make up her mind - and she has no children to upset)."
But one of the organisers of the protest, Sue Wheat, cast doubt on the authenticity of the post - pointing out that the person who posted the original picture was from Kent, and had immediately closed down his Facebook and Twitter accounts - and insisted the vigil had not targeted Ms Creasy's home.
She later said on Facebook: "It was a beautiful, calm meet-up of for anyone who wanted to come and wanted to show our MP Stella Creasy that we wanted her to vote NO on air strikes in Syria. We met at the Queen's Road mosque with candles in jam jars and walked quietly to Stella's Labour office on Orford road.
"Then we went to her office about half a mile away. There were about 200 people including children and various community and religious leaders spoke - it was very inspiring peace rally."
The Independent has approached Ms Creasy to confirm whether the protest took place outside her house. Writing on Facebook on 3 December, Ms Creasy said she had "no idea what route the protesters took and if past my house as wasn't in Walthamstow that night (was in parliament) or any reason to believe protest wasn't peaceful".
She added: "[I have] no reason to believe any of those who took part in the protest are involved in the abusive messages have been receiving or am now am getting."
The outspoken MP, who lost her bid for the Labour deputy leadership in September, has come under fire from some of her constituents for voting in favour of military action in Syria. She has called a public meeting on Sunday to discuss her decision.
Prior to the outcome of the vote, she wrote on her Facebook page that she was preparing to listen to all sides of the debate, because "it isn't a simple decision, however much people wish otherwise".
Responses to the protest were mixed, with some people arguing that it didn't take into account her track record as an MP fighting for other causes. Shaun Lawson described the march as "disgraceful". "No respect for the incredible work she's done as an MP.," he commented beneath the photo of the march.
"No respect for her mandate, a massive one. No respect for her loved ones or anyone living in the same street or nearby. Just ME ME ME ME LOOK AT OUR PROTEST. Pathetic. Uncivilised. Disgraceful."
But those in favour of the march argued that MPs should "expect" campaigning from grassroots groups, as "part of the DNA".
John Tuite wrote: "Well, what we have is a still photo of a bit of a gathering that looks all quite calm and following police guidance. And looking at Stella's Twitter and Facebook posts in the last hour, I can see no sign of complaint or worry from Stella herself.
"I do think MPs, especially Labour MPs should understand the role of pressure from people campaigning. It's surely part of the DNA! And on an issue of such gravity and consequences, it's vital."
And others reiterated that the march was a "peaceful, family affair" which saw protesters following a route from the local Queens Road mosque to the (closed) constituency office on Orford Road.
It was recently revealed Ms Creasy may have been targeted for deselection as part of a series of organised leftwing campaigns.
As reported by Guido and the New Statesman, several pro-intervention, centre-right Labour MPs have been targeted by threats to deselect them, with Stella Creasy, Chuka, David Lammy and Wes Streeting named.
An email was reportedly sent to dozens of Labour MPs on Tuesday, saying: "Six months after the Vote on bombing Syria the Labour Party Members will lobby in the Constituency Labour Parties to move a vote of no confidence at constituencies meetings in those Labour Party MPs who vote to bomb Syria.
In pictures: Syria air strikes (2014)

Show all 20
"If the Vote of no confidence is carried the MPs can then limp on until their selection at the next General Election when they will be deselected.
"During the 4 year period in the run up to the next general election the whole country will now [sic] of the no confidence in the MPs from their Labour Party constituencies.
"That is the least the Labour Party members will do to try to wash the blood from their hands of the innocent civilians which the bombs will surely kill."
There has also been fighting within the party. Asim Mahmood, a Labour councilor in Walthamstow, has called for any MP who votes for air strikes in Syria to face a trigger ballot and reselection, the New Statesman reported.
Ms Creasy hit back via Facebook, saying: "The one thing I will not do is be bullied by a sitting Walthamstow Labour councilor with the threat of deselection if I don't do what he wants.
This article was updated at 11:57am on 3 December.
Join our new commenting forum
Join thought-provoking conversations, follow other Independent readers and see their replies