Stop 'pussyfooting' and build London a new airport, Boris Johnson tells David Cameron
Mayor demands action after Games boosts his popularity, and hints he may run for Parliament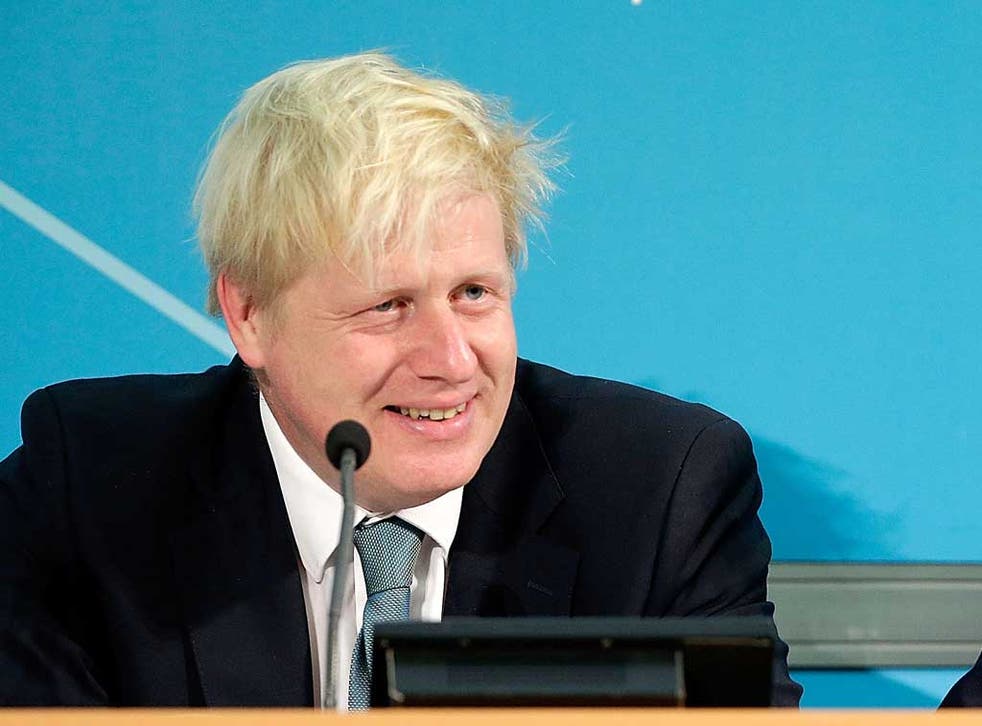 Boris Johnson mounted a wounding attack on David Cameron yesterday, accusing the Prime Minister of "pussyfooting around" and calling him "totally mad" for delaying a decision on building a new airport to serve the South-East of England.
The London Mayor, whose popularity has soared during the Olympics, suggested that Chancellor George Osborne was "up for" big construction projects, but was being thwarted by Whitehall's "institutional capture" of Mr Cameron. In outspoken comments about the Cameron government, Mr Johnson also hinted that he could seek a return to Parliament after his spell in City Hall ends in 2016. He served as the Tory MP for Henley in Oxfordshire from 2001 to 2008.
The Mayor hit out over the delay of consultation into the expansion of airport capacity. He insisted that South-East England needed a new airport to meet rapidly growing demand, arguing that building a third runway at Heathrow would not be sufficient.
"The Government needs to stop pussy-footing around. I don't think you can rely on Heathrow," he told the London Evening Standard. "Even if the Government was so mad and wrong to try to do the third runway or mixed-mode [having take-offs and landings on the same runway], those solutions would rapidly run out of usefulness and time."
Suggesting that Mr Cameron and his Chancellor were at odds over the importance of major infrastructure projects, Mr Johnson, who has called for a new airport in the Thames estuary, said: "I think [George] Osborne is actually very much up for big ideas like this."
Asked whether Mr Cameron's delay in making his mind up about the issue was a result of Whitehall influence, he replied: "I think there's a bit of institutional capture, yes. But it's a totally blind alley."
He added: "The attempt to try and long-grass it for three years into the other side of the election is just not realistic. Totally mad and it won't work."
The Mayor disclosed that when Mr Cameron hugged him during the Olympics, he whispered one word in the Prime Minister's ear: "Airport." He said a series of building projects, plus lower taxes and less red tape, were essential for stimulating the economy.
"This is the time to be ambitious about London and what it can do for Britain," he said. "One of the ways of doing that would be to commit to further infrastructure – Crossrail 2, more river crossings, a massive house-building programme for the city."
Mr Johnson, who is favourite to succeed Mr Cameron despite not being an MP, remained opaque about his future ambitions. He said it was "nonsense" that he would seek a parliamentary seat while still Mayor. But asked if he could try to return to the Commons afterwards, he said: "I honestly don't know the answer to that question."
The impact the Games has had on Mr Johnson's public profile was underlined yesterday by an Ipsos MORI opinion poll which found that 61 per cent of people had a more positive view of him that they did before London 2012. He scored significantly more highly than Mr Cameron, who scored 43 per cent.
Economists ditch support for Chancellor
George Osborne suffers an embarrassing blow to his credibility today as a succession of prominent economists abandon their support for his deficit reduction plans.
Three months before the last election, 20 well-known economists signed a letter endorsing his plans to squeeze spending. Their comments were hailed as a "significant moment in the economic debate".
Two and a half years later, the New Statesman magazine says only one of those who replied when it approached them was willing to repeat his previous endorsement of the Chancellor.
Nine urged him to abandon his opposition to fiscal stimulus and to promote growth through tax cuts and higher infrastructure spending; the rest did not reply or said they were on holiday.
Nigel Morris
Register for free to continue reading
Registration is a free and easy way to support our truly independent journalism
By registering, you will also enjoy limited access to Premium articles, exclusive newsletters, commenting, and virtual events with our leading journalists
Already have an account? sign in
Register for free to continue reading
Registration is a free and easy way to support our truly independent journalism
By registering, you will also enjoy limited access to Premium articles, exclusive newsletters, commenting, and virtual events with our leading journalists
Already have an account? sign in
Join our new commenting forum
Join thought-provoking conversations, follow other Independent readers and see their replies