Student loan interest rates U-turn is coming after fierce criticism, Andrea Leadsom hints
Department for Education is 'considering' a rethink on plans to hike rates to an eye-watering 6.1 per cent, MPs are told
Rob Merrick
Deputy Political Editor
Thursday 06 July 2017 15:34 Comments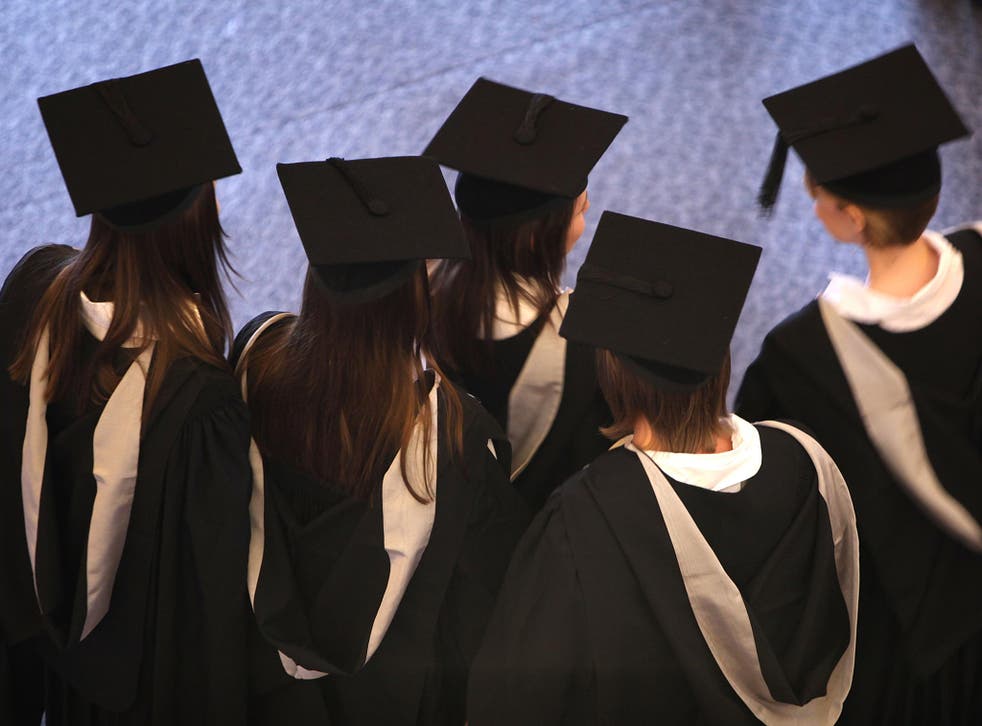 A U-turn looms on much-criticised plans to hike the interest rate on student loans to an eye-watering 6.1 per cent, a Cabinet minister has suggested.
The Department for Education is "considering" a rethink on rules which set the rates on loans taken out since 2012 at the RPI level of inflation plus three per cent, Andrea Leadsom said
With RPI now running at 3.1 per cent, that means interest will soar from 4.6 per cent to 6.1 per cent from September - at a time when bank rates remain on the floor.
Current students will not pay this rate of interest, but it will be added to loans on both tuition and maintenance loans of millions of students who have graduated.
In the Commons, Conservative MP Richard Graham warned Ms Leadsom, the Commons Leader, that "a number of us are very concerned" about the soaring interest.
She replied: "I think the mood of many colleagues has been heard and I'm quite sure that the Department for Education is considering this."
Any U-turn would come hard-on-the-heels of Theresa May ditching policies on social care, winter fuel payments, school meals, an energy cap and foxhunting, since her general election setback.
It would bolster Jeremy Corbyn who is campaigning for the abolition of tuition fees altogether, arguing they "saddle students with debt that blights the start of their working lives".
Jo Johnson, the universities minister, has insisted the student loans system is "sustainable", arguing more people from disadvantaged backgrounds are now able to go on to higher education.
But Mr Graham warned that "things have changed" since the Coalition government trebled maximum tuition fees, in 2012.
He pointed to this week's report by the respected Institute for Fiscal Studies (IFS) which criticised "very high" interest rates on student loans.
They were part of the reason why three-quarters of students will probably never pay off their loans in full, because their debts are the highest in the developed world, it said.
Mr Graham said: "The level of interest at which both living costs and studies will be repaid rises to 6.1 per cent this September.
"That, allied with compound interest over a 30-year period, is what gave the IFS in their report yesterday the calculation of total debt being over £55,000. Now, I think a number of us are very concerned about this."
Earlier this year, the Department for Education defended the leap in interest rates, saying: "Student loans are not like commercial loans as they have more favourable terms, including repayments being linked to income and not to the amount borrowed.
"Our student funding system is sustainable and fair. No individual will see their monthly repayments rise as a result of interest rates increasing."
Under the student loan system, monthly payments are held in place but the length of the loan extends.
Students who earn over £41,000 will pay the top 6.1 per cent rate, while those with salaries between £21,000 and £41,000 will pay on a sliding scale of between 3.1 per cent and 6.1 per cent.
However, those who started university between 1998 and 2011 will be paying an interest rate of 1.25 per cent on their loans.
Register for free to continue reading
Registration is a free and easy way to support our truly independent journalism
By registering, you will also enjoy limited access to Premium articles, exclusive newsletters, commenting, and virtual events with our leading journalists
Already have an account? sign in
Join our new commenting forum
Join thought-provoking conversations, follow other Independent readers and see their replies