Student who photographed Jeremy Corbyn standing by Hezbollah flag says he will not allow it to be 'taken out of context'
Samuel Hardy said men carrying the group's banner were walking behind the future Labour leader by coincidence at a pro-Palestinian protest in 2012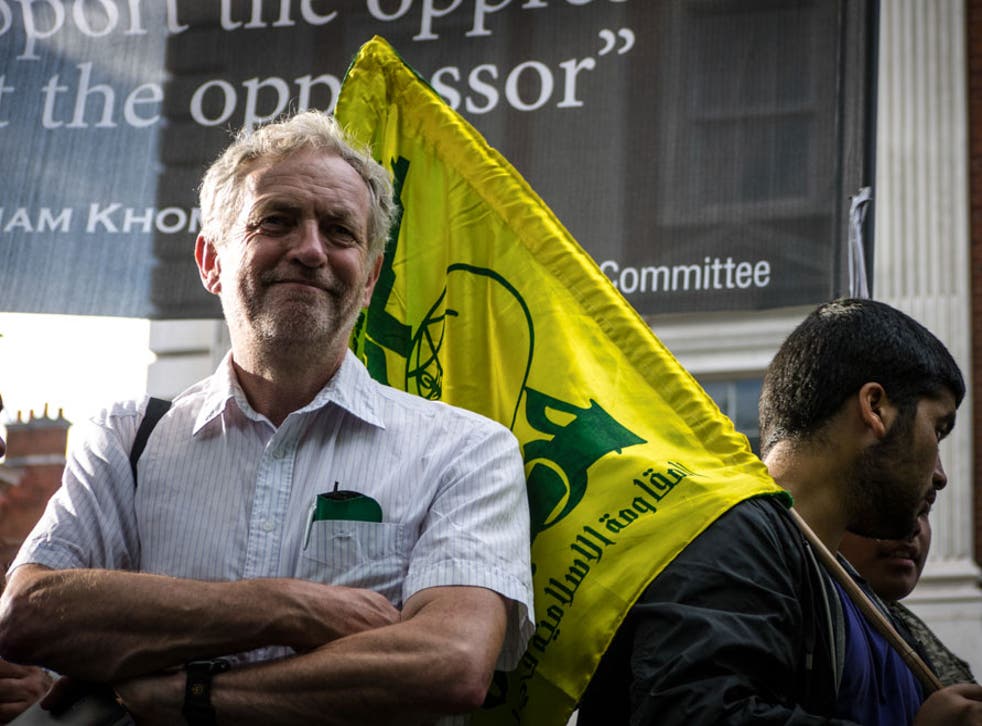 A student who photographed Jeremy Corbyn standing in front of a Hezbollah flag at a pro-Palestinian protest is refusing to let media outlets use it to "slander" the new Labour leader.
Samuel Hardy, 21, was freelancing at the Al-Quds Day rally in London in 2012 when he spotted the Islington North MP in the crowds.
His photo shows Mr Corbyn appearing relaxed and smiling, as a man walks past behind him carrying Hezbollah's distinctive yellow and green flag.
"I was just listening to the speeches and taking some photos when I turned round and saw Jeremy Corbyn," Mr Hardy told The Independent.
"He smiled at me and I took the photo, thinking it was framed quite nicely.
"The people in the background were just passing by, they were just traffic. The significance didn't strike me."
The Labour leader has faced scrutiny over his opinions on Hezbollah and Hamas after a speech made to the Stop the War Coalition in 2009, where he called representatives from both groups "friends" after inviting them to Parliament.
Hezbollah is an Islamist political party with associated militias that emerged in Lebanon following the 1982 war with Israel, representing Shia Muslims.
Its military wing, the External Security Organisation, is on the British government's list of proscribed terrorist organisations because of its "armed resistance to the state of Israel", aim to seize all Palestinian territories and "support for terrorism".
Mr Hardy said he did not realise the partially-obscured banner represented Hezbollah and uploaded the image along with others from the day to his blog and the Demotix photojournalism website.
It was swiftly picked up by critics of Mr Corbyn, who is the national chair of one of the annual demonstration's supporters, the Stop the War Coalition.
As bloggers began sharing the image in 2012, claiming the MP was "posing" with the Hezbollah flag and using it to claim he attended "anti-Semitic and racist" rallies, his aides got in touch with the photographer.
"Jeremy Corbyn's office emailed me asking whether the photo could be removed, saying they were quite worried about it," Mr Hardy said.
"Bloggers were posting slanderous stories saying he was posing with the Hezbollah flag but he wasn't."
He removed it from Demotix but other copies continue to spread and Mr Hardy said interest "kind of exploded" after Mr Corbyn won the Labour leadership contest on Saturday.
In recent days, one blog on anti-Semitism has wrongly claimed the MP was "posing" with the Hezbollah flag, and used the image to label him a "traitor to the West".
Meanwhile, a comment piece in the Algemeiner Journal, a Jewish newspaper based in the US, referred to Mr Corbyn attending "racist rallies where Hezbollah flags are proudly waved" and the UK's Jewish Chronicle asked him to condemn the symbol and other banners spotted at the Al-Quds Day rally.
On the day Mr Corbyn was announced as the new Leader of the Opposition, Mr Hardy received a phone call from Israeli newspaper Yedioth Ahronoth, which asked him to "name his price" for the photo.
"I was a bit taken aback," he said. "As a student not really with an income, part of me thought I could do with the money.
"I thought about it and spoke to a few people. They said that your integrity is worth more than the money, and from that point I realised I wasn't going to sell out.
"It's wrong on so many levels, knowing that your photo is going to be used to describe something that really wasn't there."
After refusing the request, Mr Hardy spotted other news outlets using the image without permission and has asked for them to be removed, saying he did not want his work "being taken out of context".
Mr Hardy is continuing freelance photography while he studies for a PhD in microbiology.
When questioned on comments where he called Hamas and Hezbollah "friends" by Channel 4 in July, Mr Corbyn said he had met both Hezbollah and Hamas members in Lebanon and wanted them to be "part of the debate" for the Middle East peace process.
"I use (the word 'friends') in a collective way, saying our friends are prepared to talk," he added.
"Does it mean I agree with Hamas and what it does? No. Does it mean I agree with Hezbollah and what they do? No.
"What it means is that I think to bring about a peace process, you have to talk to people with whom you may profoundly disagree."
Labour has not responded to The Independent's request for a comment.
Join our new commenting forum
Join thought-provoking conversations, follow other Independent readers and see their replies