Nicola Sturgeon should demand Scottish independence talks after election, says Salmond
Talks should happen in 'week one of the new parliament', says Alba Party boss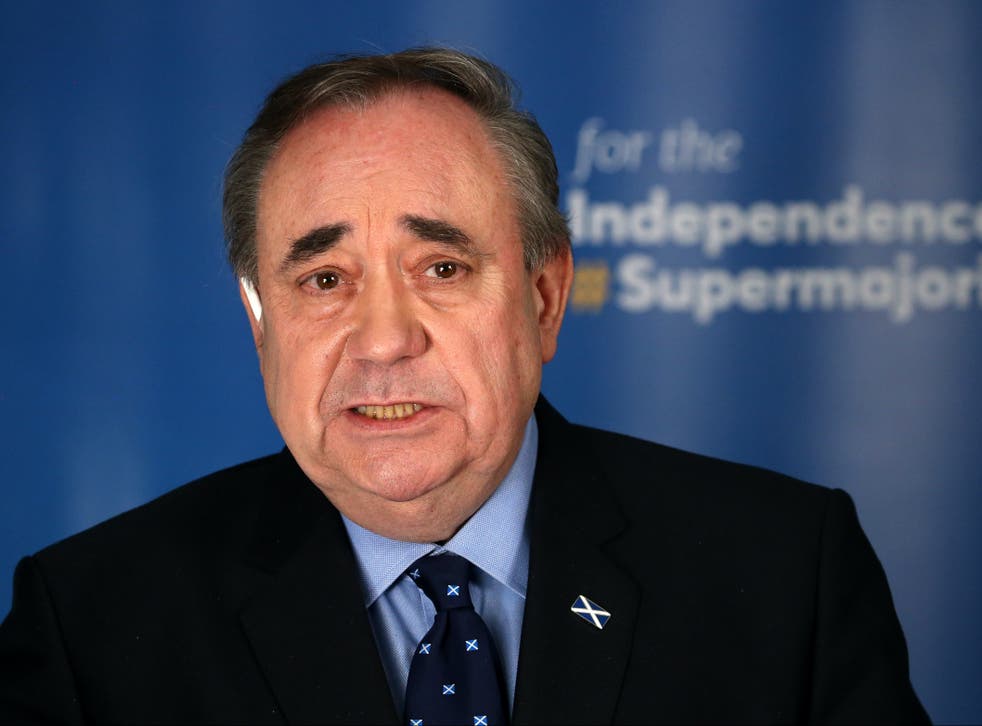 Alex Salmond has said negotiations for Scottish independence should start immediately after the Holyrood election if there is a clear majority of pro-independence MSPs in Scotland's parliament.
The Alba Party leader said talks between Nicola Sturgeon and Boris Johnson's governments should begin in "week one" of the new Holyrood parliament's term.
Outlining his "route" to separation on Tuesday, Mr Salmond suggested a second referendum on independence was not necessary for a breakaway – but could form part of the negotiations he wants Ms Sturgeon to demand with Mr Johnson.
"Deliver that super-majority and parliament then issues a clear and unmistakable instruction to the Scottish government to open negotiations with Whitehall on independence," he said. "That should happen on week one of the new parliament."
He added: "The aim of the national movement in Scotland is not to secure a referendum. The aim … is to secure independence for our country, of which a referendum of one kind or another could be one of the democratic tests to enable us to do so."
Read more:
SNP leader Ms Sturgeon has said she wants to hold a "legal" referendum on independence, and will ask the UK government to agree to transfer powers to the Scottish parliament to hold a vote via a section 30 order.
Mr Salmond suggested Ms Sturgeon was wrong to get "pigeonholed" into a referendum and said there was a "range of tactics" that the Scottish government could use as part of its demands.
"A section 30 referendum could be part of that [negotiation process] … as could domestic legal action or international and diplomatic initiatives, as could peaceful and popular demonstration," he said.
"The tactics will inevitability evolve with the negotiations, but the strategy is to make achieving independence a real and overriding priority. If we don't make it ours, Boris Johnson certainly won't make it his."
On the SNP's more cautious approach – aiming to hold a referendum sometime during the first half of the next parliamentary term – Mr Salmond commented: "I've got no idea why people think it's a great idea to set some time in the future, as if that's going to change the calculation with Westminster."
Mr Salmond has appealed to SNP voters to back Alba on the regional list to help create a larger "super-majority" of pro-independence MSPs in the Scottish parliament – one that Mr Johnson's government would find it harder to ignore.
However, Mr Salmond refused to define precisely what would constitute such a majority in the Holyrood parliament – suggesting a simple majority would still be enough to claim a mandate for independence negotiations.
Asked if he meant that two-thirds of the Holyrood parliament – 86 MSPs – would create a "super-majority", the Alba leader said: "That is not the definition of super-majority we are using.
"If there were 70 MSPs supporting independence, that would be a majority and I would expect them to move forward with an independence platform.
"If there were 80 MSPs supporting independence … then we would be well on our way to a super-majority. If there were 90 MSPs, which I think is well within our reach for the independence-supporting parties, then that would be a bigger super-majority."
Join our new commenting forum
Join thought-provoking conversations, follow other Independent readers and see their replies