Syria air strikes: MPs vote for intervention against Isis but almost 80% of readers don't support it
More than 14,600 people have voted in an Independent poll on the issue
Lizzie Dearden
Thursday 03 December 2015 01:58 Comments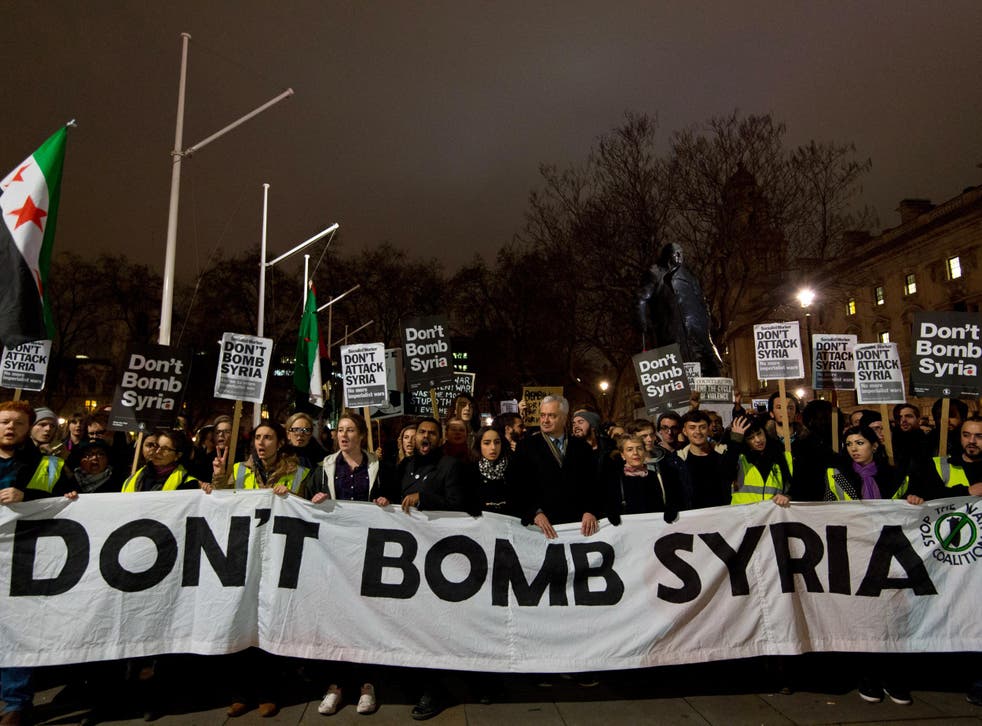 MPs have voted overwhelmingly in favour of bombing Syria but almost 80 per cent of Independent readers did not want to see air strikes extended.
In a poll started before the historic vote, 79 per cent of respondents said they did not support the Government's proposal, while only 21 per cent said they were in favour.
That was the result at the time of writing, when more than 14,600 people had voted, but you can still have your say in the poll below.
MPs debated David Cameron's proposals to extend air strikes against Isis from Iraq into neighbouring Syria for 11 hours on Wednesday.
The Prime Minister's motion was eventually approved by 397 votes to 223, a majority of 174, while a separate amendment that would have blocked military intervention was broken down.
Anti-war protesters gathered outside Parliament for the duration of the marathon debate, which saw Labour MPs and Tories pitted against their own parties as they argued on both sides of the debate.
Jeremy Corbyn was opposed by his own shadow Foreign Secretary, Hilary Benn, who made a rousing speech in favour of bombing as the day drew to a close.
We asked people why they don't want to bomb Syria - this is what they said
The Labour leader was joined by 152 of his MPs filing through the "no" lobby but 66 Labour members backed the Government with their free vote and the shadow cabinet was split 16-11, with one abstention.
Seven Tory MPs defied the Prime Minister's orders to support bombing and voted against the Government motion.
Royal Air Force Tornado jets could launch bombing raids from the Akrotiri base on Cyprus within hours.
In pictures: Syria air strikes (2014)

Show all 20
Making his case, Mr Cameron insisted that Britain must decide whether to take on the "evil" Isis its Syrian heartlands or "wait for them to attack us".
The Prime Minister repeatedly refused to apologise for branding anti-war Labour MPs "terrorist sympathisers" but insisted that he respects those who voted against military action.
Mr Jeremy Corbyn said air strikes would "almost inevitably lead to the deaths of innocents" and accused the PM of rushing a Commons vote through before public opinion turns against military action.
The Leader of the Opposition argued that the Prime Minister's case for bombing had failed its tests, saying approving his plan would be "another ill-fated twist in this never-ending war on terror".
Register for free to continue reading
Registration is a free and easy way to support our truly independent journalism
By registering, you will also enjoy limited access to Premium articles, exclusive newsletters, commenting, and virtual events with our leading journalists
Already have an account? sign in
Join our new commenting forum
Join thought-provoking conversations, follow other Independent readers and see their replies