Syria air strikes: Poll shows UK is divided over decision to extend bombing
A vote in the Commons on Wednesday isexpected to give David Cameron a substantial majority in favour of targeting Isis in Syria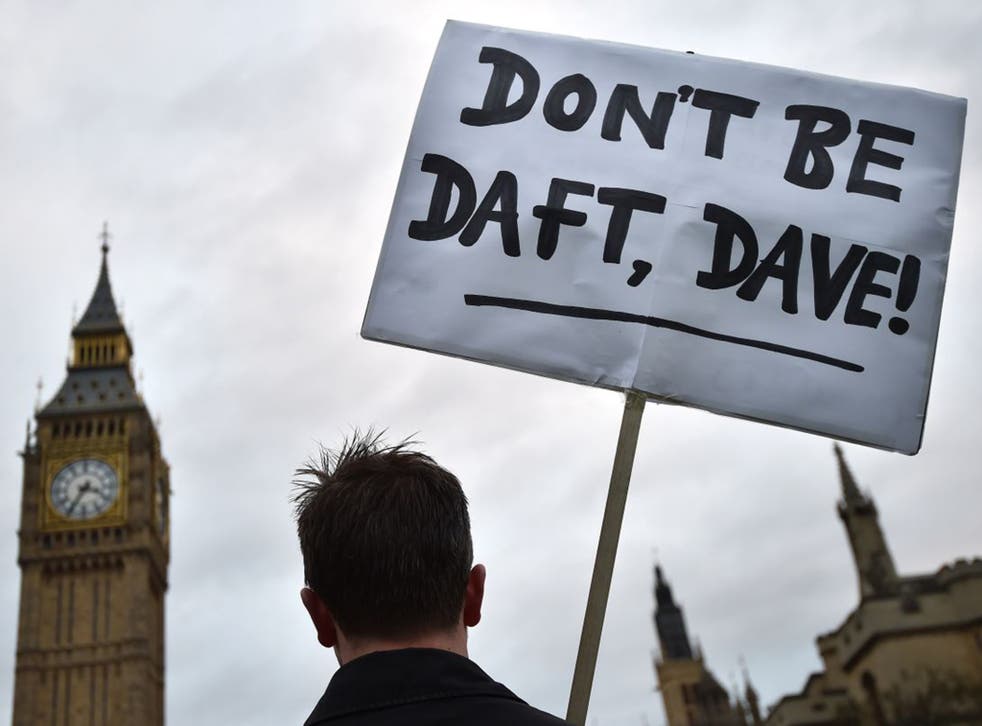 The United Kingdom is divided over the decision to extend air strikes into Syria, according to figures from a new polling organisation.
With the vote in the Commons on Wednesday now expected to give David Cameron a substantial majority in favour of British bombers targeting Isis inside Syria, voters in Scotland and the rest of the UK hold divergent views on the need for further military action.
According to voteScotland-England, a new online polling organisation based on registered voters, a clear majority of Scots, 72 per cent, are against air strikes that could intensify the hatred of Isis towards the UK.
In England, those in favour of the air strikes, 54 per cent, back the line that an escalation of military action is necessary to prevent Isis terrorists becoming stronger in the Middle East and beyond.
The online poll, which is not weighted, will end before the Commons vote, expected late on Wednesday. Only registered voters can use the system and they are prevented from voting more than once.
Over 2000 took part in the poll. A similar sample size is routinely used by other online polls. So far it the only attempt to gauge all-party public opinion on the UK joining the US-led bombing of Isis inside the territory it controls in Syria.
Although the Labour leader, Jeremy Corbyn, claimed that 75 per cent of his party's grassroots members backed his own opposition to extending the UK bombing campaign, the responses analysed by Labour numbered less than 1900.
The England-Scotland divide from the new polling group, mirrors the divide that will be evident when MPs votes are counted after the lengthy Syria debate.
The Scottish National Party's 56 MPs are all expected to vote against the government's 12-point motion that states there can be no "hiding place" for Isis terrorists. Scotland's sole Labour MP, Shadow Scottish Secretary, Ian Murray, alongside the majority of Labour MSP's in Holyrood, are against extending bombing beyond the current authorised attacks inside Iraq.
In pictures: Syria air strikes (2014)

Show all 20
Although voteScotland-England will be formally launched early next year, its platform is already being used. The Syria issue has attracted its largest support.
Founder Martyn Greene, a former Conservative supporter who worked for the Democrats in Washington DC before returning to Scotland, said : "The Prime Minister is seeking parliamentary approval to begin bombing Isis in Syria. Nicola Sturgeon, Scotland's First Minister, has already indicated the SNP will vote against this. Our polling shows that while the PM has good support in England, that is not the case in Scotland. The UK is divided as the numbers show."
Join our new commenting forum
Join thought-provoking conversations, follow other Independent readers and see their replies