Syria air strikes: RAF jets to fly to Middle East within hours of Commons vote to bomb Isis
Expansion of RAF strike-capability in the region will not, as some reports suggest, be minimal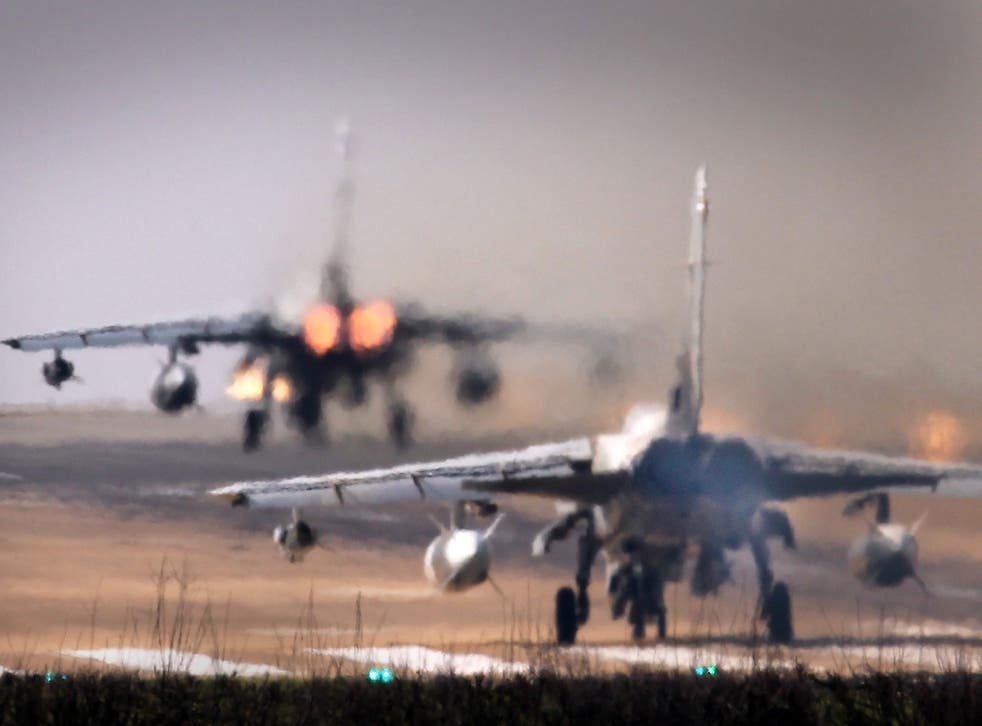 British combat aircraft from RAF bases in Lossiemouth, Scotland, and Marham in Norfolk, will fly to the Middle East within hours of the Commons approving air strikes on Isis targets in Syria, Ministry of Defence sources have confirmed.
Six Typhoon fighter jets stationed in Morayshire are described as combat-ready to make the journey to RAF Akrotiri in Cyprus where they will join the UK strike force already operating in Iraq.
Eight Tornado jets are already based in Akrotiri. Although the RAF is technically capable of deploying a further eight Tornados, it is expected that the immediate short-term order will be limited to an additional two Tornados from Marham.
That level of deployment is expected to change if the situation over Isis-controlled territory in Syria changes.
The Independent has been told that despite difficulties on the ground of obtaining accurate intelligence aimed at limiting civilian casualties, the US-led air operations command at Udeid in Qatar have already identified specific Syrian targets that the RAF would be expected to hit within days.
UK: George Galloway joins thousand-strong anti-war demo ahead of Syria vote
So far the RAF have contributed to roughly eight per cent of the air strikes co-ordinated from the Udeid combined operations centre.
With the addition of further Tornados and Typoons in the skies over Isis-held territory, plus an expected extension of weapon-carrying drones which can deploy up to four Hellfire and Reaper air-to-ground missiles, the expansion of RAF strike-capability in the region will not, as some reports suggest, be minimal.
The half squadron of Tornados in Akrotiri currently gives the RAF the capacity to fly two sorties a day, with the UK fighters operating in pairs. MoD sources suggest a further two Tornados, along with six additional Typhoons, will mean a full UK squadron contributing to the strike plans ordered by Qatar.
Up to four daily sorties by Tornado will now be possible.
Although the Typhoons will predominantly use a smaller version of the Paveway guided smart-bombs, which is similar to their US-equivalent, they cannot guarantee limiting civilian collateral damage because of the large area affected by the explosive in the weapon.
The increased number of RAF Tornados will widen the use of the more accurate Brimstone missile. The missile's smaller warhead will be regarded as crucial in the parallel public relations war which government regards as critical in the opening period of UK air combat operations inside Syria.
Although the Brimstone's advanced radar system has a reputation for taking out command targets and keeping civilian casualties to a minimum, the RAF have only a limited supply of the weapons that cost close to £100,000 each.
Saudi Arabia's air force, part of the US-led coalition, also have Brimstone missiles. They have been used by the Saudis in the war against Houthi rebels in Yemen, and have caused civilian casualties.
Join our new commenting forum
Join thought-provoking conversations, follow other Independent readers and see their replies