Syria crisis: Britain to seek UN Security Council approval for draft resolution authorising use of 'all necessary measures'
Council meeting unanimously agreed that the 'world will not stand by' in the face of 'unacceptable' chemical attacks
Heather Saul
Wednesday 28 August 2013 18:15 Comments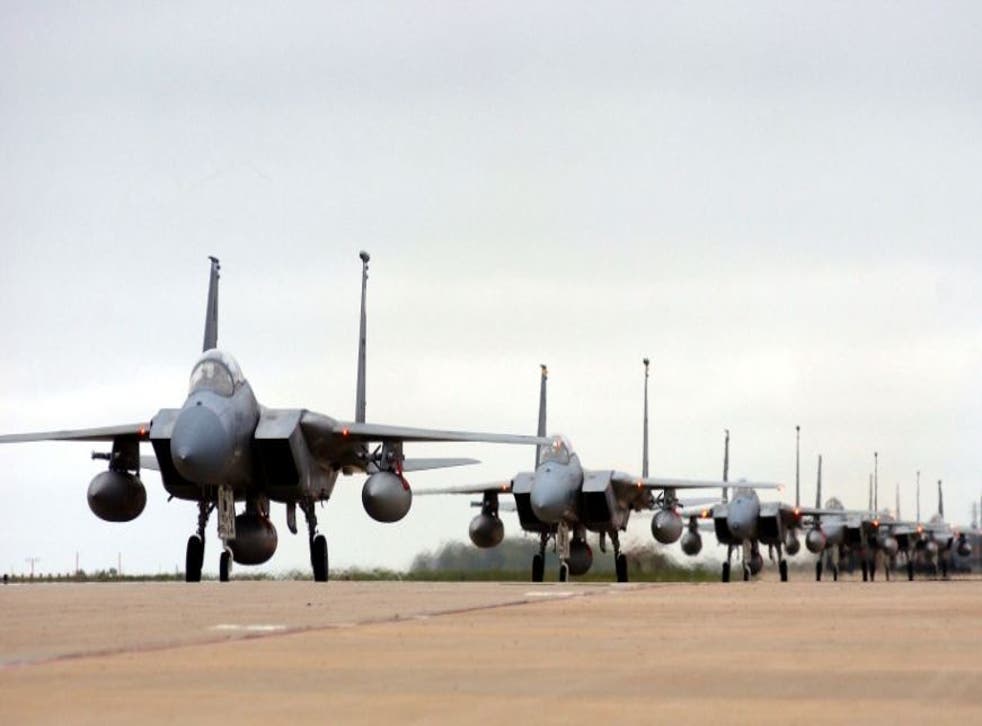 David Cameron has announced that the National Security Council agreed "unanimously that the use of chemical weapons by Assad was unacceptable - and the world should not stand by" on Twitter.
The Prime Minister has met with military chiefs today to discuss military action in Syria, in response to suspected chemical attacks last week that killed over 350 civilians.
Mr Cameron chaired the 90 minute National Security Council meeting at Downing Street to discuss possible military plans drawn up in response to the alleged chemical weapons attack.
A spokeswoman for the Prime Minister said the NSC had agreed on a specific recommendation that would be put to government ministers on Thursday morning before parliament debated and voted on Britain's response.
Cameron's office declined to detail what this recommendation was, but a government source said a military strike was one of the options being considered by the NSC.
Turkey has now placed its armed forces on alert to guard against threats from Syria as Western allies weigh military action against President Bashar al-Assad, Foreign Minister Ahmet Davutoglu announced.
"We are now at a more alert position ... Turkey will take whatever measures necessary within the framework of its own strategic interests," Davutoglu told reporters.
"The Turkish armed forces have the mandate to take every measure against any security threat from Syria or elsewhere ... and retaliate within the rules of engagement."
Nato has since condemned the attack in Syria after Secretary general Anders Fogh Rasmussen said: "We condemn in the strongest possible terms, these outrageous attacks which caused major loss of life.
"Nato allies expressed their full support to the ongoing United Nations investigation. They deplored that the Syrian regime failed to provide immediate and secure access to the United Nations inspectors to the sites of the attacks. The Syrian regime maintains custody of stockpiles of chemical weapons."
He went on: "Information available from a wide variety of sources points to the Syrian regime as responsible for the use of chemical weapons in these attacks.
Unusually, every government minister who attended the NSC spoke during the meeting, the same government source said, adding that the attorney general had offered advice on the legality of any action taken and that a senior civil servant had supplied an intelligence briefing.
Jordan has spoken out to insist it would not allow its territory to be used as a base to launch an armed military response against Syria, urging international community to "consolidate efforts" towards a diplomatic solution.
Information minister Mohammad Momani said his country "will not be a launching pad for any military action against Syria".
Britain will now seek UN Security Council backing for "all necessary measures to protect civilians" in Syria, the prime minister announced earlier in the day.
A UK-drafted draft resolution will be put forward to a meeting of the five permanent members in New York this evening "condemning the chemical weapons attack by Assad".
A Downing Street spokeswoman said: "Britain has drafted a resolution condemning the attack by the Assad regime, and authorising all necessary measures under Chapter 7 of the UN Charter to protect civilians from chemical weapons.
The Syrian Prime Minister Wael al-Halqi has hit back in response to threats of military intervention on state television, accusing the West of fabricating reasons to launch an attack. "Western countries, starting with the United States, are inventing fake scenarios and fictitious alibis to intervene militarily in Syria," he said.
United Nations Security Council, international envoy Lakhdar Brahimi said today that it seemed "some kind of substance" had been used near Damascus on 21 August killing hundreds of people, but that he awaited evidence from Western powers as well as UN inspectors currently visiting the sites.
Speaking during a news conference in Geneva, he added: "I think international law is clear on this. International law says that military action must be taken after a decision by the Security Council. That is what international law says.
"I must say that I do know that President Obama and the American administration are not known to be trigger-happy. What they will decide I don't know. But certainly international law is very clear - the Security Council has to be brought in."
The Prime Minister spoke to US President Barack Obama last night ahead of the NSC meeting, a Downing Street spokesperson confirmed, where both leaders "agreed that all the information available confirmed a chemical weapons attack had taken place, noting that even the Iranian president and Syrian regime had conceded this." Mr Cameron and Mr Obama also "both agreed they were in no doubt that the Assad regime was responsible", the spokesperson added.
UK Foreign Minister William Hague, who attended today's meeting, had called for the United Nations Security Council to "rise to its responsibilities by condemning these events [in Syria] and calling for a robust international response".
Writing for the Daily Telegraph, he said the use of chemical weapons in the 21st century "cannot go unchallenged", arguing that the UK "cannot permit our own security to be undermined by the creeping normalisation of of the use of weapons that the world has spent decades trying to control and eradicate".
He echoed comments made by Mr Cameron and his deputy Nick Clegg yesterday that an allied response must be "legal and proportionate".
Mr Hague continued: "This actual, repeated use of chemical weapons in Syria is a moral outrage, a serious violation of international humanitarian law and a challenge to our common security. We are now weighing with the United States and our other allies how to respond in a way that is legal and proportionate.
The NSC meeting comes as United Nations weapons inspectors resumed their investigations at the site of the alleged chemical attack today, after the team's operation was suspended on Tuesday following concerns over security. The convoy transporting the team into the site was shot at by snipers on Monday when trying to enter the area. No-one was injured.
During a speech marking the centenary of the Peace Palace in The Hague, UN secretary general Ban Ki-moon said the UN inspectors needed to be given time. He said they needed four days in Syria to complete the investigation, followed by a further period in which to analyse their findings.
Ban Ki-moon nonetheless urged the members of the Security Council to "find the unity to act", describing Syria as the "biggest challenge of war and peace in the world today".
Register for free to continue reading
Registration is a free and easy way to support our truly independent journalism
By registering, you will also enjoy limited access to Premium articles, exclusive newsletters, commenting, and virtual events with our leading journalists
Already have an account? sign in
Join our new commenting forum
Join thought-provoking conversations, follow other Independent readers and see their replies