Syria crisis: Tony Blair warns against inaction as David Cameron plays down immediate prospect of arming rebels
PM says Britain will not 'plunge recklessly' into deeper involvement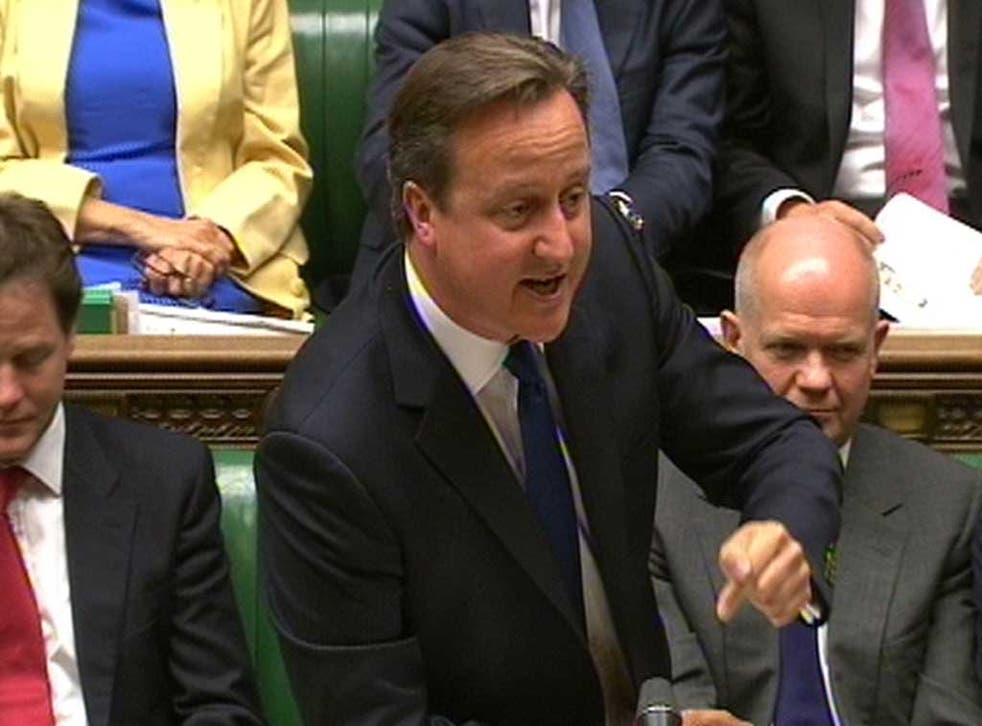 The cost to Britain and its allies of not intervening in Syria could be greater than becoming embroiled in the conflict, Tony Blair claimed.
But David Cameron appeared to play down any early prospect of Britain sending arms to the anti-Assad opposition, arguing that the focus in the weeks ahead should be to secure a new round of peace talks.
Speaking in Jerusalem, Mr Blair gave the Prime Minister some cover if he decides to try to send arms despite a cross-party rebellion that could see the move defeated in the Commons. But Mr Blair's critics will argue that he has learned little from the invasion of Iraq 10 years ago.
The former Prime Minister, who is now a Middle East peace envoy, said: "Undoubtedly the predominant emotion in the West today is to stay out of Syria; indeed to stay out of the region's politics. But as every day that passes shows, the cost of staying out may be paid in a higher price later."
Describing Syria as one of many "ugly choices" facing world leaders, Mr Blair said the best short-term politics often pulled in the opposite direction from the best long-term policy. "So much of the sentiment in the Western political economy is anti-business and particularly anti-the banks. But the best long-term policy is almost certainly to encourage business and have the financial sector back on its feet and thriving," he said.
In a Commons statement on the G8 summit he chaired in Northern Ireland, Mr Cameron sought to reassure MPs worried that he intends to send arms to the Syrian rebels after securing the lifting of the EU's embargo. He said Britain would not be "plunging in recklessly" and "would think carefully before any course of action."
While offering a Commons vote before "any major actions," the Prime Minister stopped short of giving a 100 per cent guarantee. Asked whether he might have to take action in an emergency such as the use of chemical weapons without having time to consult Parliament, he replied: "Obviously governments have to reserve the ability to take action very swiftly on this or on other issues."
Echoing Mr Blair, Mr Cameron said: "We simply cannot simply ignore this continuing slaughter. Of course it is right to point out that there are extremists among the opposition. There are, and I am clear they pose a threat not to Syria but to all of us." But he added: "I also understand those who fear whatever we try to do could make things worse, not better."
Mr Cameron hinted that Vladimir Putin, the Russian President, was prepared to see Bashar al-Assad be ousted. He said the Syrian President should not play any role in peace talks or a transitional government "but that shouldn't stand in the way of the transition that is necessary, and that frankly everyone at the G8 - the Russians included - believe is right."
Sir Menzies Campbell, the former Liberal Democrat leader, said that, if Russia confirmed it was not wedded to Assad personally, it would be "a very substantial step forward, if not a breakthrough."
Mr Cameron, reflecting what he saw as the summit's most important statement on Syria, said: "I made sure the G8 agreed the way through the crisis is to help Syrians forge a new government that is neither Sunni, Alawite, nor Shia.We are committed to using diplomacy to end this war with a political solution."
But Ed Miliband told the Commons: "The reality is that we didn't witness the long hoped-for breakthrough on Syria at the G8 summit and we should be candid about that." He expressed concern that no date for the peace talks had been set.
Join our new commenting forum
Join thought-provoking conversations, follow other Independent readers and see their replies