Syria: Only 24 Syrian refugees allowed to enter Britain, government accused of dragging feet
Andrew Grice
Tuesday 17 June 2014 11:00 Comments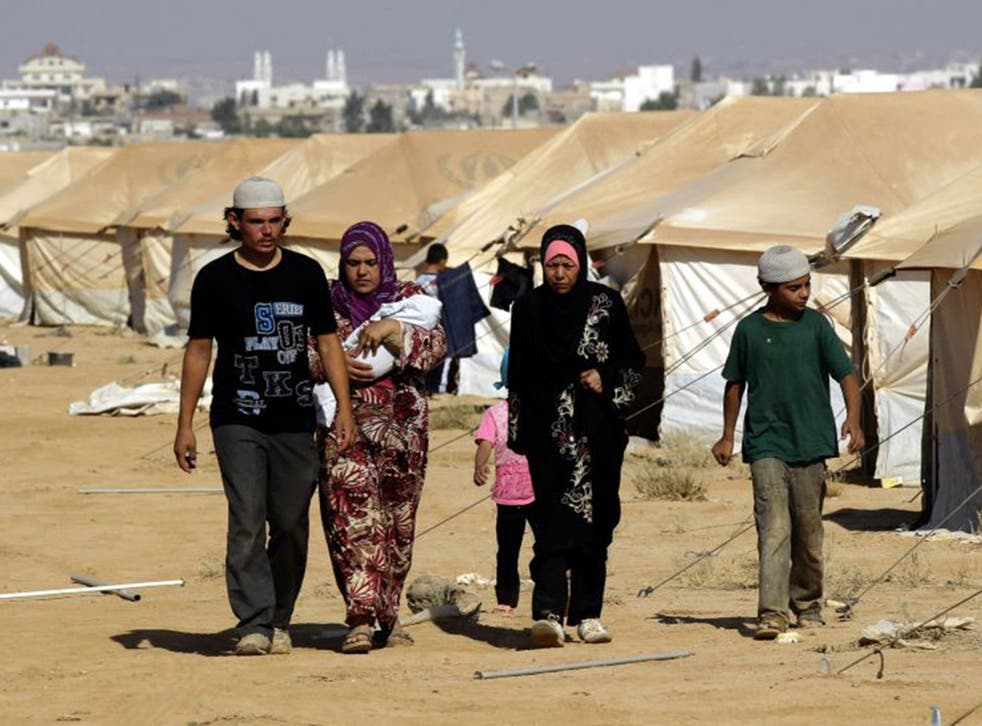 Only 24 refugees from Syria have been allowed to enter Britain, almost six months after the Government promised that "several hundred" would be given sanctuary.
Refugee groups accused the Home Office of dragging its feet despite a growing humanitarian crisis in countries bordering Syria. Labour blamed the delay on the Government's decision not to accept a quota of refugees under a United Nations programme and to run a "go it alone" scheme.
The UN High Commissioner on Refugees is on track to place 30,000 Syrians in rich nations. But it has warned that 100,000 people a month are now fleeing the country and is launching another appeal for countries to take in a total of another 100,000 Syrians in 2015 and 2016.
The Home Office told The Independent that its latest figures showed that 24 refugees had come to Britain. It insisted the scheme is "making a real difference to the lives of some of the most vulnerable Syrians… we will continue to bring groups here on a regular basis."
The number is expected to rise shortly. One reason for the slow start is that some of the first arrivals required medical treatment.
In pictures: Syria conflict

Show all 40
The Government intends to admit 500 refugees - but now says that it will be over a three-year period. No timescale was given by Theresa May, the Home Secretary, in January, when she announced a U-turn after a campaign by The Independent.
Yvette Cooper, the shadow Home Secretary, said the Government should stop dragging its heels.
"Over 2m people have fled the ongoing Syrian conflict - the biggest postwar humanitarian crisis the world has seen - so it is really troubling that our Government is being so slow to help the most vulnerable refugees of all.
She said: "Syrian torture victims, women who have been raped, abandoned children desperately need sanctuary, and Britain has a moral obligation to do our bit to help those struggling to cope or survive in the camps. To have only given sanctuary to 24 individuals in the past six months, given the vulnerability of some of the refugees is failing to do our bit - especially when other countries are all helping."
Maurice Wren, chief executive of the Refugee Council, said: "It's disappointing to hear that the UK has so far yet to offer enough resettlement places to fill a bus, when we should be offering entire planeloads of seats to safety. The need in the region is clearly vast, with UNHCR calling on governments around the world to help resettle 130,000 refugees and other governments increasing the numbers of places they are pledging. The UK must act similarly and be bold and ambitious in its plans to resettle Syrian refugees."
Luke Cooper, of the Syria Solidarity Movement, said: "This confirms our worst fears about the Government programme. It has been extremely reluctant to reveal these figures and now we know why: they are embarrassingly low and contradict Britain's supposed support for the relief effort. The Home Office response to this catastrophe is quite disgraceful, especially seen in the context of the generous programmes of the United States, Germany, and others."
The group staged a protest outside the Home Office in London on Monday evening. Fabian Hamilton, a Labour MP who joined the protest, said: "I am surprised the numbers are so low. When I met Syrian refugees in Jordan and Lebanon in March, it seemed to me there were many who could benefit from medical and mental health services we can offer them."
Register for free to continue reading
Registration is a free and easy way to support our truly independent journalism
By registering, you will also enjoy limited access to Premium articles, exclusive newsletters, commenting, and virtual events with our leading journalists
Already have an account? sign in
Join our new commenting forum
Join thought-provoking conversations, follow other Independent readers and see their replies