Tax credits: House of Lords votes to delay cuts by three years
Prime Minister and Chancellor say that defeats raise a 'constitutional issue' which they were determined to tackle
Nigel Morris
,
Andrew Grice
Monday 26 October 2015 20:22 Comments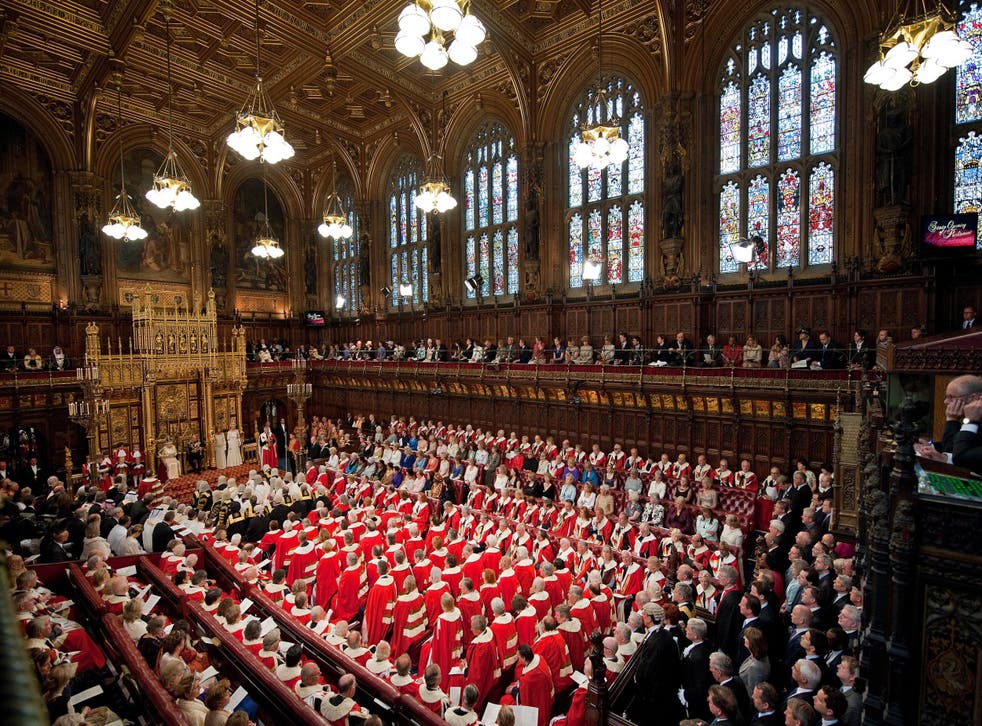 George Osborne's plans to reduce tax credits for low-paid workers are in chaos after the House of Lords shrugged off warnings of a constitutional crisis and voted to delay the £4.4bn package of cuts.
In a humiliating rebuff for the Chancellor, his proposals were twice defeated after peers queued up to condemn the measures for hitting the worst-off and attacked the Government for not coming clean in the Tory manifesto about the proposals.
The double defeat, which follows a growing rebellion among Conservative MPs over the impact of tax credit cuts on their constituents, leaves a centrepiece of Mr Osborne's plans to find £12bn in savings from welfare spending in crisis.
Letters warning more than three million families that their tax credits would be cut next year were due to be sent out in December.
But following an impassioned three-hour debate, the Lords voted by 289 votes to 272 – a majority of 17 – for low-income families to be given "full transitional protection" from the cuts for at least three years.
They also supported a motion by 307 votes to 277 – a majority of 30 – calling for the cuts to be delayed until the Government responds to analysis of their impact by the Institute for Fiscal Studies and considers "mitigating action".
Following the votes Mr Osborne hinted at a compromise over tax credits, saying: "I said I will listen and that is precisely what I intend to do." He signalled that moves to ease the initial impact of the cuts would be contained in next month's Autumn Statement.
Both he and David Cameron said the defeats raised a "constitutional issue" which they were determined to tackle.
John McDonnell, the shadow Chancellor, said: "George Osborne has got to think again. He has been defeated twice in the House of Lords tonight, but there are a large number of Conservative MPs as well who have been telling him very, very clearly he has got to think again."
But Tory MPs reacted furiously to the defeats. Michael Ellis, the MP for Northampton North, said: "We cannot have a situation where an unelected House overrules a democratically elected one."
Effects of the cuts to Tax Credits

Show all 6
The Government mounted a massive effort to win the tax credits vote, arguing that MPs had approved Mr Osborne's plans three times and stressing that the Chancellor was in "listening mode" on the issue.
Ministers had warned that rejecting the plans would take Westminster into "unchartered territory" because the Lords had not blocked a financial measure passed by the Commons for more than 100 years. It also hinted that David Cameron could flood the Lords with 100 new peers in an attempt to correct its anti-Tory majority.
Opening the debate, the Leader of the Lords, Baroness Stowell of Beeston, insisted Mr Osborne would listen carefully to worries about the impact of his cuts if peers stepped back from derailing his plans.
She warned that a vote to reject or delay the changes would "challenge the primacy of the House of Commons on financial matters".
Lady Stowell said: "It would have the practical effect of preventing implementation of a policy that delivers £4.4bn of savings to the Exchequer, a central plank of fiscal and welfare policy."
Labour peer Baroness Hollis of Heigham, who tabled the amendment for a three-year delay, urged peers to "keep faith with struggling families" by enabling MPs to think again about the issue.
She said: "We can be supportive of those three million families facing letters at Christmas.
"Those families believed us, they believed us when we all said that work was the best route out of poverty and work will always pay. They believed the Prime Minister when he promised that tax credits, and they were one package, would not be cut."
The Bishop of Portsmouth, the Rt Rev Christopher Foster, was cheered as he denounced the measure as "morally indefensible".
He tabled an expressing "regret" over the cuts and calling for Mr Osborne to consult further and "revisit their impact".
He said: "It's clear to me and many others that these proposals blatantly threaten damage to the lives of millions of our fellow citizens. This must not be the way to achieve the Government's goal at a cost to those, who if we believe the rhetoric, the Government intends to encourage and support. To many in my diocese and beyond this seems punishing rather than encouragement."
The Archbishop of York, the Most Rev John Sentamu, warned against driving working families into the hands of "loan sharks" by reducing their support.
Lord Lawson, the former Conservative Chancellor, warned of the "great harm" the cuts could inflict on the poorest as he admitted he was torn over whether to support his party.
Hours before the debate, fresh details emerged of the potential impact of the tax credit changes on low-paid employees.
Policy in Practice, a welfare-to-work consultancy, calculated that some workers will be able to keep just 7p in every extra £1 they earn, effectively putting them on a 93 per cent marginal tax rate.
It concluded the overall package of measures – including raising the national minimum wage and increasing the tax allowance – would leave two-thirds of claimants worse off and warned that owner-occupiers would be worst affected.
The calculations were revealed by the Conservative-supporting Spectator magazine which has urged a rethink of the policy which it has likened to the poll tax.
The public hostility to the moves was underlined in a survey by ORB for The Independent which found that seven out of 10 people, including a majority of Conservative supporters, want George Osborne to do a U-turn over his proposed cuts.
The poll found that 69 per cent of people believe he should change his plans to reduce tax credits in order to protect those on the lowest incomes. Only 17 per cent disagree and want the cuts to go ahead, while per cent are "don't knows."
Perhaps surprisingly, 51 per cent of people who would vote Tory if a general election were held now want Mr Osborne to back down. Only 35 per cent of them want the £4.4bn cut announced in his July Budget to be implemented.
There is strong support for a rethink from current supporters of the Scottish National Party (91 per cent); Labour (88 per cent); the Liberal Democrats (72 per cent) and Ukip (69 per cent).
Men (72 per cent) are more likely to believe the Chancellor should climb down than women (65 per cent). There is a majority for a change of course in all age groups. Among those aged 65 and over, 68 per cent want a U-turn and 22 per cent do not, suggesting that older people whose state pensions are rising do not want to see low paid workers squeezed. Among 18-24 year-olds, 60 per cent want a rethink and 14 per cent do not
Silence in the house: A heartfelt plea
Baroness Hollis was heard out in rapt silence as she tore apart George Osborne's plans to take away the tax credits of the low-paid. A packed House of Lords was noisier than usual during yesterday's emotive debate – but not while the Labour peer presented her case.
Baroness Hollis savages Osborne for betraying families with his tax credit cuts
She warned against the grim Christmas ahead for millions of families if the Lords were to let the Government legislation go through unchallenged. "We can be supportive of the Government and give them what they did not ask for – financial privilege – or we can be supportive instead of the three million families facing letters at Christmas telling them, on average, they will lose around £1,300 a year," she said.
"Those families believed us when we all said work was the best route out of poverty, that work would always pay."
Adopting a style used by Jeremy Corbyn during Prime Minister's Questions, Patricia Hollis, a former work and pensions minister, cited cases involving real people.
She quoted "Angela from Stevenage": "I already work 40 hours a week on minimum wage doing two jobs around my children. I cannot believe this is actually going to happen. I am terrified. We are not scroungers. We work unbelievably hard just to keep going and once again we are being punished for trying to earn a living wage."
She also quoted "Rachel from Milton Keynes": "It probably means that as parents we will skip a few extra meals to ensure our children eat."
Lady Hollis denied that her proposal to delay the cuts would set off a constitutional crisis, an idea she described as being a "fig leaf" for the Government.
She said the Commons had acted on "incomplete information" and insisted there were alternatives to make up the savings.
Register for free to continue reading
Registration is a free and easy way to support our truly independent journalism
By registering, you will also enjoy limited access to Premium articles, exclusive newsletters, commenting, and virtual events with our leading journalists
Already have an account? sign in
Register for free to continue reading
Registration is a free and easy way to support our truly independent journalism
By registering, you will also enjoy limited access to Premium articles, exclusive newsletters, commenting, and virtual events with our leading journalists
Already have an account? sign in
Join our new commenting forum
Join thought-provoking conversations, follow other Independent readers and see their replies