Tax credits: Conservatives could suspend House of Lords if peers kill off cuts in vote next week
A rarely-used 'fatal motion' could be tabled in the Lords by the end of this week, paving the way for a vote next Monday
Staff Reporter
Monday 19 October 2015 23:35 Comments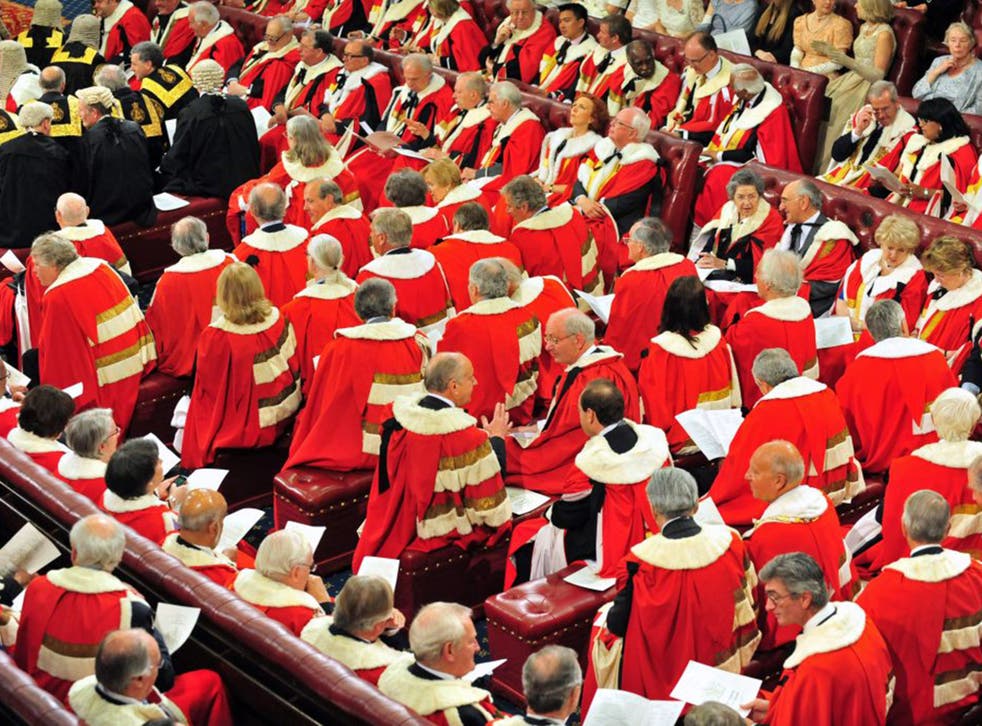 Angry Conservatives are threatening to take drastic action against the House of Lords if peers kill off George Osborne's tax credits cuts in a vote expected in the upper chamber next week.
A rarely-used 'fatal motion' could be tabled in the Lords by the end of this week, paving the way for a vote next Monday with the specific intention of preventing the Chancellor from putting his controversial £4bn proposals into law.
Government sources told the Huffington Post they may suspend the House of Lords or flood the chamber with Tory peers to ensure the cuts, due to come into force next April, are passed.
In contrast to the Commons, where the Conservatives have a majority of 12, the House of Lords has an in-built anti-Tory majority where Labour and Liberal Democrats can outnumber the Conservatives.
'Fatal motions' are used very rarely as unelected peers are wary of overstepping their powers to delay an elected government's legislation, the website reported.
One 'insider' told the Huffington Post: "If they do this, they will turn this from being a matter about tax credits into a huge constitutional issue of the Lords' powers."
Cameron regrets Lords reform
Crossbencher Baroness Meacher, seen as the most likely leader of the revolt in the Lords, said on Monday that there was wide-ranging concern over the impact the tax credits changes would have on large numbers of families earning low wages.
Asked how much support she had, Baroness Meacher told the BBC: "A lot. There are clearly a lot of Conservatives who are very worried about this. There's very strong support from the Labour Party and Lib Dem, cross-benchers who are very worried."
She added that Bishops in the Lords supported her view and were "very deeply concerned" and would "want to support a rethink" of Osborne's plan.
The Treasury hit back against the mounting criticism as it released analysis on Monday evening which it said showed Mr Osborne's welfare reforms have saved the taxpayer £15bn a year.
According to the Treasury, spending on tax credits would have risen to £40bn a year in 2016-17 (from £28.9bn in 2010-11) if Osborne had not made cuts since 2010. The tax credit bill is now forecast by the Office for Budget Responsibility (OBR) to be just over £25bn in 2016-17 – around £15bn lower, the government said.
The Treasury said the savings are equivalent to around 200,000 nurses and 70,000 doctors, or around 325,000 teachers, or more than the entire budget of the Home Office.
Chief Secretary to the Treasury Greg Hands said Labour had let welfare spending "spiral completely out of control" and said the Opposition must explain where the money would come from if it reversed the cuts.
Register for free to continue reading
Registration is a free and easy way to support our truly independent journalism
By registering, you will also enjoy limited access to Premium articles, exclusive newsletters, commenting, and virtual events with our leading journalists
Already have an account? sign in
Join our new commenting forum
Join thought-provoking conversations, follow other Independent readers and see their replies